Pippa Middleton and fiancé James Matthews.
pippamidleton/Instagram
The church where the couple is getting married on May 20.
Wikipedia
Pippa Middleton, James Matthews her father Michael Middleton at the church where the couple is getting married next month.
ANDREW MATTHEWS/AFP/Getty Images
The Royal Family is already well acquainted with the church; they attend Christmas Day services there.
Andrew Matthews - WPA Pool/Getty Images
That time Pippa Middleton's very fitted dress stole the show.
Chris Jackson/Getty Images
Will Princess Charlotte be dressed in a similar ensemble?
Pascal Le Segretain/Getty Images
The royal wedding that could have been...
John Stillwell-WPA Pool/Getty Images
Ever since Pippa Middleton announced her engagement to hedge funder James Matthews in July 2016, the rest of us have been eagerly awaiting details on the big day.
Matthews proposed to Middleton after about a year of officially dating, with an Art Deco-style Asscher cut ring. Save the date cards have already gone out and Middleton recently went on her bachelorette party (aka hen party), a ski trip in Méribel with her sister, Kate Middleton, and friends.
All that's left is the actual wedding celebration. There has been lots of speculation, of course, but now it's confirmed that the Duchess of Cambridge's little sister will be getting married in just over a month, on May 20, at St. Mark's Church in Englefield, Berkshire, per Daily Mail. The 12th century church is located a few miles away from the Middletons' abode in Bucklebury, where Pippa grew up—indeed, the reception is said to take place at their family home, an 18-acre property surrounded by woods, making it an ideal locale, at least in terms of privacy.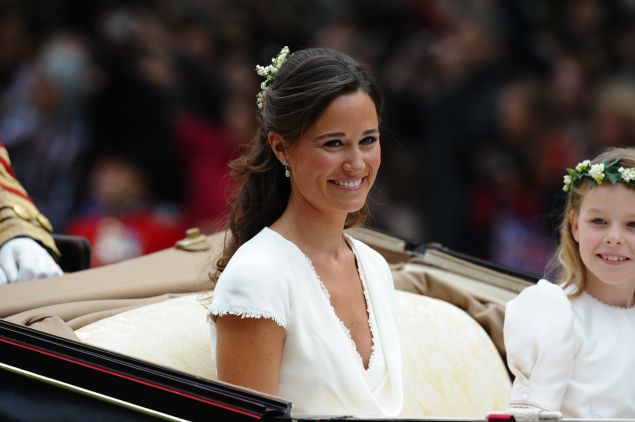 Lavender Green, a Chelsea florist, is taking care of flower arrangements, according to Daily Mail. It's likely that the bouquets will include daffodils and other spring-esque blossoms.
Now, onto the dress—surely everyone recalls the very flattering Sarah Burton for Alexander McQueen dress Pippa donned in 2011, when acting as her sister's maid of honor. It catapulted Middleton to fame, in some very unique ways (remember the social media accounts dedicated to Pippa's behind?). Middleton later quipped, "As I have found out, recognition has its upside, its downside and—you may say—its backside." Nicely put.
Middleton is going with a different designer for her own wedding, though. Giles Deacon was seen toting garment bags into the London home she shares with her fiancé, sparking rumors he'll be creating her dress for the big day. This is a British wedding, so of course fascinators and the like are a big deal, as well; milliner Stephen Jones was also recently seen leaving the couple's home.
As for the wedding party, there's one big change from what many might have expected—it's being reported that Kate Middleton won't have any official part in the bridal party, partially due to not wanting to overshadowing her sister. We suppose that's understandable, because when literal royalty is standing next to you, it's a bit hard to be the center of attention. Besides, maybe she doesn't want a repeat of the aforementioned dress incident of '11.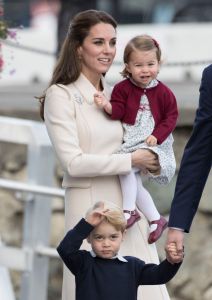 Middleton's adorable offspring, however, will have a more prominent role in the ceremony. Prince George will be a page boy, while Princess Charlotte is expected to be a bridesmaid—in the United Kingdom, bridesmaids are typically younger girls, and the term is used to refer to the entire bridal party. We assume the littlest royal won't be donning any of those pink and purple items offered in the Kensington Palace gift shop.
One detail we haven't yet heard about? Whether Prince Harry is being permitted to bring his girlfriend, Meghan Markle. Perhaps now that she's shut down her lifestyle blog, The Tig, and is potentially moving into Kensington Palace with the prince, she'll get a pass on the whole "no ring, no bring," rule.