Some folks in Pittsburg, Kansas, think it has a parking problem on the way.
Pittsburg is 20,000-person town near Kansas's borders with Missouri and Oklahoma. It takes about 10 minutes to drive from one end of it to the other. An $18 million deal led by the local college, Pittsburg State University, has come together to rehab historic buildings at its very core, the intersection of 4th and Broadway. Called Block 22, the new development will house upper classmen and grad students, while also providing educational and work spaces, as the Joplin Globe reported. Businesses nearby are worried about whether there will be enough parking, because the downtown has not been a place where very many people have lived for a long time.
The main place the people in those new apartments will want to go, of course, will be the university where they have enrolled, a little more than a mile down the street. To allay concerns, the city has agreed to support a shuttle bus service from the new development to campus.
Bringing mixed-use development to the center of this Kansas town is already a big leap forward for the place, but what if the town shifted another paradigm while they were at it? What if that shuttle were operated by a vehicle without a driver?
I know a thing or two about this downtown, that intersection and those buildings, because I was born and raised in Pittsburg. I graduated from the same high school where student journalists sniffed out phony credentials on their former new principal's resume. A real estate agency owned by members of my family has operated out of one of the buildings slated for redevelopment since before I was born, so as a kid I fiddled with stuff at the drugstore on its corner and painted scary pictures on its windows at Halloween.
I hazily remember when that building still had a person operating its elevator.
The historic buildings sit at the south end of one of those old downtowns that my grandparents told me used to be a vibrant place for shoppers on foot, anchored by a Woolworth's store, but for most of my life the downtown has been, well, pretty dead or at least barely breathing. With a Walmart Supercenter north of town and a tiny mall to the south, both swimming in a sea of parking, the businesses along Broadway haven't had much draw for a long time.
'What we actually want is to create the market. To show our technology and make the public confident in that technology'
But when the development is done, 100 or so new people will live there and more still will come in for classes and co-working, according to The Morning Sun. It made me wonder if parking would be less of a concern if routine transportation could be taken care of by one of the innovative new companies building self-driving mini-buses that can run longer than a typical workday and never take a smoke break.

The players
The fight to dominate ridesharing—a battle mainly between Uber and Lyft—is really a fight for leadership when self-driving cars come to market. It has gotten fierce. As Uber has stumbled and stumbled recently, Lyft has pounced. All ridesharing companies are losing money, but each hopes that they can reap rich rewards from dominating markets when ousting drivers from their vehicles makes profit possible.
The smart mini-bus world looks much less cutthroat from the outside. That market looks less like a rush and more like a meander toward sustainable businesses.
"The market is big enough for everybody," Pierre Eliott Petit, head of U.S. operations for the French startup, Navya, told the Observer in a phone call. Petit is opening the company's first office outside of France in Chicago.
Still more prototypes than products, the robot mini-buses have been popping up around the world. One demo'ed at Las Vegas's Consumer Electronics Show this year, another just started a brief demo in London and two have fully deployed in an office park in San Ramon, California. Each example represents a model sold by a different company, and man are these super cute little buggies.
Each stands tall enough for people to stand inside, with seats around the inner periphery. Windows nearly as large as the buses' walls look out in every direction. With no driver in the front, riders have an unobstructed forward view, almost like a cockpit. Critically, the rides' floorboards sit low to the ground (right about curb height), so stepping on and off shouldn't be challenging for anyone and adding even more accessibility features should be much easier than on classic buses.

A traffic data company called Inrix released a report earlier this month where it sized up the autonomous car readiness of the 50 biggest cities, as Governing reported. The report favored cities where most trips run less than 10 miles and where people tend to live within 25 miles of the downtown. Flat landscapes and mellow weather also factored into the list.
The choice to focus on cities seems natural, because that's where the conversation has centered. Clean technology research and consulting company Navigant Research recently named Ford as the leading company in the self-driving car space, as was widely reported. A spokesperson for the vehicle company confirmed that it is focused on cities, because that is where severe congestion causes the most pollution. It's a mission choice, and a laudable one, but will pushing to deploy autonomous vehicles first under the most complicated conditions do the most good the most quickly?
When a man died last year in a Tesla on autopilot, the whole country freaked out. That's why some companies involved in this sector now believe that autonomous vehicles have to be 100-times safer than human drivers before they can really be pushed on the market, as we previously reported.
This seems like an excess of caution, and it raises the question: why start under unnecessarily difficult conditions?
Could early fatalities or even just collisions in difficult markets prevent the hamstring regulators' ability to approve a new technology that will begin saving lives as soon as it's deployed?
And might a rollout that started in smaller, less complicated places actually reach big cities faster by letting officials and the public do their worrying first while watching cars in less variable conditions, where traffic is slower, lighter and it doesn't need to mess with highways?
"For now, at Navya, what we actually want is to create the market," Petit told us. "To show our technology and make the public confident in that technology."
To that end, it's starting where the driving is the very easiest, such as corporate campuses, golf courses, retirement villages and amusement parks.
"You cannot count how many opportunities we have," he said. Even if the company strictly focused on entirely private and low-traffic places where no one expects to move that fast, Petit estimates his company could do a nice business for 20 years. Obviously, though, Navya doesn't want to limit its products to private environments.
Everyone in this industry wants its vehicles on public streets.
The first objection anyone is likely to raise about any form of mass transit in middle America is obvious: everyone likes driving there, and that is true. I went on my first solo drive in southeast Kansas the day I turned 16. But it's also true that not everyone who would like to drive can.
For drivers who have only ever driven in the cities or the suburbs, it's hard to overstate how different driving is in these places. Traffic is so light that the main danger is letting one's attention wane, which isn't to say that the people who live there don't need full mobility as much as everywhere else, but that lighter traffic could also make it an easier place to learn early lessons, and there's a need.
We spoke to Norman Wright, Adams County Colorado's director of community and economic development. He said that throughout car-centric America there are edge cases, particularly low-income people and seniors, who need an alternative to the personal car, and it's usually the local government that ends up providing that alternative.
"A lot of counties like ours, here and other places, we already do a service now for the low income and the senior to whatever destination they need to go," Wright told us. Prior to his time in Colorado, Wright served communities in South Carolina and Tennessee, giving him a broad view of smaller town America.
In Pittsburg, a non-profit, the Southeast Kansas Community Action Program (SEK-CAP), runs a bus route from the early morning to the early evening. It also provides van service on the college campus and will manage the shuttle between Block 22 and campus after it opens.

"We are of the camp that are believers in urban and rural autonomy," Hugh Palmer of Local Motors, which makes a trolley called Olli, told the Observer in a phone call. For small towns, he argued, "I believe it would start with paratransit."
Wright also saw the promise of a light and driverless mode of group transportation. A fixed bus route could be supplemented by mini-buses that feed riders to those stops on as needed basis. Eventually, cloud computing and predictive analytics could make it possible for fixed bus routes to become a lot more fuzzy, while still maintaining predictable service.  
"We are already working on this. It's just a question of mapping the area," Petit said. Right now, their vehicles stick to fixed routes, but they see a more flexible future to come. "You could request the shuttle to pick you up wherever you are," he said.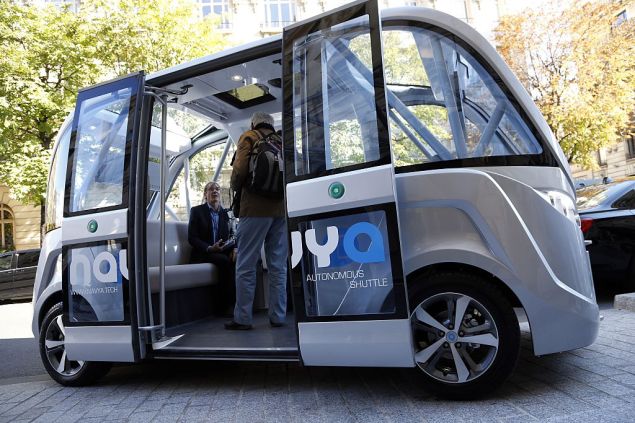 OK, but what does it cost?
Right. It would need subsidies at first, but we're also not talking unrealistic sums.
The two all-electric, self-driving buses on the road in San Ramon cost $250,000 each, according to the East Bay Times, which is roughly the same price as what Navya asks for its bus, the Arma (which also happens to the name of an even smaller town just north of Pittsburg). Navya's monitoring and maintenance plan runs an additional $40 to $50,000 per year, on a five-year contract.
That doesn't include a fast charger, which lets rigs get back on the road more quickly, but it does include the driver: that's built in.
The City of Pittsburg did not get back to the Observer for comment after multiple inquiries. We spoke to SEK-CAP, however, which runs the existing mass transit services there, both the citywide loop for the general public and various university specific services. It will also run the new shuttle from downtown to campus. Its annual budget for transit throughout the region ran $731,000 in 2015, according to the last annual report it published, with 89 percent of those rides in Crawford County, which includes Pittsburg.
Steve Lohr, its executive director, estimated that each of its 14 vehicles cost between $40 and $50,000 per year to operate (driver, maintenance, gas and other expenses), but that does not include capital costs. Each 14-passenger vehicle in its fleet costs up to $45,000 up front.
Every eight-hour shift for a human driver, realistically will only give 6.5 hours of drive time, between checking in, checking out and a meal break in the middle, whereas an autonomous shuttle can drive from eight to 10 hours without any breaks.
Lohr didn't see the operational cost as prohibitive, but the capital cost would be. "We'd never do that on our own," he said. "I would be in favor of exploring any opportunity to partner with local, state and federal folks in any project to pilot." The ability of autonomous vehicles to spend more hours of the day on the road for a marginal additional cost struck Lohr as particularly advantageous.
Incidentally, most of the popular bars operate a block or so from the university's forthcoming work-live space, and the last time I was home a local gentleman was standing in the middle of Broadway one evening screaming at cars headed to various nearby watering holes. I don't think he would have prevented much of a challenge for a robot car to navigate, and it would have been impossible for him to irritate it in the way he did all the owner-operators of vehicles he encountered that night.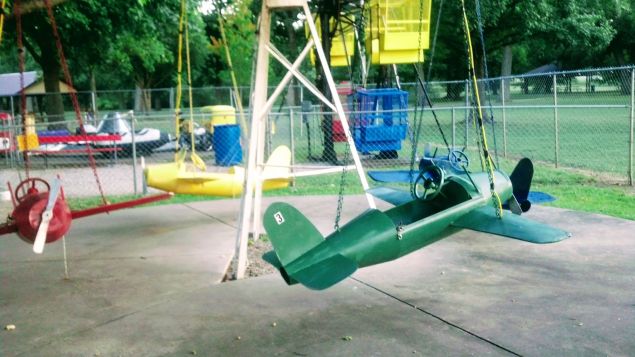 The vision thing
Sam Abuelsamid, a senior research analyst at Navigant who led the work on its report said that future editions would probably incorporate the self-driving trolley companies, such as Local Motors, Navya and Easy Mile. "Smaller towns and rural environments, I think that's generally seen as a less immediate problem to be solved," he told the Observer in a phone call.
Today, people tend to buy more car than they need, a point that both Abuelsamid and Wright each made when we spoke. Indeed, every household in my family has always owned at least one pickup truck. From hauling firewood to furniture to decapitated wildlife, they all got used to their full potential—sometimes. Mostly, they just shuttled people around, and that's because we all buy cars for what Abuelsamid called "our worst case scenario." And between those periods of intense need we have to park the things somewhere.

But parking could be less of an issue in changing neighborhoods like downtown Pittsburg if the new arrivals didn't need cars as often. Today, the main application most personal vehicles apply themselves to is sitting still on a slab of concrete. A paradigm leaping solution like robot trolleys could turn the low-intensity controversy over slabs of concrete in downtown Pittsburg into an opportunity with global implications.
With its smooth roads, favorable weather and mellow traffic patterns, Pittsburg (or a place much like it) might be right for testing computer driven vehicles that simply don't need their own slabs of concrete. Doing so could get us all on our way faster to a world where public slabs of concrete aren't needed at all.