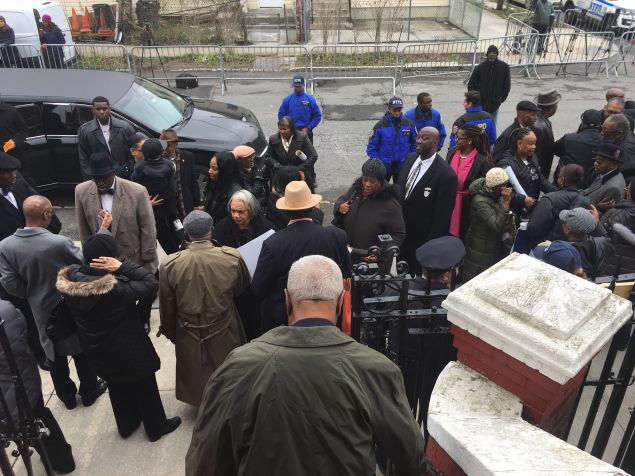 Mayor Bill de Blasio, Public Advocate Letitia James joined friends and family of Timothy Caughman, a black man murdered by a white supremacist in Manhattan last month, to honor the life of the Queens native—and to call out the hate his killer, James Harris Jackson, harbored.
Jackson, a Baltimore resident, faces charges of first- and second-degree murder as an act of terrorism, second-degree murder as a hate crime and three counts of criminal possession of a weapon. The racist stabbed Caughman to death with a sword on 36th Street and 9th Avenue, according to the New York Times, and turned himself over to authorities with the confession he had traveled from Maryland to New York City specifically to commit a highly publicized killing that would scare people out of interracial relationships.
"You have to understand—the forces of hate have been unleashed in recent months and we can't for a moment think that we can observe, be sad, be angry, be frustrated then move on. Because we owe it to Timothy to do something more,"de Blasio said at the funeral at Mount Zion Baptist Church in Jamaica this morning. "We have to call it what it is. Anytime there is an act of racism and it is not called racism, it allows that stain to continue to grow."
The mayor, accompanied by his wife, First Lady Chirlane McCray, called on people to celebrate Caughman's life but urged them to speak up on why he was killed. He reiterated an earlier statement that the murder was a "racist attack" and an "act of domestic terrorism." He said everyone has an obligation to "reject that message of hate" because Jackson's hatred isn't isolated.
He also blasted media outlets that included Caughman's criminal history in their coverage, saying that it did not make sense to dwell on that.
"So why, if he's a victim, an innocent victim of a racist attack, does any reporter wanna talk about a mistake he made along the way?" de Blasio said. "Why is that pertinent? What's pertinent is he was the victim of a racist attack."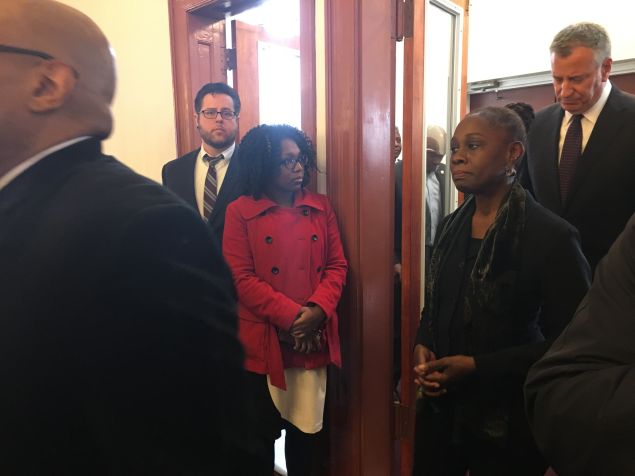 Public Advocate Letitia James said the murder reminds people of the "dark history" of the United States, and how African-American men are targeted, calling ignorance "the cousin of hate."
"We're gonna use Timothy's death as a symbol to recognize that yes, God will fight our battles but after we pray on our knees for all of those who suffer hate, we've gotta stand up and we've gotta demand justice for Timothy," James said.
Born and raised in Jamaica, Queens, Caughman received his formal education in the public school system and was described as "a good student." He later attended local community colleges with the intention of becoming an orthopedic doctor, according to his obituary.
His father was a minister at Mount Zion Baptist Church. Caughman frequently visited Washington, D.C., attending congressional hearings and budget policy sessions, and worked in programs seeking to combat poverty in his home borough.
"He was not homeless as the media said at first when this happened," his brother-in-law Charles Jackson said. "He never would have been homeless, not with the family on both sides that he had."
Wayne Holmes, one of his friends, said he would always "talk about the world, the issues" and that he read a lot.
"He had culture, he had class, he had character," Holmes said.
Brooklyn Borough President Eric Adams hosted an emergency community response rally. Brooklyn Councilman Robert Cornegy, c0-chair of the City Council's Black, Latino and Asian Caucus—who attended the funeral—also called for a meeting with Police Commissioner James O'Neill.
Portia Clarke, who grew up with Caughman, thanked local Black Lives Matter leader Hawk Newsome, Gem Isaac of Why Accountability and Kimberly Ortiz of NYC Shut It Down—all of whom were part of a small group of activists that showed up to Jackson's court appearance.
"When they found out who we were, they just embraced us and they [came] with us and they explained what was going on, the charges that he was being charged with," Clarke said.
Clarke said Jackson showed "no sign of remorse" in court and that she wanted to "reach out and grab him" but said she "knew I couldn't do that" because "they would have had me in jail"—saying that she would leave it in God's hands.
"I wanna say, we all love Tim, am I correct?" she said, as attendees yelled, "Yea!" in response. "On the count of three, you look at him and you say, 'Tim, your life matters!"
Newsome, who has urged the black community to enroll in self-defense classes, said the best way to memorialize Caughman is to show up for court appearances and to "continue to shed light on racist terrorists." He also said they have seen several websites that "promote this type of behavior."
"I would like to see people hold the elected officials that were there [funeral] responsible for the investigation into these terrorist activities against black people," Newsome said. "I'm sure that they made promises and it's up to the community to ensure that they follow through to protect black people. So while we hold them accountable, we must also take steps to protect ourselves."