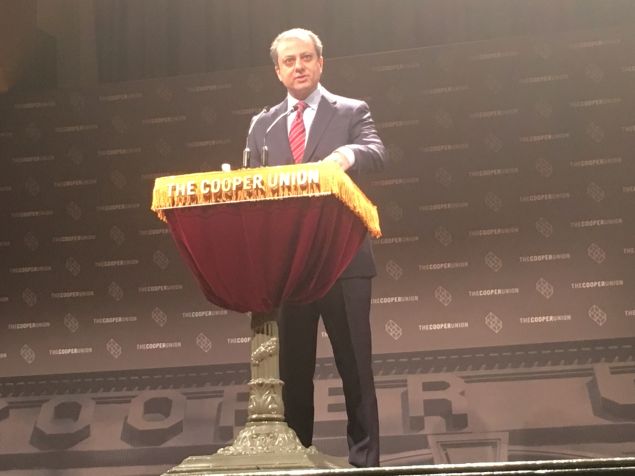 Ex-U.S. Attorney Preet Bharara got his revenge on President Donald Trump for firing him last month despite asking him to stay on in November, but it was Trump in the hot seat tonight—the former federal prosecutor, whose shackles appeared to be off, tore into the commander-in-chief in front of a hundreds-strong crowd at Cooper Union in Manhattan.
Just months after Bharara told reporters in the lobby of Trump Tower the new president had asked him to stay on at the Southern District of New York, the Department of Justice requested the resignation of 46 U.S. Attorneys appointed by former President Barack Obama, including Bharara. A day later, Bharara said that he refused to step down and that the administration subsequently fired him.
In his first speech post-firing, Bharara started out by poking fun at Trump over the anemic attendance at his inauguration in January, and the president's subsequent insistence—contrary to facts—that the crowds had been large.
"I don't care what the pictures show," Bharara said, garnering laughter from the audience. "My crowd is a lot bigger than Obama's crowd. Much bigger than Obama's crowd."
He then addressed his firing, maintaining he was asked to abdicate and refused because he "insisted on being fired." Bharara voiced his disappointment over the manner in which the administration laid him off.
"I mean, after—how many people remember the dramatic moment on The Apprentice every week when Donald Trump sat at the conference room table, manned up, looked the contestant directly in the eye and said in that voice, 'Would you kindly submit your letter of resignation?,'" Bharara continued, to laughter. "I don't remember that."
He reiterated that the U.S. Attorney's office should "never be a rubber stamp for the White House" and noted that there has been a lot of civic engagement from both supporters and opponents of Trump—though remarking that the 2016 presidential election saw very low turnout.
In an interview with the New York Times, Bharara acknowledged it is a customary standard for new administrations to fire U.S. Attorneys from the previous administration but said he was surprised Trump fired him after asking him to stay on—and called the firing "a direct example of the kind of uncertain helter-skelter incompetence" that has characterized the Trump administration. Prior to his ascendance to the U.S. Attorney's office, Bharara served as chief counsel to now-Senate Minority Leader Charles Schumer, and the decision to retain the prosecutor after the election appeared to many observers as a conciliatory maneuver.
The relationship between Schumer and Trump subsequently soured.
"I don't really understand why that was such a big deal, especially to this White House," he said. "I had thought that's what Donald Trump was good at. I had thought that that's part of how he got to be president."
He reiterated that point during the speech, noting that he's "been around the block a few times" and has "seen some things that have happened before."
"I want the record to reflect for all time that it was a deliberate decision…a specific decision to change one's mind and deliberately fire me particularly given what my office's jurisdiction is and where my office was situated," he said. "I'm not making any accusations about anyone but…I want the record to be clear."
Since losing his job, Bharara started a new position as a distinguished scholar in residence at New York University Law School, and has become more vocal on Twitter.
He even directed an electronic jab at Gov. Andrew Cuomo's disbandment of the anti-corruption Moreland Commission. While U.S. Attorney, Bharara called the commission's dismissal "premature" last January, but said there was no proof that it was a federal crime.
Indeed, he badgered Cuomo—whose top aides and donors he indicted last fall—over the commission yet again, also lamenting the lack of ethics reforms.
"If a public corruption commission gets abruptly shut down for nonsensical reasons, you're allowed to be angry and call B.S. when you see it," he said.
Bharara also probed and poked fun at Mayor Bill de Blasio as U.S. Attorney, but declined to mock him tonight. The prosecutor, who brought suit against the city over conditions on Rikers Island, said he was pleased that the mayor "finally endorsed" a plan to close the facility.
He also said that "draining a swamp takes genuine commitment to justice and fairness" and alluded to reports of Indians being afraid to travel to the United States after two Indian-Americans were shot in a bar in Kansas.
The former prosecutor's tenure featured insider trading convictions, some of which unraveled on appeal, the corruption busts of former Assembly Speaker Sheldon Silver and Senate Majority Leader Dean Skelos and high-profile terror cases.
Bharara said he was proud of the work that he accomplished, but said there's more to be done.
"Did we get everyone?" he said. "No. Did we eradicate corruption? No."