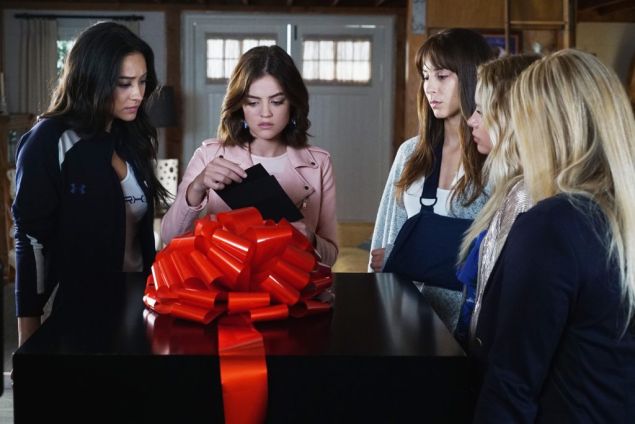 Tuesday night marked the end of Passover and the delightfully over-leavened return of Pretty Little Liars. There were more gifts from the mysterious A, more gallons of glossy lipstick, more shocked looks, more luscious outfits, and more cliffhangers than a Roadrunner cartoon. If there had just been one trip to the hospital, it would have been enough for us.
Season Eight will be the last for PLL, and frankly I'm devastated. I'm such a fan that I even bought Spencer's darling Zara dress from season 6, ep 8, despite being a good ten inches shorter than the willowy Troian Bellisario. At some point, the Liars will have to age out of being young, beautiful, and stalked. A show that hinges almost solely on the existence of group texting has to end.
Over the years, PLL gave viewers a well-written, crisp, and often thrilling show. The main characters are bright and interesting, and Aria, Ezra, and Spencer make frequent and relevant literary references. Tonight's episode had an especially apt Gatsby quote (So we beat on, boats against the current) that spoke to why the show has felt fresh and smart for so many years. The show celebrated crafty, cunning girls like Mona, and metes out punishment to girls like Jenna, who use their beauty in place of intelligence.
This one promises to wrap up all of the lingering questions from the entire series. PLL began with the disappearance and supposed murder of Allison DiLaurentis, and the torture of her friends by the mysterious A. Each plot twist gave us a different A – Mona, then Charles, actually CC… and now there's A.D., the final A. Could it be Archer Dunhill, aka Elliott Rollins? Who could possibly be left to torment them? The series will end with a two-hour finale that will finally unravel all of the secrets of Rosewood, the fictional Pennsylvania town where the Liars are trapped and hunted.
The last we saw of the Liars, it was all Sturm und Drang in the cabin where they meet. Spencer was shot, and the girls had received shattering news. Allison's husband was a con artist, and also knocked her up. Aria gets engaged at last, but days later, Ezra's former flame is found alive in a remote jungle. Emily finds herself torn by her feelings for Allison, who she suspects is toying with her. Hanna's attempt to capture Noel goes horribly awry, but she does reunite with Caleb. No one was safe. Toby and Yvonne were unconscious in a wrecked car, and Noel Kahn's comically beheaded kepallah rested on the floor. Mary Drake told Spencer she was her real mother, and then Mary vanished. The season begins in the aftermath of that bloody mess – if you missed season 7, aren't you dying to watch it now? – and while Noel is still dead, there have been other huge changes.
While Toby survives the crash, Yvonne is still in a coma. Hanna and Mona uneasily work together to launch Hanna's clothing line. Emily negotiates between Allison and Paige, all of them returned to Rosewood High as staff. Most shockingly, Mrs. Hastings admits that she did adopt Spencer from Mary Drake. Why? Because Spencer's real father is…Mr. Hastings. He slept with Mary Drake because he didn't realize she was the identical twin of Mrs. DiLaurentis. Allison's family has a Hastings child, and the Hastings family has raised a Drake child. Complicated, but it makes sense in Rosewood. And in one tender scene, the deep bond between Spencer and Veronica Hastings is made clear, as Veronica lovingly tucks in the child she raised as her own.
The heart of the episode occurs when girls receive a new game from A.D., the newest, worst, Uber A. The game refers to how A toys with the Liars over the years, such as sending letters, fireworks, and worms instead of takeout food. Games have been a running theme in PLL, ever since Mona went to Radley (the local madhouse) and A "stole the game" from her. Spencer learns the identity of A through anagrams like CHANDELIER'S RITUALS from way back in March 2015.  The new game is the Endgame. Once the girls begin to play, they won't be able to stop. They have all season to play this final game, and as A.D. reminds them, it's winner takes all.
Obviously, I can't wait until next week.