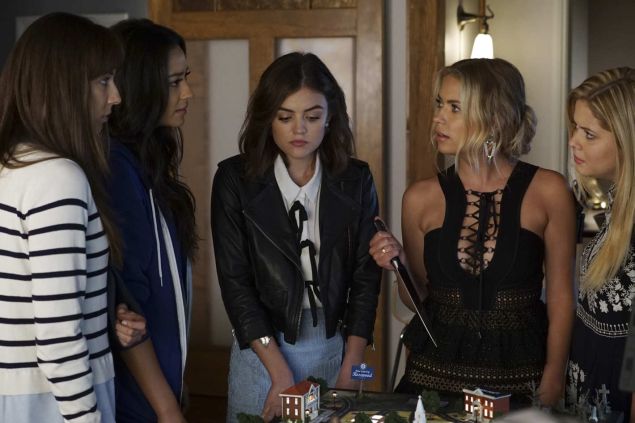 The teen drama part of this no-longer teen drama returned tonight to PLL. A creepy student named Addison Derringer (her name is like a little riff on ADD meds and a lady gun) is out for Coach Emily Fields, complete with a nasty tale of sexual harassment. Addison is even more Alison than the original, and deliciously bitchy. That's the A story for the night, no pun intended.
The rest of the episode is a nice smattering of B stories. Aria helps Jake cook for a wedding party. Yes, Jake the martial arts guy from season 4. The pretty Senator's daughter wants to wear a dress designed by Hannah, a dress that had originally looked like "the sugar plum fairy meets the Grateful Dead." It's actually a super cute dress. According to wornontv.com, it's Style #50645 by Sherri Hill. Spencer realizes that her parents are the only ones who can appreciate the "bitter irony of checking in to the mental hospital where I was born."
Even better, it was so fun to watch with the episode with closed captions. When Jenna enters the police station, first the screen shows us the sound of walking stick, followed by intense music. And then Jenna has two bookend friends with identically clackety walking sticks, plus she's wearing a replica of the dress Hannah designed. And best of all, when Hannah goes to the cobbler's to get her shoes – yes the cobbler – you just know there's going to be some of the classic season two business of her getting trapped and that the cobbling tools are going to make a moccasin of her arm.
Literary references roundup: The hot (so, so hot) new detective is Marco Furey. That's basically the Italian version of Michael Furey, the long dead lover from James Joyce's The Dead. There's a good William Blake reference from chef Jake: the road to every altar is paved with good intentions. Paige's last name is McCullers, as in Carson McCullers, who is sadly forgotten these days. Read The Heart is a Lonely Hunter. Paige for sure has.
When PLL began in 2010, Emily was the weakest and meekest character. She was always the soft touch for Alison. Over the years, Emily has lost every single relationship because of her inexplicable kindness to Ali. I like the gradual, steely change in Emily. In tonight's episode, the girls do their usual fretting over what could happen if another video of them burying dead body is revealed (this is not their first dead body rodeo). It's Emily who says the obvious – that even if the video is found, they can explain it. It would be difficult but not impossible to explain why they were burying Alison's husband, and Emily is the toughest Liar now. This episode shows her finding her dark side, which is exactly what A.D. asks her to do at the end of the show.
Team Emily. Go darker.
This week's prediction: A.D. is Mona.