It's not often a piece of children's clothing is iconic; but after Prince George greeted President Obama in a tiny robe, the world needed to know where he purchased such an item. The robe was courtesy of My 1st Years, a brand that is beloved by celebrity offspring. Luna Legend has also donned the brand, in the form of an adorable onesie.
The brand's celebrity clientele is not a coincidence. The founders, college friends Daniel Price and Jonny Sitton, have camped out at celebrity hot spots and tracked down their favorite famous parents to make sure their children received customized outfits.
"We were buying Nike ID trainers with our initials, and we wanted to see if it was possible to personalize a baby shoe," Price told the Observer, while surrounded by tiny, personalized baby shoes. The original concept expanded to include everything from luggage tags to blankets. And, of course, that robe.
When the brand launched in 2010, the pair started targeting celebrities. "We were literally gifting celebrities properly, and not through their agents. We would turn up wherever they were going. We'd get in with a friend, or we'd make sure we'd get in with them," Price explained. "Them" includes the offspring of the Beckham family, Elton John and Beyoncé.
"We made a contact through Kate Middleton's personal assistant. When George was born, we sent him a few gifts. And then when Charlotte was born, we sent her a gift set and George a big brother gift, that was the robe. We hadn't heard anything and then we saw the image online, and we were shocked," Price said. The robe sold out within a minute. At the time, there were only 200 left in stock. After announcing a pre-order, they sold 3,500 that week—they previously sold about 30 per week.
Before this brush with fame, Price and Sitton had plenty of practice getting their goods in the hands of paparazzi targets. "We would turn up to Downing Street, where the Prime Minister is. I would call up and say I was a family friend of the Camerons' and 'you need to put me on the list so I can hand-deliver a gift.' I delivered it to the personal assistant." Another encounter involved Elton John during a radio interview, and a recent run-in put a onesie on Dream Kardashian during a Snapchat story.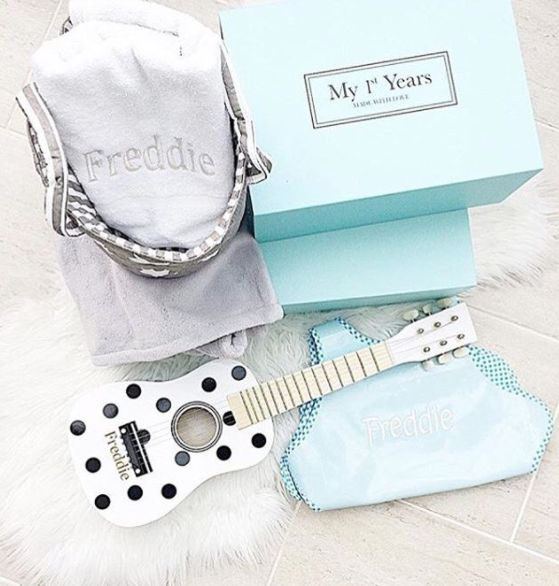 "Last year, I saw Kris Jenner in a restaurant in LA, and I just went straight up to her and introduced myself. The week before, we had made mini baby Yeezys for Kanye West and Kim Kardashian's baby. I got her to help me get it to them," Price told us. "Last year, we turned up to Beyoncé's house in LA and we drove through the gates, gifted, and we saw Jay-Z there; they loved it."  
After Americans clamored to get their hands on the dressing gown, the pair realized they wanted to expand to the U.S. The pair are now spending time stateside, where people can buy their customized baby gifts expediently. While they won't hand deliver by camping outside your house, orders from My 1st Years will be delivered within two days of your online order.