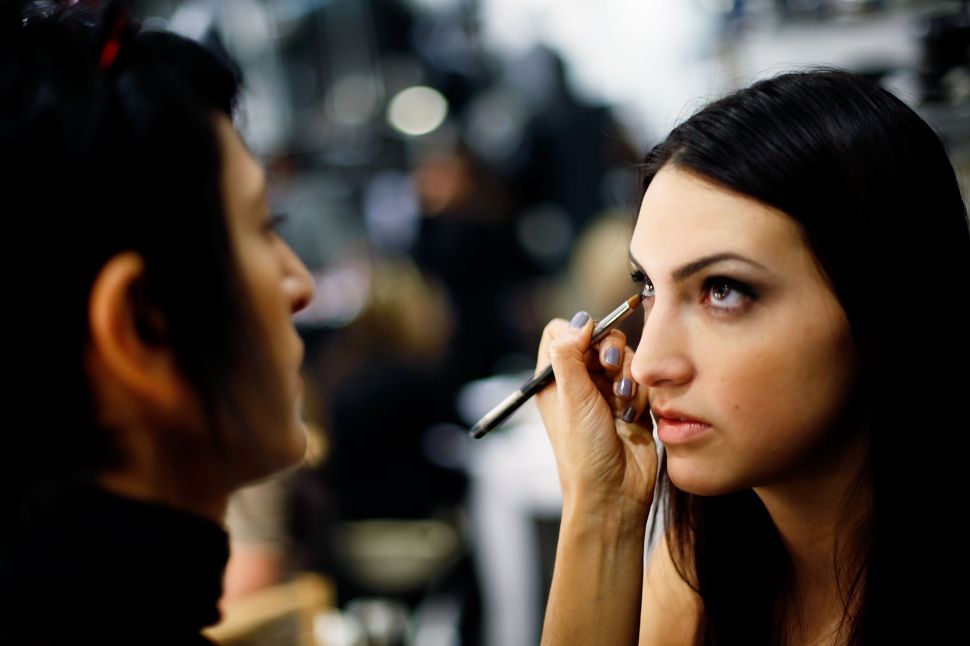 In the ongoing quest to figure out why Americans aren't shopping like they used to, retail analysts' beady little eyes have turned to a new culprit: teenagers. To be fair, the analysts' eyes are probably not very beady, but teenagers' apparent deviation from a two-generation norm of blowing their disposable income on clothing and shoes is now being discussed in investor circles.
PiperJaffrey's biannual "Taking Stock of Teens" survey notes that teen spending is down year-over-year. Tellingly, parental contribution to teenager spending—i.e. the money parents put toward their kids' clothing and expenses—dropped from 68 percent of a teen's total consumer outlay to 63 percent. Parents are cutting back, and kids are diverting their gotta-have-its from clothing to digital downloads (media and games) and food—more social expenditures.
A Business of Fashion op-ed warned of the results, "It's undeniable that this generation is spending less on clothing than their parents and could carry those frugal habits with them into adulthood. That could mean even lower customer traffic numbers and further declining sales at department stores and specialty retailers.
So what? Teenagers are a coveted consumer demographic because they aren't yet brand-loyal, so there's time to sucker them into adopting a new brand. They're also in the sweet spot between "just began working" and "not yet paying off student loans," to the tune of an estimated $91 billion in annual purchasing power.
Teens are early adopters of a lot of new consumer technologies, and they can actually make or break a market by deciding whether or not to introduce the adults in their lives to a new tech. For example, teenagers aren't the ones who are deciding which hosted cloud provider your workplace is using—but they are the ones who normalized cloud-based services as an element of everyday computing. Teens aren't the ones who have to write the BYOD policy for a workplace—but they are the ones who normalized the cultural expectation that we can move seamlessly between work and personal tasks on one device.
A demographic that is known for an openness to new brands, discretionary income and early adoption of new product categories is one that most consumer-facing businesses want. What some businesses are struggling with now is how to attract the elusive teen consumer—and what to do once the cultural tides shift among teens and you're no longer cool any more.
Who cares? Nearly anyone whose goal is to separate an American from her money.
The push to differentiate brands via experience is not new. We've seen it with cosmetics stores, pop-up shops meant to amplify a brand that's primarily online only, the explosion of subscription box services, and e-commerce retailers trying to make the presentation of their packages part of the brand experience.
Since the idea is that teenagers will spend money on experiences that burnish their social currency, expect to see retailers try to trot out classes, meet-and-greets or social experiences for select shoppers (i.e. big spenders), hoping that the aura of exclusivity will rub off on kids who want behind the velvet rope.
According to a survey done by IBM and the National Retail Federation, teenagers prefer shopping in person but a majority find it incredibly boring unless there's a fun or interesting experience attached. Think about how Nordstrom does brand launches as events with free food, live music,  and in-store stylists. You're not merely spending money, you're entertained by an experience that is a limited commodity, and therefore perceived as more desirable. American Eagle gets this and has recently launched in-store cafes with craft sodas. (Since the Piper Jaffrey survey found more teens spending money on snacks and food, this seems like a sensible diversification effort, too.)
Teen brands don't live forever—tell me the last time any Gen-X woman bought something from Esprit. But it will be interesting to see if these teenagers' shopping habits follow them into the paying-student-loan years, and how that will reshape every other consumers' shopping experience.
Want more? There's a whole archive of So What, Who Cares? newsletters at tinyletter.com/lschmeiser. In addition to the news analysis, there are also fun pop culture recommendations.