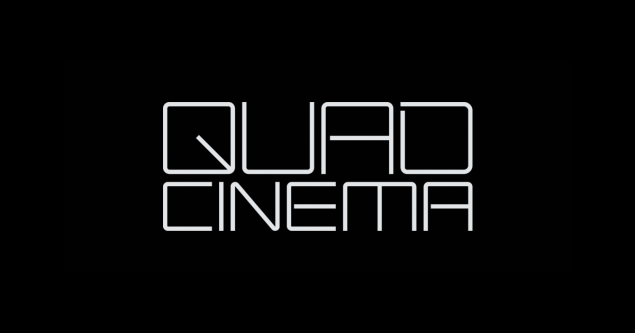 Multiplexes have become such an omnipresent (and homogenized) part of New York City that it's surprising to realize that the very first one, established back in 1972, was a modest, four-screen arthouse theater in Greenwich Village. It was, fittingly, called the Quad Cinema. Like every other still-existing Village institution, the theater has had its fair share of ups and downs, revitalizations and near-collapses, but starting April 14th, the next phase in the Quad's life begins, as it finally reopens after millions of dollars of renovations, redesigns, and rebranding. Charting its new cinematic path is Director of Repertory Programming, C. Mason Wells, who spoke to us about his programming goals, his observations about the state of cinema in New York, and what we can expect from the new-and-improved Quad Cinema.
You have the opportunity to establish the artistic identity of the theater, especially when it comes to setting it apart from the Film Societies, IFC Centers, and MoMAs. How have you gone about doing that?  
It's something where you start to think a lot about the identity of the different theaters and what different places can do and what makes sense for a different space. You can't always necessarily dictate what your audience is. You can try and program to attract a certain audience, but a lot of that is out of your control. The demographic makeup of the neighborhood will sometimes influence the programming of a particular space. And then, there's whether you're a non-profit or a for-profit theater, just the kind of vibe and aesthetic. Are you an institution like a MoMA, where there's kind of total purity, no food or drink in the space at all, or a theater like an Alamo Drafthouse, where food's being brought to you? Putting different movies in those different spaces gives them different contexts. If you were to play porno chic films from the '70s at MoMA, that would suddenly give it a different imprint than if you were showing it at Drafthouse, where you might almost expect something like that. At MoMA, all of a sudden, you're looking at this in an almost academic context. So what I want to do with the Quad is create a context where anything can happen. You'll never be like, "Oh, they're showing that at the Quad?" It's sometimes frustrating to me that I have to go to one type of theater for a particular kind of experience or movie versus another. In my kind of dream movie theater, all that exists there, and every night of the week, you are getting some different element of that.
How did your previously held expectations of being a professional programmer compare to your actual experiences once you started actually doing it?
When I got out of college and started working, I don't think I realized film programming was a job, and then, once I realized it was, I had to find a way to make that my life because, "Oh! You can get paid for watching films and selecting them and putting them together? That's something that I want to be a part of!" But once you start getting into the nitty-gritty of programming, you realize just how many barriers there are, and it's increasingly difficult especially for programmers who value 35mm now. We want to be showing film prints, and we do it as much as is humanly possible, but there are so many roadblocks, like prints that exist but are not being made available. Or often times now for a given movie, and on our first couple calendars at the new Quad, we have multiple examples of this, we could get a DCP easily of a particular title, but we are actually going to end up paying more for one entity to the rights of the movie and to another entity to borrow a print from an archive or a collector just for the privilege to show it on 35. That is something where we're taking a small financial hit, but in the interest of kind of doing the right thing. So, once I kind of became involved in film programming and it became an actual job for me, realizing the financial reality is a very rude awakening. It's very difficult to think of programs that will appeal to certain kinds of audiences and that really motivate people to come out to a movie theater to see something, especially when so much of it is available in other formats.
How involved are you in the crafting of the overall experience of going to the Quad from the moment someone walks through the door?
I'm constantly trying to think of new ways to tweak the moviegoing experience. Like, there are certain constants wherever you go, right? There will always be some sort of card or trailer at the beginning that says, "Don't talk" or "Don't text," you know, but how do you do that in a new way? What I want to do have an audio recording that plays before the movie begins that makes it more akin to going to the opera or the ballet. It instantly imparts a different feeling and vibe, I think, as opposed to getting something on screen that's kind of shouting at you. Getting kind of a nice calm, civil voice telling you that just sets a certain mood and tone, and that's something that I think is really an important thing as a part of the whole experience. You want to be able to give a feeling of going out, to bring some sense of civility and romanticism to the event of moviegoing. Moviegoing is just so important to me and people are so often trying to make it feel special with 3-D or other gimmicks or having different people come in person for shows. All these things are great and add a lot to the moviegoing experience, but I think there's even smaller, more subtle ways you can tweak a person's experience that has a lasting impact. Like, I love the idea that at Cannes, the nighttime screenings for films in competition are on a red carpet and you have 3,000 people getting dressed up in formal wear to go sit in a theater and watch a movie. There's something really beautiful about that, that they take it seriously in that way. For me, moviegoing is sort of like going to church, except I would want to go more often than people go to church, but it's something where you want to get dressed up and be on your best behavior because you are there in service of something that is bigger than you are. And there's something to me that's very pure and wonderful about that experience that I want to provide to people. That this is not just you going to the movies. Of course, you can duck in at any point. That's why movie theaters are great, they're around, they're playing shows all day, there are lots of options for you, but when you go, you feel like there's something special, that you're part of something. And at the Quad, you are, just because of the history that is contained within the space.
When you talk about your "turn off your cell phone" message fitting into the vibe of the theater, I think about the Drafthouse because they have that certain vibe where they can get away with saying, "We will literally murder you if your phone goes off."  But if they did that at Lincoln Center…
Can you imagine that kind of card playing before one of MoMA's screenings? Like, how the MoMA audience would react to that? I mean, at each theater, they'll often play similar kinds of movies. There will be some movies at MoMA that will sometimes overlap with programs that might be at Drafthouse, but it's a completely different aesthetic. It goes down to the branding, the logo, the colors of the seats, all of these things add up to impart an overall vibe to a space. And I think everywhere around town, all the programmers I know, people who own theaters, they think a lot about these things because it really does affect a viewer's perception of a theater.
While many theaters are panicking about streaming services, one positive effect of them is that people are a lot more knowledgeable about movies, which I imagine actually helps with your programming.
That is the great benefit of streaming sites and just the internet in general. People just know more, like young cinephiles now who have come up with more internet access and more access to titles, whether streaming legally or illegally. They just have a broader knowledge of this stuff than when I was coming up. When I was in my early 20s, we didn't know as much as a lot of these kids do now because we just didn't have access to it. Because that begets more expansive viewing habit, I think we can push one another as programmers and push the audiences more because they know more, they see more, they're looking for more. And that's exciting that we're constantly in all the different theaters together and the entire community creates a dialogue, trying to see what work and what doesn't. That is possible, at least in part, because you have really informed audiences who are demanding buried treasures, things they've never heard of. Yes, canonical classics do better now that people crave a certain theatrical experience for watching renowned films, but at the same time, there are also films that have never that have never come out on DVD. Like, several of the movies in the Lina Wertmüller series that we're opening with have never been released on video in this country before, so these are prints that are coming in from Italy. And once they show for a few times here, they're going back to Italy, and I can't tell you when the next time they're going to come back to New York. So that Halley's Comet rarity of certain titles becomes a major selling point.
You're also opening with the "First Encounters" series, where you have a notable person like Noah Baumbach or Kenneth Lonergan choose a movie they haven't seen before and do a Q&A after the screening. Is that going to be an ongoing series?
It's something that we're going to try and do as much as possible. What's great about a series like that is that the possibilities are endless. It's all centered around people, and in New York, you have access to so many incredible filmmakers and artists and writers and comedians that you will never run dry. I think each time, it will have an entirely different feeling that's so tied into the personality of the guest presenter because what you're getting from them is a raw, real-time reaction after the movie is over. Occasionally, the people are going to be disappointed by the things that they watch because they've built them up in their heads for possibly years. They've been wanting to see this movie for a really long time, haven't gotten around to it for whatever reason. Maybe they're saving it. I know I have movies I haven't seen that I could see, but I'm sort of saving because I know I'm going to need that at one point. There's going to be a time in my life where I'm going to be upset about something, and I want to know that Angel by Ernst Lubitsch is sitting there as one of the only Lubitsch films I haven't seen and I will bring it out and then I can finally kind of see that film. But there's something exciting about being able to have a guest at your theater and getting a real sense of who they are through this instant reaction. But, of course, it takes a certain person who is willing to make themselves vulnerable like that in front of an audience who probably has seen this movie before. Normally, these things are so rehearsed, and it can become very academic. There's something very exciting to me about how much it will say about the way that Noah Baumbach watches a movie and thinks about it. What is he looking for? What was he surprised by? What didn't he like? Maybe he's read about the movie or heard certain things, but anytime you haven't seen a movie and you finally see it, it's always different than you thought. No matter what, there's always something that you never could have anticipated.
Is there anything else that you can talk about that you have going on for the first few months of the Quad?
We have an ongoing series called "Quadrophilia," which is telling the history of the Quad through the movies that played there. We put together a really comprehensive list of everything that had ever screened at the theater, so we're kind of poring through the archives and picking things we really like, that maybe haven't shown in New York in a while, that we think deserve to be seen, as well as things that tell a story about the theater. The very first repertory movie we're going to play on April 14th when we reopen is the very first repertory movie that played at the Quad when it opened on October 18, 1972: the Busby Berkeley musical The Gang's All Here. We're showing an IB Technicolor print that was struck from the original three-strip negative and re-released in the early '70s and played at the Quad. So, kind of bringing that back and thinking, "Okay, I'm going to watch the same movie on the reopening date of this theater that someone could have watched on the actual opening date at this theater in this exact same space." There's something to me that's very special, that kind of like taking out elements of the theater's DNA and bringing them back to audiences. And then we're doing another series called "Fourplay," which is essentially a cheeky reference to the fact that the first question my colleagues and I always get is how many screens does the theater have, and most people will wait a beat and then be like, "Oh, it's called the Quad. It's four screens." [laughs] So, it's all films that revolve around four, like Four Weddings and a Funeral, Quadrophenia and Rocky IV. But this cheeky concept contains such a wide swath of movies that I like to hope is representative of the breadth of the kind of programming that we'll do. You want mission statements to be about the variety of what you're going to play, and also just the sheer quantity too, without sacrificing quality. It's pretty exciting as a moviegoer to think that, on any day of the week, you're going get something different here, and it's going to be good, no matter what.