Dust off those Miles Davis records and polish that sax: Designated by the United Nations Educational, Scientific and Cultural Organization, International Jazz Day is coming up on Sunday, April 30, a global celebration designed to honor an often-forgotten, yet constantly changing and currently vibrant genre.
For its sixth iteration, with festivities based in Havana, Cuba, #JazzDay couldn't be coming at a better time as the art form is currently experiencing a burst of mainstream attention and popularity in both New York and national culture.
Aside from one of the most popular movies in recent memory a homage to jazz (yeah, we're talking about the polarizing near-Best Picture winner La La Land), there has never been a better time to be a jazz fan thanks to an abundance of longtime legends, up-and-coming talents, and a growing—and more attuned—international audience.
For a genre whose mainstream relevance has always waxed and waned, with everyone from Kamasi Washington to Kendrick Lamar to La La Land capitalizing on its timeless aura of cool right now, there's no denying jazz is having yet another moment.
To prove it, here are five solid reasons to be excited for the state of jazz today, from a thriving regional radio station that regularly pumps out jazz to the masses, to the impressive array of successful clubs to hear the art form live and in person—and everything in between.
[youtube https://www.youtube.com/watch?v=uIxCdiy0_jc&w=560&h=315]
Newark's WBGO Is Bringing Jazz to the Masses
Whether it's a rainy Monday morning or a beautiful Saturday afternoon, there is no better soundtrack to score your day than the sounds coming from WBGO, the public radio station devoted to all things jazz based in Newark. Initially only broadcasting on 88.3 FM, and now funneled through their slick website and smartphone app, WBGO has been a regional radio staple since it was founded in 1979.
With a reported weekly audience of a cool half million listeners around the entire globe, the station celebrates all facets of both jazz and blues, from the classic sounds of the 1950s, to more progressive sounds coming from current-day artists, all the while churning out a palatable mix of deep cuts and classics meant to suit any taste.
As an added bonus, its laid-back DJs are both soothing and knowledgeable. Host of the station's Mid-Day Jazz program, Rhonda Hamilton is one standout voice we particularly love. A familiar voice to NPR listeners as well (where she hosts, what else, jazz shows), Hamilton has been a WBGO crown jewel since the very beginning.
New York City's Live Jazz Scene Has Never Been Better
When it comes to seeing live jazz in the Big Apple, New Yorkers in particular are currently treated with an embarrassment of riches thanks to the dozens of clubs across the metropolis boasting live performances any day of the week and late into the night.
Take for instance the West Village's grungy Fat Cat, a staple for NYU kids with its cheap beers, ripped couches and eclectic lineup.
Or maybe Avenue B's aptly named Rue B, where young talent regularly struts their stuff.
Over in Brooklyn, the charming surroundings and groovy tunes of Williamsburg's St. Mazie Bar & Supper Club make it a must-visit, and proving jazz knows no boundaries even the expansive German beer hall Radegast Hall regularly features jazzy acts while the hordes munch on bratwurst and Hefeweizen.
Of course there's also those well-trodden staples, like Flatiron's Jazz Standard, West Village's Village Vanguard, or the historic Blue Note too.
[youtube https://www.youtube.com/watch?v=iq7jnRMQh8U&w=560&h=315]
Sammy Miller and the Congregation Are on a Mission to Spread Joyful Jazz
Originally featured in an Observer rundown of independent artists in December 2015, Sammy Miller and the Congregation— led by the charismatic Miller—have turned into one of the most unique groups in New York's jazz scene.
On a quest to bequeath listeners with what they like to dub 'joyful jazz,' the Congregation recently came out with their self-titled EP featuring energetic swingin' covers and originals, including standout "Lil' Liza Jane."
In addition to a busy touring schedule that's taken them globally as well as regular gigs at Dizzy's Club Coca Cola at Lincoln Center and Brooklyn's The Woods, the group are also the masterminds behind the Great Awakening, an off-Broadway show at Ars Nova about a jazz band who's, well, banned from playing the genre. (Upcoming performances slated for May 1 and 2 as part of the venue's Makers Lab.)
As if that weren't enough, Miller and his crew are doing their part to spread the word about International Jazz Day by producing a video where they spread their joyful message.
[youtube https://www.youtube.com/watch?v=OaZdj1ZgiP4&w=560&h=315]
Diana Krall Is Coming Out With a New Album
One of the most esteemed names in the genre, the Canada-born Krall has been an acclaimed and popular force in jazz since her early-'90s debut. Krall has sold million of albums worldwide, garnered a ton of Grammy love, and has become a singular force in genre.
On May 5, Krall drops her latest album dubbed Turn Up the Quiet, which features her sultry take on standards ranging from Nat King Cole's "L-O-V-E" (a throwback to her stand-out 1996 album of Cole covers) to the Sinatra hallmark "Night and Day."
In celebration of the album, she's also embarking on a world tour which will take her everywhere from Colorado's Red Rocks Ampitheater to London's Royal Albert Hall. Of course she'll be stopping in New York too, appearing at the Beacon Theater on June 21.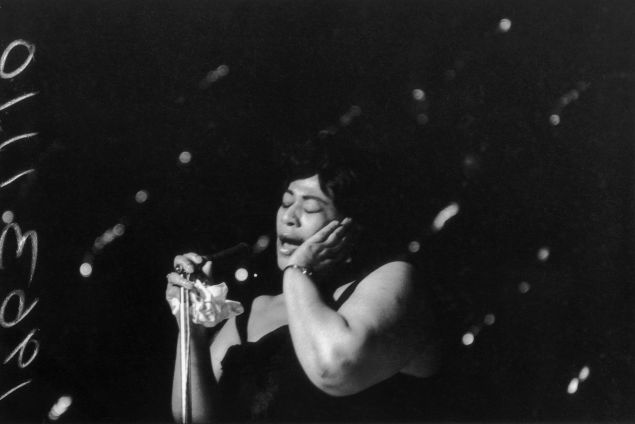 100 Years On, Ella Fitzgerald's Legacy Is Thriving
This year marks the 100th birthday of Ella Fitzgerald, one of the most important artists in music history. Long before Beyonce was referred to as royalty, Fitzgerald was Queen Ella and netted everything from 14 Grammy Awards, the National Medal of Arts and a Presidential Medal of Freedom for good measure.
To mark what would have been her 100th birthday on April 25, the music world paid tribute to the First Lady of Song in a host of ways, including a Lincoln Center gala hosted by Harry Connick Jr. and featuring the likes of the aforementioned Krall, as well as Alison Krauss and Audra McDonald.