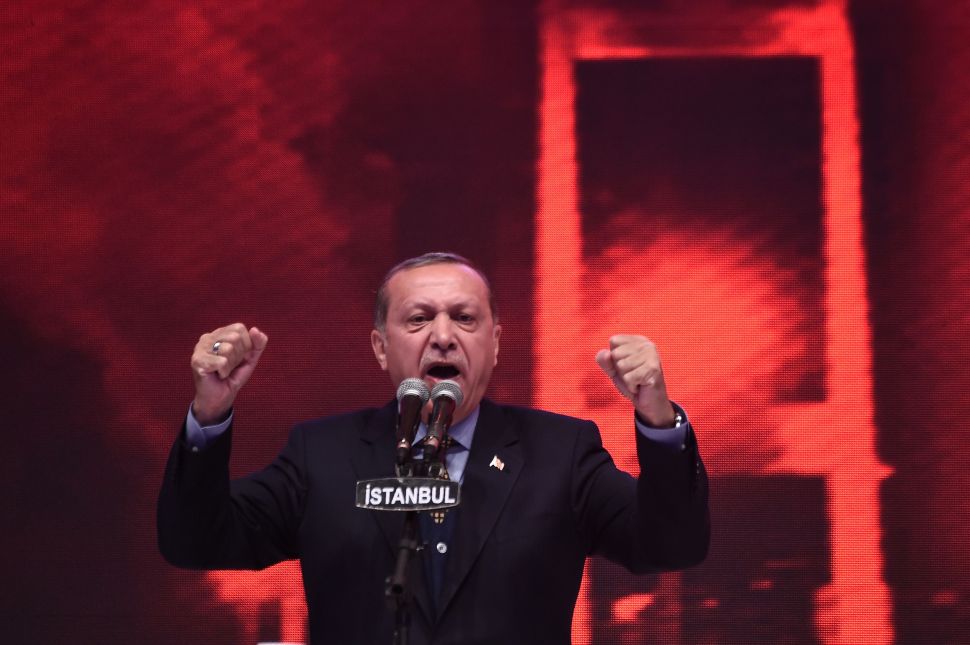 "Europe will pay for what they have done," said Turkish president Recep Tayyip Erdogan recently, calling the continent a "sick man" that has "humiliated" and "oppressed" Turks. In making this threat, he perhaps didn't envision anything such as when Turkish forces twice reached the gates of Vienna in their bids to dominate Europe. But conquest is definitely on his mind.
What's currently raising Erdogan's ire are Germany's and Holland's limits on rallies designed to win the support of 5.5 million Turkish expatriates; he wants their votes in a Sunday plebiscite that could further increase his presidential powers. In fact, the anti-rally measures inspired not only the recent threat, but one late last month in which Erdogan said that if Europe continues its behavior, "no European, no Westerner will be able to take steps on the street safely and peacefully" anywhere in the world.
The Turkish president's rhetoric could, of course, be chalked up to red-meat bluster designed to garner support and manipulate opponents. And he certainly knows how to exploit politically correct Western sensitivities. He has likened European leaders to "Nazis" and stated that the "spirit of fascism is roaming the streets of Europe." He has hurled accusations of "racism" to explain alleged Western antipathy toward Turks (who, note, are Caucasian).
Erdogan also responded to the European Union's new ban on headscarves in the workplace with a common jihadist line right out of Osama bin Laden's playbook: that Westerners were launching another "crusade" against Muslims (ironic since the Crusades were actually defensive actions designed to ward off their day's jihadists—who also aimed to conquer Europe).
Yet say what we will about Erdogan's ambitions and artifice, his diagnosis of a sick, collapsing Europe ripe for foreign domination isn't mere jihadist fantasy. For example, Italian Monsignor Carlo Liberati opined likewise in a January interview, lamenting, "In 10 years we will all be Muslims because of our stupidity." This timeframe is a gross exaggeration, of course, yet the clergyman was getting at a very real phenomenon: "They [Muslims] have children and we do not; we are in decline," as he put it.
Statistics bear this out. Virtually every Western nation has a fertility rate well below replacement level (2.1 children per woman). Israel, sometimes considered part of the West, appears the only exception. This matters because, as pundit Mark Steyn observed, "The future belongs to those who show up for it."
This may be the "price" Erdogan said Europe would pay: birth-dearth-born demographic conquest. As to this, no one referenced this phenomenon more bluntly than late Libyan leader Muammar Gadhafi when he stated in 2006, "We have 50 million Muslims in Europe. There are signs that Allah will grant Islam victory in Europe—without swords, without guns, without conquest—will turn it into a Muslim continent within a few decades."
Of course, Erdogan isn't quite like Gadhafi—he wears a suit and tie. Yet last month he expressed similar demographic-jihadist sentiments, telling Turks in Europe, "Have five children, not three. You are Europe's future." Some say this is no surprise, that Erdogan dreams of restoring the Ottoman Empire, the former Turkish realm that, as the world's last great caliphate, twice reached those Viennese gates.
Yet what kind of European future would an Islamic one be? As Steyn asks, "Can the developed world get more Muslim in its demographic character without becoming more Muslim in its political character?" Moreover, he wonders, "[W]ill there always be an England if there are hardly any Englishmen left in it?"
Would we have to wonder, though, if at issue were the supplanting of a distant rainforest tribe with another people? Or we could ask: with hardly any Sioux in it, how Sioux is Sioux City?
Some say that assimilation will save the day, and part of this, supposedly, is absorbing Western secularism. Aren't we treated, after all, to article after article about how we face a godless future?
Yet this implicit cultural chauvinism ("Of course our liberal values will triumph!"), borne by cultural relativists who claim to loathe such attitudes, ignores that religion is dying out—only among people who themselves are dying out: Westerners.
Like anarchy, atheism isn't a permanent state of affairs. In fact, studies show that the world is poised to become more religious during coming decades, not less. As Pew Research reported after examining this issue last year, "[P]eople with no religion will make up about 13% of the world's population in 2050, down from roughly 16% as of 2010. …This is largely attributable to the fact that religious 'nones' are, on average, older and have fewer children than people who are affiliated with a religion."
In other words, the atheism of relatively sterile secularists is buried with them—those who breed, lead.
So the future will be as the past has been, not a matter of whether religion will prevail, but only which one. And the passion currently lies with Europe's Muslims. In fact and quite counterintuitively, studies show that younger Islamic generations in Europe are actually more jihadist-oriented—some would say more pious—than their elders.
The irony here is that, after centuries of caliphate-building and Crusades, what may conquer the West is not the sword of Islam but a secularism fancying that man really can live by bread alone.