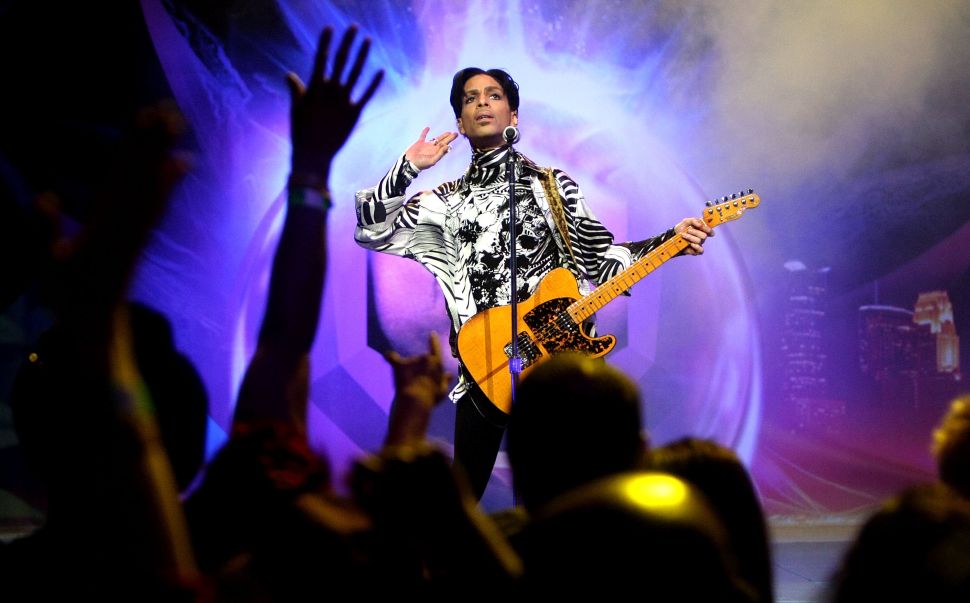 This weekend marks the 10th anniversary of Record Store Day, but its success isn't a phoenix-rising-from-the-ashes story.
At least, Record Store Day's co-founder Michael Kurtz, who helps organize the independent record stores' bi-annual celebration's special album and single releases, doesn't remember it that way. According to him, a decade ago independent record stores were not thrown into panic as giant music retailers—Tower, Virgin Megastore, and HMV—went the way of the Dodo, and the iPod rose as the supposed future of music "consumption."
"The problem 10 years ago was perception," Kurtz says from his home in Harlem. "The media had tagged us as a thing of the past, but that was not what we were experiencing. We were having a lot of success with artists coming in for performances and promotions. So, we thought we'd better let people know we were O.K."
Kurtz has spent his life in record stores, first as a clerk, then as a store manager, and now as head of the Department of Record Stores, the world's largest coalition of independent music stores. "Music people need little excuse to throw a party and have a good time," he adds. "We thought we'd invite customers in to show them we were alive and well. We didn't think it would work, but that wasn't the point."
Kurtz underestimated just how much music fans love their record collections. Their plan worked. 
"People liked it so we thought let's do it again. Every year it gets bigger. As of now, each year's sales out-do the previous year's sales," Kurtz says.
Record Store Day is now a worldwide event with around 1,500 U.S. stores on board. To take part, a store takes a pledge to charge fair prices and not put the RSD releases on eBay, among other things. "There's a code of ethics," states Kurtz.
The sales numbers might not impress Wall Street; Kurtz admits record collecting is still a relatively small pursuit: "Real record collectors number about 10 to 15 percent of the population," he estimates. "Those are the people who really love music, while 85 percent are passive listeners who listen by radio or streaming."
As a whole, the music business is thriving, mostly due to digital avenues. But Record Store Day's success has been hand in hand with the resurgence of vinyl—most RSD releases are special vinyl pressings, and include colored or picture disc formats.
"Initially, it was just about used vinyl, which sold for a few bucks," recalls Kurtz of RSD's first year. "Hardly anyone was putting out new vinyl. It was hard for independent labels to take that leap of faith, because pressing up vinyl is expensive and if it doesn't sell an indie can be in big trouble. But everyone was encouraged by the success and we built it up slowly."
As for the now-lowly CD, which was widely blamed for the collapse of the music business (though blame lies for those overcharging for CDs) and maligned for inferior sound quality, Record Store Day doesn't discriminate.
"We do CD releases," says Kurtz. "It's a shame they were denigrated and people are now dismissive of them. The newer CD players have such a great sound quality. They cost $150 now, but would have cost $2,000 10 years ago. I stream via iTunes and the sound quality is atrocious. It's a convenience, but there's no comparison to CD or vinyl."
"CDs are still huge sellers," he goes on. "However, it's very similar to the '90s with vinyl, distributors are purposely shrinking CD sales to maximize profits. It's more about overhead than what the customer wants."
Record Store Day's initial success was boosted by an unlikely alliance with a music business titan: metal megastars Metallica, who had famously sued file-sharing upstart Napster. "We needed a big band like Metallica on our side," says Kurtz. "The first year we reissued their first two albums—Kill 'Em All and Ride the Lightning—which was the first time since they were first released they'd been available on vinyl."
Nowadays, Record Store Day attracts droves of big names (Dave Grohl, Jack White, Miley Cyrus, The Weeknd, 21 Pilots)—and in all genres: "The only genre that hasn't really embraced it is the urban market: Kanye doesn't get it. But having said that, Childish Gambino really gets it; Run the Jewels really gets it. The creativity they put into their Record Store Day release is incredible."
Big-name releases this year include:
David Bowie, one of which, Cracked Actor (Live, Los Angeles, '74), is a previously unreleased live recording
Prince (including a 7-inch picture disc single featuring "Little Red Corvette" and "1999")
Sting (Live at the Bataclan captures the first concert at the bombed Paris nightclub, one year after the atrocity)
And Bruce Springsteen and the E Street Band (a vinyl edition of Hammersmith Odeon London '75, the band's first concert outside the U.S.).
The regular Record Store Day Side By Side singles series of established acts paired with newer ones continues with Tegan and Sara and The Regrettes, The Flamin' Groovies and Dylan Gardner, and Talking Heads and Wildling. "People fixate on Record Store Day releases and they are really cool. It's why it's one the biggest sales days of the year for record stores," adds Kurtz.
This year the Record Store Day organization has also become a record label and one of its initial releases is David Crosby & the Lighthouse's 10-inch RSD Anniversary Record, an EP recorded live at NPR's World Café last December, and featuring the '60s folk rock icon and Snarky Puppy's Michael League.
"I met him in December in passing and he said how much he loved Record Store Day and wanted to do something," says Kurtz. "He didn't have a record label and was free to do what he wanted so, true to his word, he emailed me. That's really what Record Store Day is all about: a community and relationships."
"Early on," Kurtz adds, "we saw that people still wanted the experience of buying music in a local store. It's where relationships are made; there's the human connection that's missing now more than ever."
Click here for more information on all the special releases planned for Record Store Day 2017.