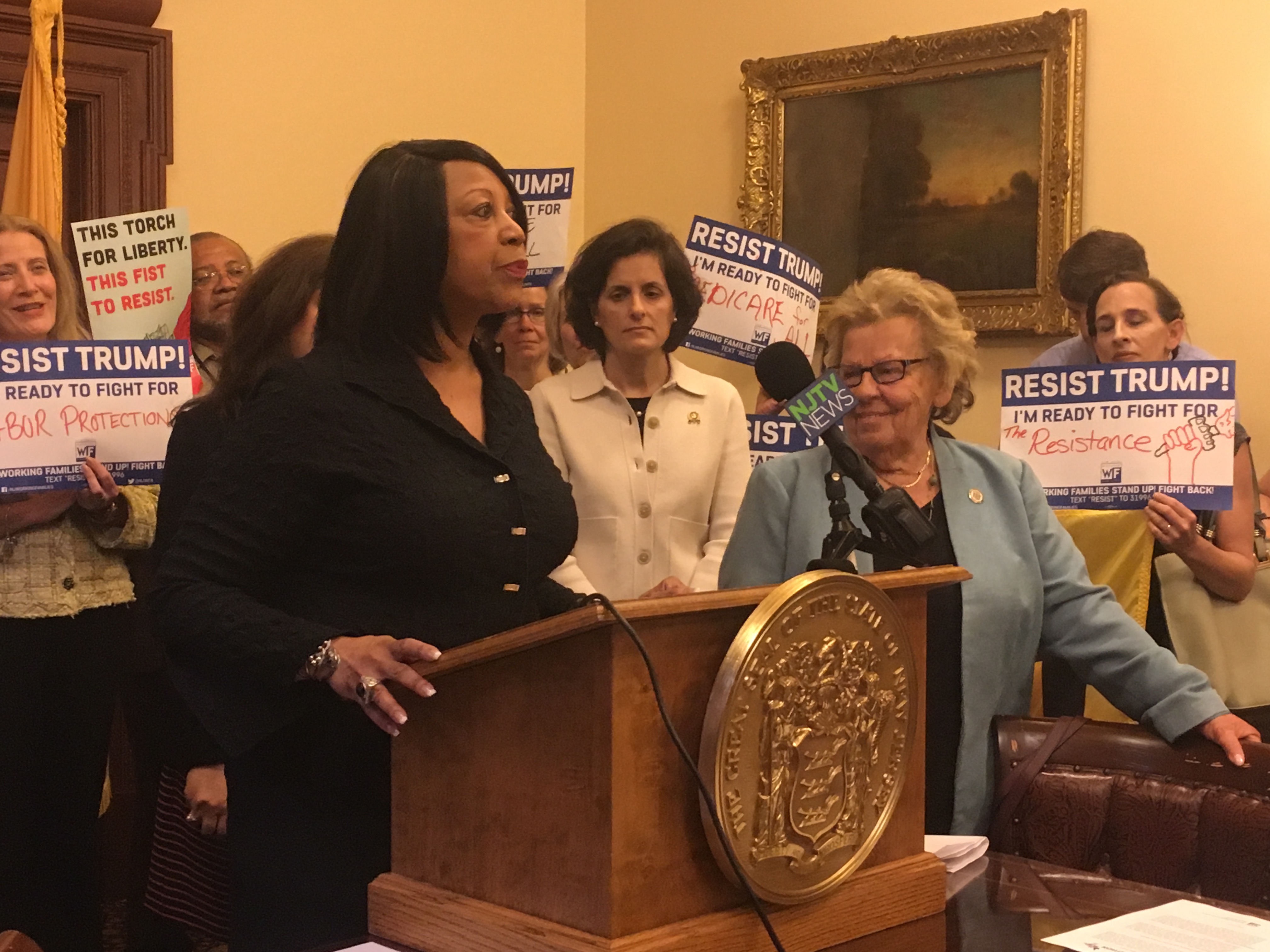 TRENTON — On the 99th day of President Trump's administration, New Jersey lawmakers and activists launched what they called a "legislative resistance" against proposals from Washington that they say would undermine Garden State values and public safety.
The Resistance Coalition is fronted by Senate Majority Leader Loretta Weinberg (D-Bergen) and Assembly Speaker Emeritus Sheila Oliver (D-Essex), two of the most liberal legislators in the state house. And it includes a range of lefty advocacy groups such as the New Jersey Working Families Alliance, the Communication Workers of America union, the NJ Amalgamated Transit Union, Blue Wave NJ, and the Sierra Club, among others.
They plan to introduce state legislative measures on voting rights, reinstating Obama-era environmental protections lifted by the Trump administration, minimizing "wage theft" they say Trump's budget cuts would aggravate, and divesting pension investments from companies that sign up to build Trump's U.S.-Mexico border wall.
"There is so much here that we are going to have to try and stay ahead of, be leaders on, and really protect the quality of life of the residents of New Jersey," Weinberg said. "The policies and pronouncements coming out of the Trump administration are dangerous."
"Our state has been at the forefront of the resistance movement on critical issues like health care, labor rights, and immigration," said Analilia Mejia, director of NJ Working Families, which spearheads the new group. "This is the next concrete step for activists and leaders to stand up to the regressive policies of the Trump administration."
Gov. Chris Christie is a Trump surrogate who supports the president's ban on travelers from seven majority-Muslim countries and who says he would be a "willing partner" in Trump's effort to clamp down on sanctuary cities. Even if the Resistance Coalition's initiatives gain steam in the Legislature, they would most likely stall on Christie's desk or get vetoed. Weinberg said she is waiting him out; Christie's term ends in January.
Other legislators who have signed on include Assemblywoman Annette Quijano (D-Union), Assemblywoman Liz Muoio (D-Mercer) and Assemblyman Andrew Zwicker (D-Mercer).