Here's something you don't see every day, even in New Jersey politics: a sitting Republican county chairman putting out a hit on a sitting Republican state senator.
The Observer has learned of a previously undisclosed meeting in which Bill Layton, the powerful Burlington County GOP Chairman, summoned Assemblymen Ron Dancer and Rob Clifton to his office and offered to fund whichever of them was willing to primary their 12th District running mate, Sen. Sam Thompson.
"The Burlington chairman has an issue with Sen. Thompson," Clifton told Observer. "He approached myself along with Assemblyman Dancer to primary Sam. We both refused.
"He said that he had both labor money and labor support to do this, as well as support of high-ranking administration officials to make the change," Clifton continued. "I called him a few days later and told him, 'I'm not interested, I'm running with Sam again.' He said that was a mistake and unfortunately I'd be 'collateral damage.'"
Dancer, in a separate interview, confirmed the meeting. "Rob and I had a meeting with Mr. Layton. He seemed very sincere in that overture," Dancer said. "But Rob and I did respectfully decline. The exact words were, 'Run against Sam and all this goes away,' meaning the primary challenge. I remember those words: 'All this goes away.'"
The meeting took place approximately six weeks ago in Trenton in the State Street office of CLB Partners, the powerhouse lobbying firm in which Layton is partnered with Pete Cammarano, the former chief of staff to Gov. Richard Codey, and Jon Bombardieri, the former executive director of the state Assembly.
Layton also confirmed the meeting, but recalls it differently. He said Clifton was interested in pursuing the Senate seat, and that Monmouth County GOP Chairman Shaun Golden supported the idea. He also noted that Thompson failed to win the endorsement from the Middlesex County GOP at its convention last month.
"It's not a secret," Layton told the Observer. "I did offer Rob Clifton to run for the Senate. Shaun Golden was on board with that as long as Rob wanted to do it. The issue is about the party evolving, trying to get younger.
"I talked to Rob about it, he was very interested and in fact if Rob did it, there wouldn't have been a primary," Layton continued. "Sam wouldn't have run, as evidenced by his loss at the convention, and obviously Burlington would have been on board and probably Ocean too because Ron Dancer would have supported Rob. Shaun was absolutely 100 percent onboard, as long as Rob wanted to do it."
In Clifton's retelling, Layton said at the meeting that labor groups wanted Thompson out for opposing the gas tax hike Gov. Chris Christie signed last year to scare up money for road projects. Clifton told Observer, "I guess Chairman [Layton] represents some labor and construction entities in his role as a lobbyist."
Asked whether Layton mentioned a specific figure, Clifton said Layton promised "several hundred thousand dollars" in campaign financing. Dancer said Layton promised the would-be candidates "up to $500,000."
"The figure that I heard was half a million," he said.
Layton denied promising to raise a specific amount of money.
"There was no money promised to them. I said I would help them, just like I would do for anybody," he said. "I'm the county chairman, I'm supposed to help candidates who are endorsed by the county slate."
According to Clifton, Layton had originally approached him to run for senator against Thompson "just before Christmas." Clifton turned Layton down and thought little more of the entreaty.
But then, according to someone with intimate knowledge of the events that preceded the secret meeting, "When it appeared to get real, Mark Duffy [executive director of the Assembly Republicans] and Jon Bramnick [the GOP minority leader] were concerned about Assembly members being targeted in a primary." The two asked Clifton and Dancer to accept the meeting with Layton to suss out how determined the chairman was to field challenges to the 12th District incumbents.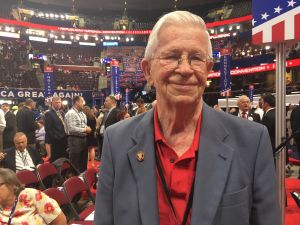 What makes this maneuver even more chutzpadik on Layton's part is that Burlington is the smallest of the four counties that comprise the district. The 12th comes out to about 30 percent from the seven towns in Monmouth, 30 percent from two towns in Ocean, and 30 percent in Middlesex from just Old Bridge. The four towns in the northern part of Burlington County amount to roughly 10 percent of the district.
"I was uncomfortable during that meeting," said Dancer. "I'll leave it at that."
After both Dancer and Clifton declined to take on their running mate, Layton ended up recruiting Art Haney, the former Old Bridge mayor and current Republican town chair, to primary Thompson. In addition to being the current state senator, Thompson is the former Middlesex GOP chairman and Haney is said to be nursing old grudges against his former county chairman over manini stuff like ballot position.
There has been bad blood between Layton and Thompson for a while and their differing views on the gas tax only added to that animosity. But recruiting challengers to an incumbent senator and two assemblymen — and risking the wrath of Senate Minority Leader Tom Kean Jr. and Bramnick, who now have to watch their guys spend precious resources fighting Republicans instead of Democrats — still seems like a stretch.
Layton said it wasn't personal. "Sam's called me out a couple times at county chairmen meetings, but I'm not going to let personal differences get in the way of what's best for the party," he said. "What we've done in Burlington County is we've evolved. We have the first Hispanic Republican woman elected to the Legislature, numerous women and African Americans. This is about becoming more diverse and younger and Rob was interested in being part of it until he got cold feet at the last minute."
One Republican operative with intimate knowledge of the area declined to be identified but told Observer of a theory that's percolating among the GOP cognoscenti: "What everyone believes is that Layton made a deal with the Carpenters Union to fund the primary against Sam, and in exchange will let [Democrat] Troy Singleton just jump into Diane's seat without finding a legitimate Republican challenger."
This refers to Diane Allen, the longtime Republican senator who is retiring from the Burlington-based 7th District.
What's surprising here is the notion that Layton would use union money to take out an incumbent Republican.
The conventional wisdom in political circles is that no Republican other than Allen could retain that seat — she shares the district with two Democratic Assembly members — so Layton getting something in exchange for laying down in a race that would be tough to win anyway might just be smart politics, a skill that the wily chairman has demonstrated in spades.