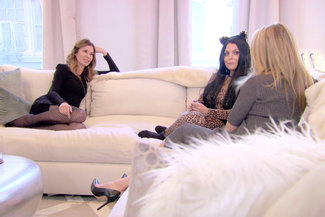 It is only episode two, and we are already introduced to RHONYC's newest cast member, Tinsley "I don't sleep on down pillows" Mortimer. Tinsley, whose hair is so shiny and blond that her eyes have gotten all squinty from staring straight at its Upper-East-Side frostiness. Back in 2008, Tinsley had New York at her beck and call: she was the city's "It" girl, whose beauty got her photographed every night, and whose personality and antics got her splashed across Page Six as they slurped up every delicious bit of gossip.
And then, just as suddenly as she gained fame and notoriety, her world fell apart. She separated from her husband. She stopped getting invites to exclusive events. High society shunned her. She fled to Florida.
And now she's back, as Sonja's guest. Because, apparently, this is Bravo's way of test-driving new housewives. If you can handle the crumbling baseboards and the molding collection of tchotchkes, you are ready to be introduced to the crazy group of gals we all lovingly refer to as "Housewives." And so Tinsley has taken residence in the same room the Mrs. apparently slept in back when she required the tender loving care of a recovering hoarder. And, incidentally, has also become the newest cast member.
But this is far from Mortimer's first foray into the reality television world. In fact, ironically, Mortimer's fall from grace came from reality television, her show "High Society." It aired in 2010, back when reality television was still viewed with snobbery by high society. But in the age of Kardashians being on the cover of Vogue and being A-listers, and Bethenny Frankel and Nene Leakes transitioning their Z-list fame into mega fame and fortune, reality television has lost much of its stigma.
But for a so-called "veteran" of the reality television world, Tinsley just seems so…awkward. At Sonja's "Mad Hatter" tea party, she laughs nervously, struggling to find the words to explain why she wore black when the invite says specifically to wear color. She gets tasked with grunt work, teetering on her high heels as she struggles under the heavy weight of boxes of tea sandwiches. When Bethenny coldly introduces herself, Tinsley tries to start a conversation, but flounders and loses her opportunity. For someone who used to be the toast of the town, the girl everyone wanted to be with, it just seems strange that she seems like a lost wallflower at an intimate party. But perhaps that's what happens when you're hyper-aware that everyone in the room knows who you are, knows your past, and is likely gossiping about you at that very moment.
Anyway, Tinsley wasn't the only one who interpreted the dress code at the tea party as more of a suggestion than a requirement. Ramona, the woman who flagrantly violates codes of conduct at any given moment for the sake of ratings, is also wearing black. She is so detested, even the butler, a snarky-mcsnarkfest by the name of Patrick Henry, cannot stand her, and gossips with the other ladies in the kitchen about how rude she can be as she proceeds to pretend to not know Sonja's friend and neighbor Gigi. Ramona, however, has a good excuse for wearing black: she has a hickey on her neck. And the only outfit that went with her makeshift choker to hide the evidence was, apparently, black.
Carole, who also wore black (to be fair, there was white in the outfit too), was fascinated by Ramona's hickey story and demanded to see it (Ramona refused). But then the conversation turned, inevitably, to politics, which is Carole's danger zone.
I feel bad for Carole. I feel like political Carole would have been fun to see in 2008 when "Hope and Change" was in the air, and political discourse wasn't marred by vitriol. Politics back then was heated, but still fun. Opponents were respected. Opposing opinions were valued. Facts were facts. It was one big hokey "kumbaya" session, especially in comparison to this election season.
But this election season was crazed, with facts being turned on its head. And it was an election that pitted elites against plebians, Hillary-ites and Trumpsters. And for Carole, who, as a former journalist and a former European princess, she is an elite through and through. It's why she can't handle speaking to any of these women, women who she views as vastly inferior in intelligence, who she believes talk about idiotic things that are beneath her and her intellectual superiority (Bethenny, notably, is excluded from such distinctions).
And so Carole has become that crazy opinionated friend that you're afraid to bring to parties, worried that the slightest thing will set her off on a political rampage. She can be nice and affable, but when she gets a whiff of politics, has the slightest sense that the conversation is veering into that dark, lonely terrain of political debate, she plunges headfirst, her face strained as she grinds her teeth in anti-trumpist frustration. Bethenny is left picking up the pieces, trying to redirect the conversation to happier things, like how Luann and Tom may or may not have an open relationship. As she pulls her from the depths, Bethenny shakes Carole from her political stupor, yelling, "We agree with you! We all agree with you! Now stop arguing with us and drink a skinny girl margarita before we start thinking having Trump as President is better than having to listen to this nonsense all day."
Bethenny at least wore color to the tea party. But she was outdone not by the lady with the shoes in her hat, but by the Mrs. herself. Luann wore a Laura Ashley-style prairie dress, which, despite its Ralph Lauren label looked like it came from the dust bins of Talbots (according to Ramona) or the Salvation Army (according to the butler Mcsnarkpants). She was also wearing a ridiculous floppy hat, which looked more like a cowboy hat than a proper tea-time hat. All the Mrs. had to do was add some white gloves and she would have become Pretty Woman at the polo match circa 1992.
But even as she looked ridiculous, her private conversation with Sonja at the party was just asinine. Like all Housewife conversations, nothing was accomplished, everyone was upset, and halfway through, my eyes glazed over. And like everything the Mrs. discusses these days, it had to do with her future husband Tom and not wanting to talk about his philandering ways.
At least it seemed like there was some sort of resolution between Sonja and Luann. Sonja didn't even invite Dorinda to her tea party. So it seems, for now, that she and Dorinda won't be "burrowing the hatchet" (to borrow Ramona's malapropism of the night) anytime soon over Sonja saying some mean things to the press about Dorinda. Which obviously, I get: it's one of the unspoken rules of Housewife etiquette: don't talk to the press about other Housewives unless it's positive. But still, Dorinda was kind of an ass to Sonja last season, causing Sonja to show some real moments of hurt and vulnerability. It takes a lot of balls to pretend like this vitriol came from nowhere and that you're just some sort of victim Dorinda.