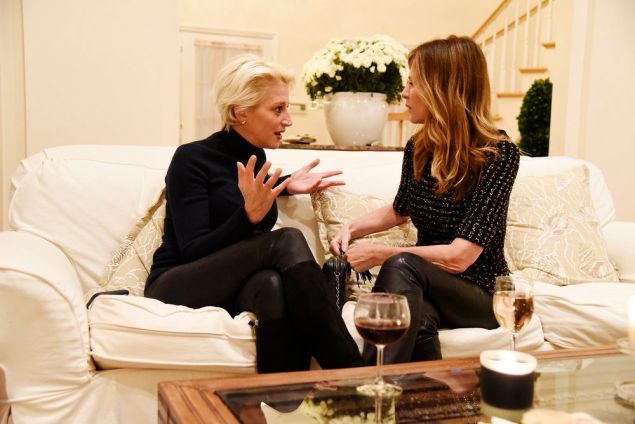 As the leaves fade from green to a gloriously rich yellow or red, as the atmosphere thins in anticipation for the crisp weather to come, the NYC Housewives are contractually obligated to go to the Hamptons. Like last year's disastrous Moscow Mule party at Bethenny's house, where Slimy Johnny chased Bethenny around the party to try to talk to her, the annual trip out East would not be complete without a heaping dose of drama.
The stage was set perfectly, anticipating the battle lines drawn on the Sag Harbour sand: Bethenny predictably hosted Carole, Luann had Dorinda over, and Ramona had no one over after disinviting Sonja (Sonja chose to stay in a friend's house with a sex-soundproof bed which she happily demonstrated to a slightly scandalized Tinsley).
Speaking of Tinsley, it's hard to have an opinion of her. She has only been shown as a glamorous appendage to Sonja, a foil to highlight Sonja's struggles, a sounding board for Sonja's gripes about the other women. Tinsley's role so far this season has been to be Shirley to Sonja's Laverne, the Ethel to Sonja's Lucy. She has so far laughed at Sonja's bawdy humor, thrown Sonja's Christian Dior granny panties in disgust across the room, has called out Sonja on her hoarding, and gave Sonja the common sense advice to just drop the Tom subject — it was a tryst, get over it. She has all-around been perfectly inoffensive. Which is a smart way to start off your Housewife career. And, incidentally, is the path taken by Dorinda.
Except Dorinda quickly veered far left, becoming addicted to the fame and accolades, to her ability to drunkenly have a defining moment (last year's "I made it nice!" — which she has now adopted as a part of her opening tagline).
She came into this season with guns blazing, out for blood. She has made it her mission to take Sonja down no matter the cost.
And so as she and Luann sat around Luann's table in her Hamptons home, Dorinda conspiratorially takes out her phone, showing Sonja lolling about on the floor with a stripper at Luann's shower. The photo came from her "source," her pseudo-CIA agent friend who has 6-inch files on all her enemies. Which, considering that Luann was there (she was even pictured laughing in the far end of the frame), is a very strange piece of evidence to show off.
Let's start with the obvious question: why on earth was there a stripper at a bridal shower? Am I missing something here? Last I checked, that was reserved for the bachelorette party. And anyway, what's the big deal? So Sonja took full advantage of the stripper and had fun with it? Really? Where is your feminism Dorinda?
And all of this is even more ridiculous in the context of what happens later that night. At dinner, Dorinda told Carole that if Trump wins, then she would tell her bitchy daughter Hannah to start stripping. So, since we all know that he did in fact win, I do honestly wonder if she followed through and told her daughter that. Because, I mean, that's a perfectly reasonable response to having a misogynistic pig in office: cater to the misogyny. That will show them.
At Luann's table, Dorinda was far from done, claiming that Sonja is jealous of her relationship, that she's crazy and an alcoholic.
But in reality, there's a lot of projection here. Sonja, who has come a long way since her breaking point of drinking too much, is seemingly sober. And to trash that while slut-shaming Sonja says more about Dorinda than it does about Sonja. And we all know that Dorinda had some substance abuse problems brought up last year during the epic blow-out between Bethenny and Slimy Johnny.
And Slimy Johnny? Who would be jealous of that snot-colored mucous plug? Besides, that's not a stable relationship. Sure, you've managed to keep him off-camera for the last couple of episodes, but your relationship is "chaotic" and "unstable," the very things Dorinda accuses Sonja of. Also, if you're so secure in that relationship, you wouldn't feel a need to crawl into Luann's bed at the crack of dawn because you're lonely.
But anyway, that was only the preamble. The major drama came later, from an unexpected (but not really) source: Ramona.
Ramona has always been an interesting housewife specimen. She can seem normal, even emotionally intelligent, providing the occasional (though rare) Greek chorus of common sense when the crazies really go off their rocker. But that's because she thrives amongst those who are deemed crazier–it makes her so much more likeable.
Which is why she tried to attach herself to Luann last year — Luann's delusions make Ramona seem like the voice of reason. And it's why she was so triumphant when she was welcomed back into Luann's circle after the big blowout at dinner.
Bethenny and Carole are the first to arrive at dinner, and are greeted by the restaurant owner, who is the spitting image of the sleazeball that Ramona was going to open a restaurant with (and who caused the Skinnygirl-gate debacle last year) — albeit, a classy, better-dressed, more expensive-looking version.
Soon after, Ramona arrives, shoving her phone in Carole and Bethenny's, to see a photo of her and Avery. When Bethenny doesn't give an immediate positive reaction, Ramona acts butthurt, leaving Bethenny bewildered and confused.
What Bethenny failed to realize, was that Ramona was still upset about not being informed right away that Bethenny got new puppies. And when Ramona is butthurt, she's like Dorinda, she goes for the kill. It started subtly, with the aggressive photo sharing, but then it quickly got weird.
Bethenny was actually being nice, trying to convince Ramona that she should come to Carole's election party even though Ramona and Carole don't see quite eye-to-eye. But then Ramona tried to start with Bethenny, asking if people had told Bethenny's daughter about revelations over Bethenny's "soft porn" movie back when Bethenny was trying to be an actress.
Ramona was trying to get a reaction out of Bethenny. But Bethenny, instead of getting upset, and holding a grudge, went full-on namaste, and turned the thing into a joke, pointing out the ludicrousy of what Ramona said.
And in doing that, she was able to successfully shut Ramona down and make her look like an idiot. Now, Ramona doesn't like feeling like an idiot, and is upset that Bethenny managed to bring her down as she was trying to knock Bethenny down a few pegs, so she's upset. Luann pounces on the situation, finding a way in to talk about her grievances over how Bethenny manages to get under everyone's skin.
Then it really spiraled out of control. Luann accused Bethenny of only caring about herself because she hadn't asked Luann about her sham wedding. Which is hilarious because that's literally Luann: she only cares about herself and if you don't talk about the wedding 24/7 so she can giggle over herself, you're not a good friend. Which is funny because Bethenny has said over and over again that they're not friends: she doesn't give two flying hoots about Luann, and has acknowledged that they are colleagues contractually obligated to interact, not friends.
And Bethenny, who really doesn't care about "the rules" of what you're "supposed to do" on a reality show, leaves. Which really was the smart thing to do because the conversation was going nowhere and it was becoming a tear-down Bethenny-fest.
And still, Luann mocked her for walking away. Luann is so proud of her not running away from "confrontation." But there's really nothing to be proud of hun: it's a sign that you are overly self-involved without being self-reflective.
The following morning, everyone gathered to their respective groups to talk about the previous night's drama with the predictably one-sided interpretations of the facts. But then Dorinda's insider contact came to the rescue with some new drama to contend with: Sonja allegedly went on a Facebook group to tell everyone what a liar Dorinda is. Dorinda is incensed and is ready to destroy Sonja and embarrass her in front of everyone at Ramona's dinner party that night. You know, the classy way (according to the classless Luann).
But, Sonja, unaware of the drama brewing, seemed excited to see Dorinda, like she was ready to mend old wounds, to let it all go. Which makes this Facebook group situation seem strange is that it doesn't mesh with the way Sonja is acting. Which begs the question — was this written months ago and only now has this contact managed to extract this information? If that's the case, he (or she) is a poor excuse for a pseudo-CIA agent cum private investigator.
It's the night of the party, and everyone arrived, simpering and salivating over each other. But only one person licked her chops as she fantasized about how to destroy her prey, only one person had death eyes when Sonja and her houseguest Tinsley arrives. And Dorinda cannot wait until next week, when, according to the previews, it looks like she goes full-on mafia mob crazy. Neither can we.