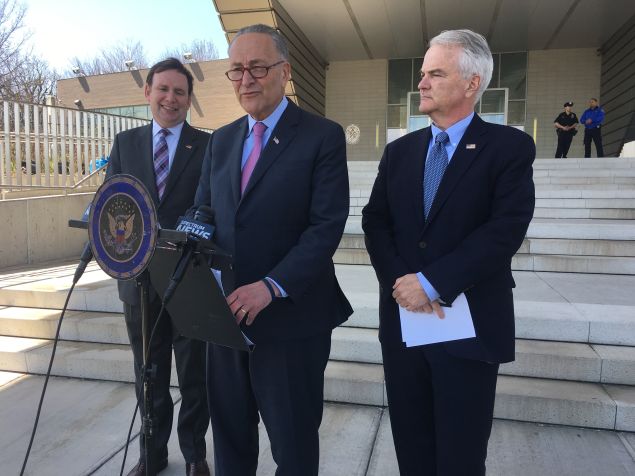 Senate Minority Leader Charles Schumer told reporters today that he's "very disappointed" that President Donald Trump has backed out of his campaign vows to be "tough with China"—slamming the Queens-born commander-in-chief's retreat on trade and North Korea.
Trump and Chinese President Xi Jinping discussed foreign policy over the phone on Wednesday, according to CNN. But while American president only tweeted that the two world leaders had "a very good call, his Chinese counterpart indicated that they had discussed a peaceful joint effort to rein in the erratic regime in Pyongyang.
Meanwhile, in an interview with the Wall Street Journal earlier this week, Trump confessed he was abandoning his campaign pledge to officially label Beijing a currency manipulator for deliberately depressing the value of the yuan in order to gain a competitive advantage for its exports—a move on the president's part that would have put pressure on China to rejigger its exchange rate.
"I've said this directly to the president," Schumer said at an unrelated event in Staten Island, recalling the meeting between Trump and Xi at the former's Mar-a-Lago resort last week. "I've said, 'be tough with China, I'll work with you on it.' But I'm deeply disappointed with both his meeting last week and his phone call last night with President Xi. We seem to be reverting to letting China continue to take advantage of us. I'm very disappointed."
Schumer insisted that China has been manipulating its currency "to undersell us." Most economists agree the Asian giant did in fact pursue such a policy for years, but it has more recently sought to bolster the value of its legal tender.
"During the campaign, my position on trade was closer to Donald Trump's than it was to [former Presidents] Barack Obama or George Bush," Schumer said. "China is killing us. They steal our intellectual property of our companies. They prevent our companies from selling there, close off their markets after they've stolen the intellectual property."
Joined by Assemblyman Michael Cusick and Staten Island District Attorney Michael McMahon, Schumer announced his support for bipartisan legislation that would attempt to sever the flow of illicit fentanyl from China, Mexico and other countries into New York City and throughout the United States.
The legislation would provide federal authorities with more resources, including additional border agents and scientists, drug labs, training and new portable devices.
Schumer dismissed the notion that the legislation is any form of compromise or package deal for Republicans given Trump's push for more Customers and Border Patrol staff at the southern border—and asserted that Trump's proposed wall between the U.S. and Mexico would not have any impact on the flow of opioids.