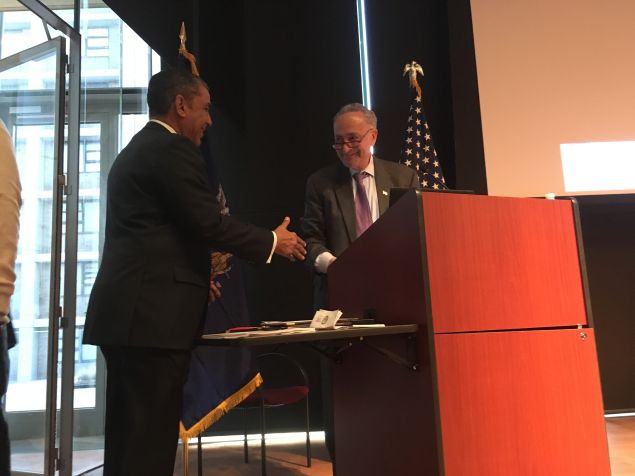 In a surprise appearance at Congressman Adriano Espaillat's town hall in Washington Heights last night, Senate Minority Leader Charles Schumer vowed to battle President Donald Trump's plans to ramp up security along the southern border and to aggressively prosecute those who enter the country without authorization—moves the senator asserted would break apart families.
Schumer's comments came a day after U.S. Attorney General Jeff Sessions took the unusual step of visiting the border to announce the beginning of "the Trump era"—and issued a memo to federal prosecutors urging them to charge repeat-trespassers with felonies, to pursue those who marry Americans in a bid for citizenship and to charge undocumented immigrants with identity fraud whenever possible. Meanwhile, the Washington Post revealed that the Department of Homeland Security is looking to accelerate the hiring of more Customs and Border Patrol officer, to acquire more detention beds and to determine the best location for the president's promised wall.
Taken together, Schumer asserted these steps would expose millions to arrest, prosecution and expulsion, which he contrasted with former President Barack Obama's emphasis on removing violent offenders.
"President Obama, he said, 'okay, if someone commits a serious criminal act, they shouldn't stay,'" Schumer told Espaillat's constituents. "But now they're saying, the new Trump administration is saying crossing the border is a criminal act. They're gonna rip apart fathers from mothers, parents from children."
The top Democrat in D.C. pointed to Trump's two successive unsuccessful attempts at barring entry to people from a handful of majority-Muslim countries. The senator argued that such policies not only disrupt lives but damage the American economy.
"The inhumanity is just appalling," Schumer continued. "It's also, in addition to the inhumanity, just terrible for America because these are people who work and you're taking people's breadwinners away, you're taking people away who businesses need. That's why they're here. And so we'll do everything we can to stop that."
While the administration sets policy within DHS and the Department of Justice, such an expansion of security, detention and deportation efforts would require Congress to allocate billions of dollars to the agencies. Schumer and his 48-member conference wield some influence over that process under current rules, as it still takes 60 votes—that is, all 52 Republicans plus eight Democrats—to avoid a filibuster on legislative matters.
The Democrat also reiterated vows to block funding cuts outlined in Trump's budget blueprint for 2018.
In the preliminary spending plan, Trump proposed eliminating or reducing state and local grant funding by $667 million for programs that the Federal Emergency Management Agency manages, much of which flows to the NYPD. He also called for ending all outlays for the National Endowment for the Arts, the National Endowment for the Humanities, the Corporation for Public Broadcasting and the Institute of Museum and Library Services.
The proposed budget would boost defense and security spending by $54 billion, mainly by redistributing funds away from domestic programs.
"We'll do everything to address the cuts to the budget, horrible, horrible cuts to everything that we believe in: to education, to transportation, to housing, to healthcare, to scientific research," Schumer said.
The senator praised Espaillat, the first formerly undocumented immigrant and first Dominican-American elected to Congress.
"I wanna begin by saying that Adriano's first 100 days are a heck of a lot better than President Trump's first 100 days," Schumer said, garnering laughter and applause from the nearly 250 people in attendance. "I wanna congratulate him on the great job he's done, on being the great American model, somebody who comes from an immigrant background, climbs that ladder and does great things."