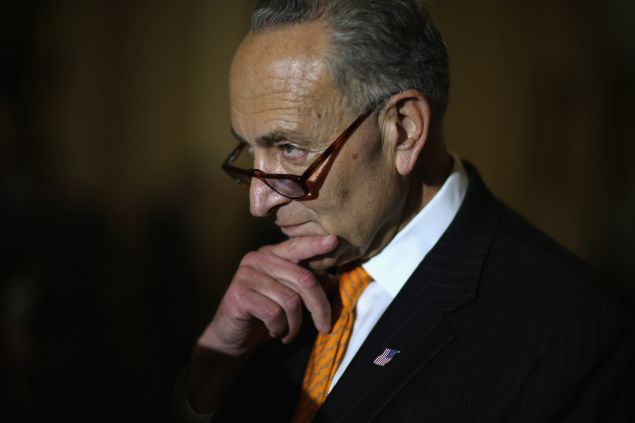 Senate Minority Leader Charles Schumer proffered praise last night for President Donald Trump's decision to launch a punishing attack on Syrian despot Bashar al-Assad over the Middle Eastern leader's use of poison gas on his own civilians earlier this week—but asserted the Republican president must develop a plan for proceeding and present it to the House and Senate.
Hours after 59 Tomahawk cruise missiles smashed the Shayrat Airfield in the embattled Arab nation, the Democratic leader posted a message on Twitter voicing support for the military action. The senior senator from New York seemed to welcome the assertive shift in policy, which contrasted both with former President Barack Obama's refusal to penalize the Syrian leader for using chemical weapons against the recalcitrant populace, and with Trump's own isolationist statements on the campaign trail.
Schumer indicated that Assad invited the attack by using the airbase to launch what is believed to have been sarin gas on the rebel-held town of Khan Sheikhoun on April 4—an act that killed more than 80 people, including children.
"Making sure Assad knows that when he commits such despicable atrocities he will pay a price is the right thing to do," Schumer wrote. "I salute the professionalism and skill of our armed forces who took action today."
But the lawmaker simultaneously asserted that the commander-in-chief must outline a gameplan for future actions in the war-bloodied state, where the Kremlin-backed Assad has brutally battled the Islamic State, al-Qaeda and U.S.-backed rebel groups for more than six years. The conflict has resulted in several hundred thousand deaths and more than four million refugees.
The attack Trump ordered yesterday marked the first direct action by the U.S. against Assad's regime, a move that angered Russian officials. The president has long stated he hoped to collaborate with Russian President Vladimir Putin in propping up Assad and suppressing the Islamic State in the country.
"It is incumbent on the Trump administration to come up with a strategy and consult with Congress before implementing it," Schumer wrote.
However, Reuters quoted a U.S. defense official who referred to the bombing as a "one-off" measure to discourage Assad from again violating the Geneva Conventions' prohibitions on the use of chemical and biological arms.
Syria is one of six majority-Muslim countries that Trump has sought to bar all entrants from, an effort Schumer has attacked and that a Hawaiian judge has temporarily blocked.