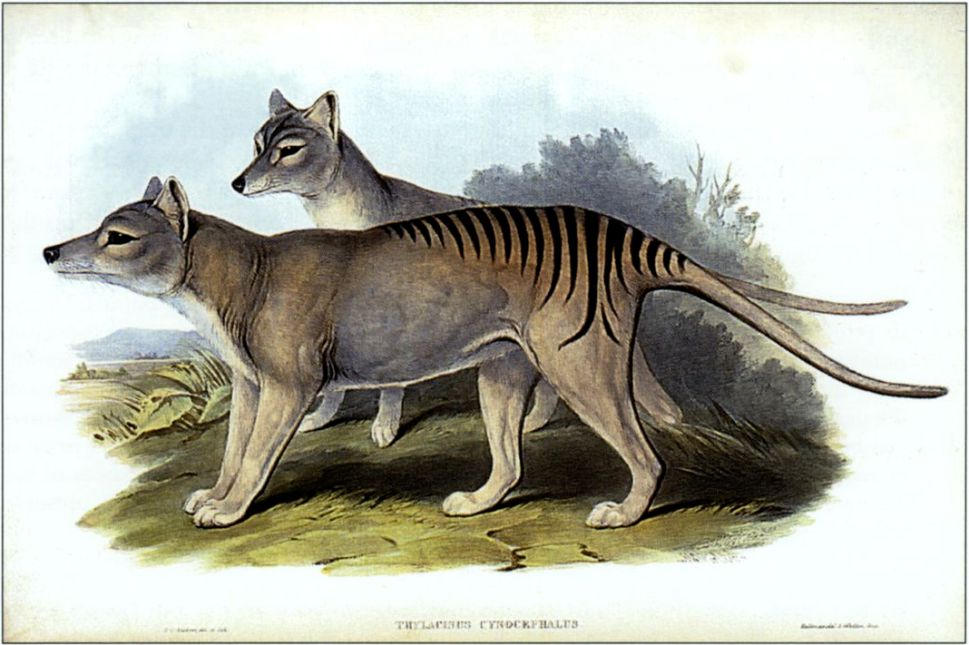 In 1936, the last known thylacine, also known as the Tasmanian tiger, died in captivity in Hobart, Australia after. The last one in the wild was killed sometime between 1910 and 1920. Settlement in Australia and Tasmania pushed the animal to extinction; people feared the animal, inciting indiscriminate killing. In the early 1900s, the Tasmanian government paid people to kill the animals due to the tigers often killing domesticated sheep and livestock. The species was officially declared extinct in 1986.
The Tasmanian tiger was the largest marsupial carnivore known to exist since the Marsupial lion, which went extinct over 1.5 million years ago. Despite being designated as a tiger, the species was nocturnal and failed to breed in captivity. Their shy temperament has fueled reported sightings and stories in Australia and Tasmania for decades, inspiring speculation that there could be some individual Tasmanian tigers alive.
Recent reported sightings have provided enough incentive for scientists to conduct a search for the Tasmanian tigers. "We had two highly detailed reports from very experienced people. One was a National Parks ranger that I've known for decades and the other by a frequent camper who provided an exceptionally detailed description," said Dr. William F. Laurance, Prince Bernhard Chair in International Nature Conservation at James Cook University in Australia, in an interview with the Observer. "The camper claimed to have seen four apparent thylacines on multiple occasions one night, while in a remote area of the Cape York Peninsula. He had a spotlight and was able to see the animals clearly from a distance of about 20 feet, he claimed. Based on his descriptions of eye color, body size, tail shape and distinctive lateral stripes, and also his geographic location, we were able to exclude other possibilities such as dingoes, wild dogs, feral pigs and feral foxes."
Dr. Laurance and other scientists at James Cook University plan to set up 50 camera traps later this month in the region around the remote Cape York peninsula where sightings have been reported.
"It was on the strength of these observations that we decided to incorporate a search for thylacines as part of our ongoing surveys of declining mammal populations on Cape York Peninsula," Dr. Laurance added. "Even with such apparently detailed observations, we still believe it unlikely that thylacines still survive today, but we believe it would be a bit arrogant scientifically not to consider the possibility—in part because a number of species formerly thought extinct have been rediscovered, often many years or even centuries later. A good camera-trap photo would be pretty compelling, provided one could see the animal's features clearly. Our traps are very high-tech and take multiple images in rapid succession, and we've developed techniques not only to identify different species but even different individuals of the same species."
If a camera traps photograph what could be a Tasmanian tiger, the next step for researchers is to obtain a DNA sample to confirm. "If we did have photographic evidence, the next step—to provide ironclad evidence—would be to obtain a DNA sample," said Dr. Laurence. "DNA can be most easily sampled with hair traps that grab a bit of fur off of animals that are investigating a scent or meat bait. It's a completely harmless method and is quite effective."