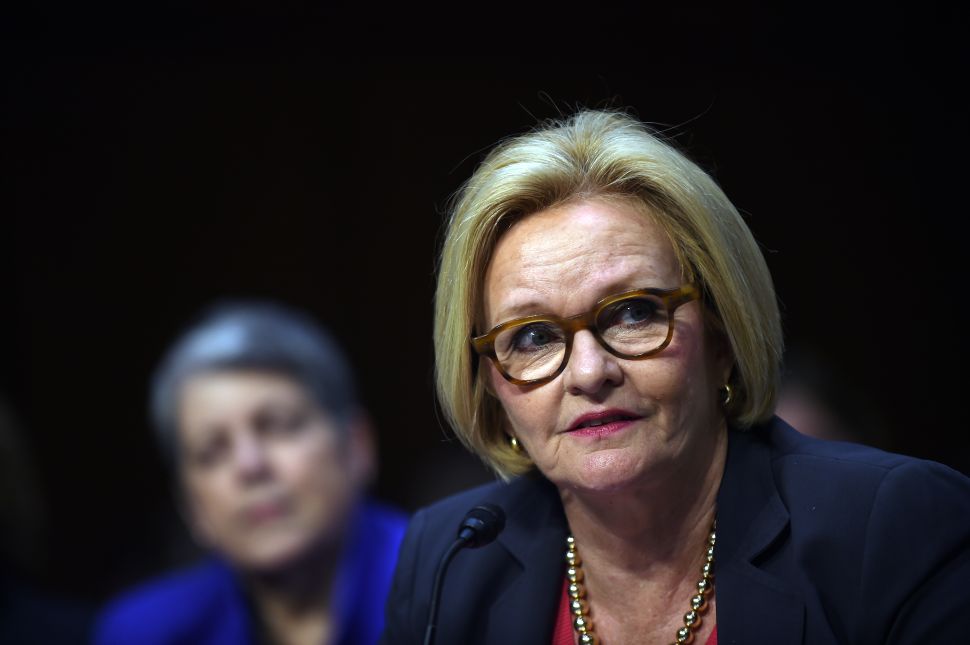 Just weeks after pleading Sen. Bernie Sanders' supporters and progressives to refrain from challenging her in the primaries before her 2018 re-election, former Hillary Clinton campaign surrogate Sen. Claire McCaskill is back to attacking progressive policies. "Free college tuition is a great goal except it's really expensive. It's really expensive, and we are struggling over how we're going to pay in terms of what we have right now for Medicare," McCaskill said last week. "We can't just start having the government pay for everything. When people talk about that and they point out countries where that happens, people are paying 70 percent of their income in taxes."
McCaskill's arguments resemble sound bytes from Clinton's campaign in the Democratic primaries when she attempted to dismiss progressive policies as unrealistic and expensive but failed to address how Sanders and his economic advisers funding them without—as McCaskill claims—hiking taxes to 70 percent. McCaskill's fear mongering is misleading especially given that the highest tax rate out of the 34 countries in the OECD (Organisation for Economic Co-operation and Development) is Denmark, which has just under a 50 percent tax rate.
McCaskill, who is already perceived as a moderate Democrat, faces a tough re-election battle in a state that President Donald Trump won by nearly 20 percent. In the 2016 Democratic primaries, Clinton beat Sanders by a slim margin—winning by just over 1,500 votes. According to exit poll data, nearly 80 percent of voters 18-29 years-old and over 60 percent of voters ages 30 to 44 voted for Sanders.
Trump's presidency has fueled progressives to resist Trump and insist Democrats do the same, and McCaskill's apprehension in doing so has left her vulnerable to attacks from the left. She supported Trump's Supreme Court nominee Neil Gorsuch until Democratic leaders nudged her not to, but she voted in favor of most of Trump's cabinet nominees.
During a private fundraiser at the end of March, McCaskill begged Sanders supporters not to primary her. "All of you who are Bernie supporters… I need you. I want you. I want to talk to you. I want you to be part of our effort," McCaskill said. "We can't get divided in a state like Missouri, or we're cooked." Her pleas have turned out to be baseless pandering, and she has reverted back to reducing progressive policies as she shifts toward the center to court moderate Democrats and Republicans.
The Democratic establishment is throwing resources behind McCaskill to ensure her re-election. Politico reported on April 18, "A nonprofit controlled by allies of Senate Minority Leader Chuck Schumer is spending $500,000 on radio ads backing Missouri Sen. Claire McCaskill." Her re-election campaign broke a fundraising record during the first quarter of this year, pulling in $2.8 million more than any other senator up for re-election next year. While Democrats have ignored close congressional special elections in rural America—including self proclaimed Berniecrat James Thompson's close race and Sanders' endorsed Rob Quist's upcoming special election in May—the Democratic establishment has no reservations about going all in for one of their own.