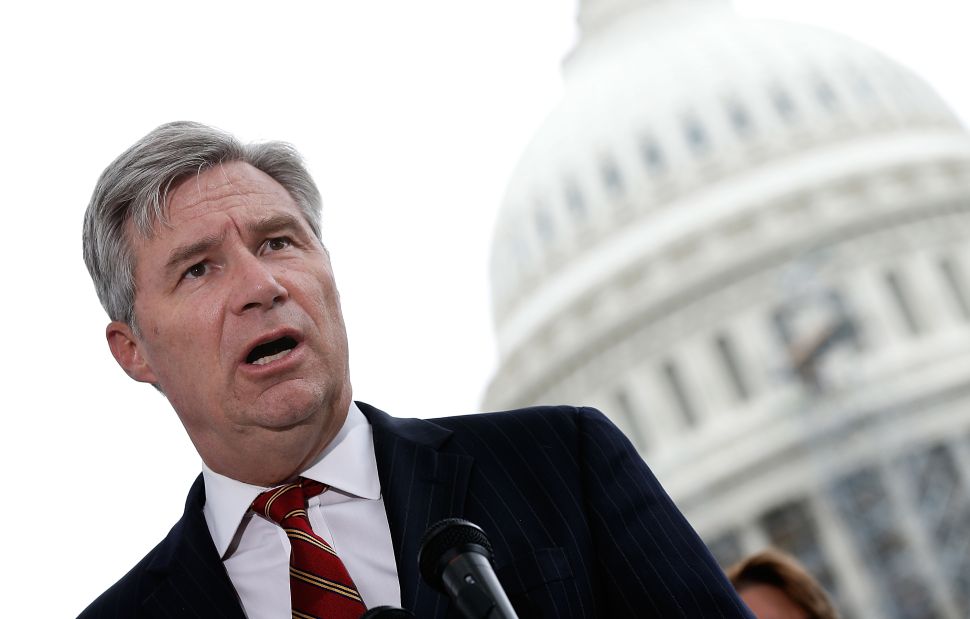 In an interview on MSNBC's Morning Joe on April 4, Sen. Sheldon Whitehouse made the bizarre claim that Wall Street donors backed Sen. Bernie Sanders over Hillary Clinton during the Democratic primaries because they wanted to provide Donald Trump with a weak candidate in the general election.
"They did not want Hillary Clinton to win, that's why Wall Street money supported Bernie Sanders in in the Democratic primaries to take her out because they thought she would be the stronger candidate. You can't pretend that didn't happen," Whitehouse said, citing no evidence or data to corroborate this claim.
To the contrary, Wall Street didn't back Sanders. Goldman Sachs CEO Lloyd Blankfein said that Bernie Sanders' anti-Wall Street rhetoric "has the potential to be a dangerous moment." Sanders didn't accept money from Super PACs, meaning that every one of his donors was bound to the $2,700 individual campaign contribution required under campaign finance law. Clinton, on the other hand, depended on Super PAC money and Wall Street to keep up with Sanders' grassroots fundraising. Hedge fund billionaire James Simons gave Clinton $9 million during the Democratic primaries and more than twice that during the general election. She received more money than any other candidate in either party during the primaries from the securities and investment industry.
Clinton's close relationship with Wall Street has been a constant throughout her political career. Clinton has received millions of dollars from paid speeches she gave to Goldman Sachs and other Wall street firms. Many of those firms donated millions of dollars to the Clinton Foundation. Goldman Sachs, JP Morgan, CitiBank and Morgan Stanley are on Clinton's top-10 all time donors list. During Bill Clinton's administration, Wall Street shifted its view of the Democratic Party from being viewed as an enemy to that of a partner. Clinton appointed Robert Rubin, former Goldman Sachs CEO as his Treasury Secretary, bailed out the big banks in 1995, and repealed Wall Street regulations like Glass-Steagall. Hillary Clinton would later vote in favor of bailing out the big banks after the 2008 economic recession.
Whitehouse likely knows the extent of the Clintons' relationship with Wall Street. Perhaps his comments were made to seed doubt over whether Wall Street is fully ingrained with the Democratic Party, which was made obvious by Hillary Clinton's nomination and the way she campaigned. He owes his career to the Clintons—Bill Clinton first appointed him as U.S. Attorney for Rhode Island in 1994. Whitehouse served as Hillary Clinton campaign's co-chair in Rhode Island in 2008 and backed Clinton early on in the Democratic primaries, despite Sanders beating Clinton in Rhode Island. Though most people are fully aware of the Clintons' ties to Wall Street, Whitehouse attempts to treat Wall Street as a foe of the Democratic Party. In reality, both political parties have Wall Street's best interests at heart instead of voters'.