This is what a Disco Circus should look like.
Courtesy Karen Walker
The Love Hangover shape is a modern aviator.
Courtesy Karen Walker
The Disco Circus comes in four, frame-less colors.
Courtesy Karen Walker
Match your lipstick to your reflective shades, please.
Courtesy Karen Walker
Bold and pigmented, just the way we like our shades and our lipstick.
Courtesy Karen Walker
Reflective is the name of the game.
Courtesy Karen Walker
Epic haircut not included in purchase.
Courtesy Karen Walker
Glasses can be just as much of a beauty signature as a red lip or a precise cat eye. Just consider Anna Wintour's prominent shades, Iris Apfel's oversized specs and Fran Lebowitz's go-to tortoiseshell frames. Not only do these accessories become almost like a character trait, but the person wearing them becomes nearly unrecognizable when their shades are absent.
Karen Walker, the New Zealand designer who counts optics as a major addition to her ready-to-wear business, took that concept one step further with her latest collection of tinted frames. The name of the collection kind of gives away the concept, as EYESHADOW was created as a stand-in of sorts for eye makeup. The trio of new rimless styles (Dancer, Love Hangover and Disco Circus) wash the entire eye area with subtle hues of sheer pink and marigold, plus mirrored gold and silver, quite like an eyeshadow does. These easily swappable eye tints would be the most fool-proof addition to your makeup kit.
Walker had been intrigued by colored lenses for some time, but for this style, she decided to intentionally play up the look of actual eyeshadow: "We simply removed the rims around the lenses and softened the colors even more to give the impression of the lenses actually being simply a light dusting of powder."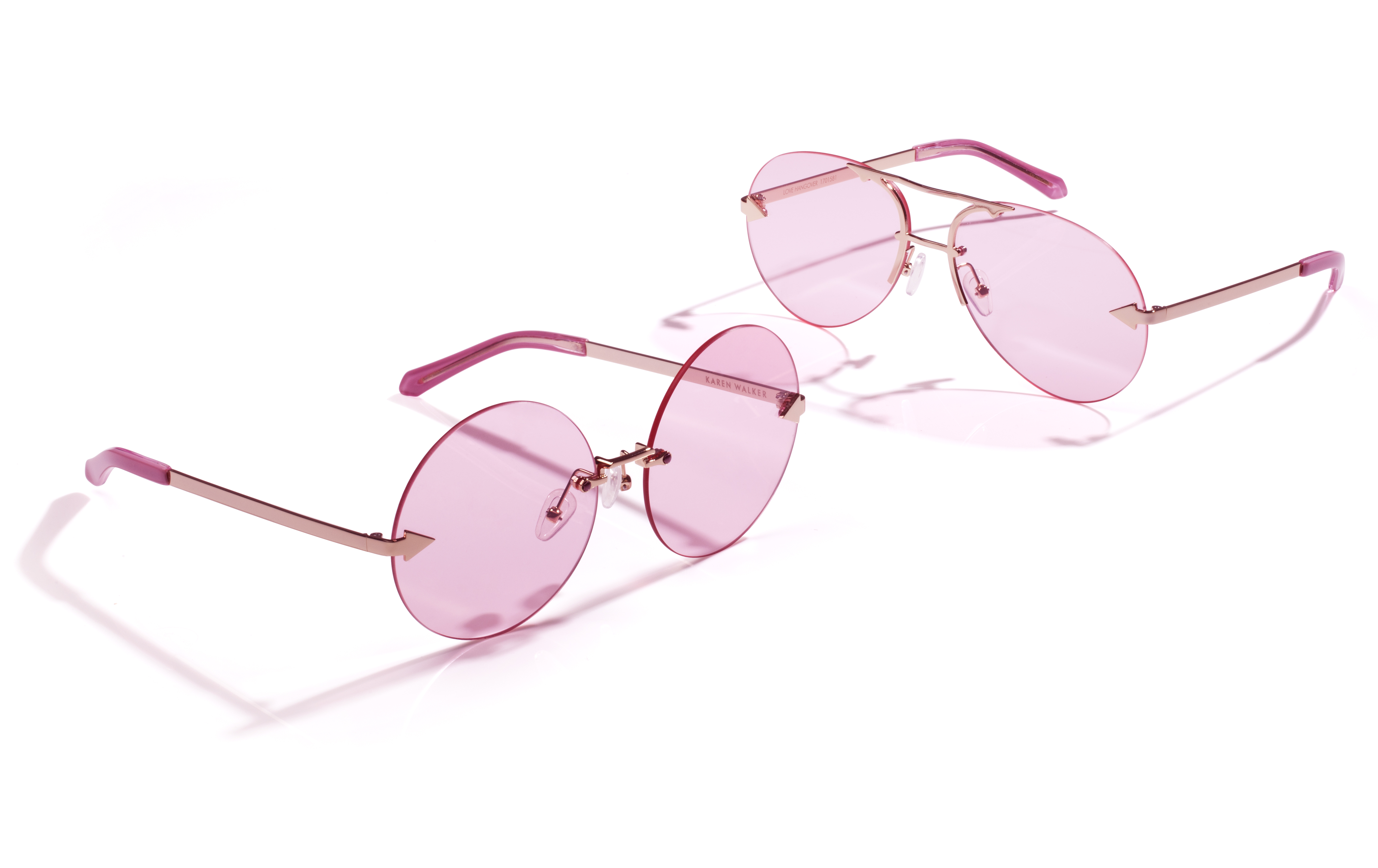 Once the concept was in place, it was time to consider how these colored glasses would translate into a campaign. Walker was insistent that the imagery needed to "radiate the idea of a beauty aesthetic," so she knew that it was imperative to partner with a beauty brand. In particular, she was looking for a brand that truly appreciated a punch of color and had a deep understanding of fashion.
"Who better than M.A.C for this?" Walker pointed out. In fact, the beauty giant was releasing the Colour Rocker lipstick range in New Zealand at the same time of the EYESHADOW launch, so this partnership was a truly perfect match.
"Karen and I went through each lens and picked the perfect pairing—whether an exact colour-combo match or an electric statement to bounce off a coloured lens," said Kiekie Stanners, a senior artist at M.A.C.
Walker is no stranger to producing product imagery that is highly conceptual and rather unexpected. She recently tapped 80- and 90-year olds as eclectic hand models and has also hired toddlers and puppies to display her sunglasses; previous campaigns have also featured models making silly faces while arrows are shot through their heads. 
In regards to this season's campaign, Walker and Stanners agree that their favorite look is the Marigold lenses with the Yellow You Dare? lipstick shade. However, in her everyday life, Stanners would be most likely to emulate the mirrored lens with orange Darling Clementine hue, while Walker would go monochrome in light pink lenses and lip color to match.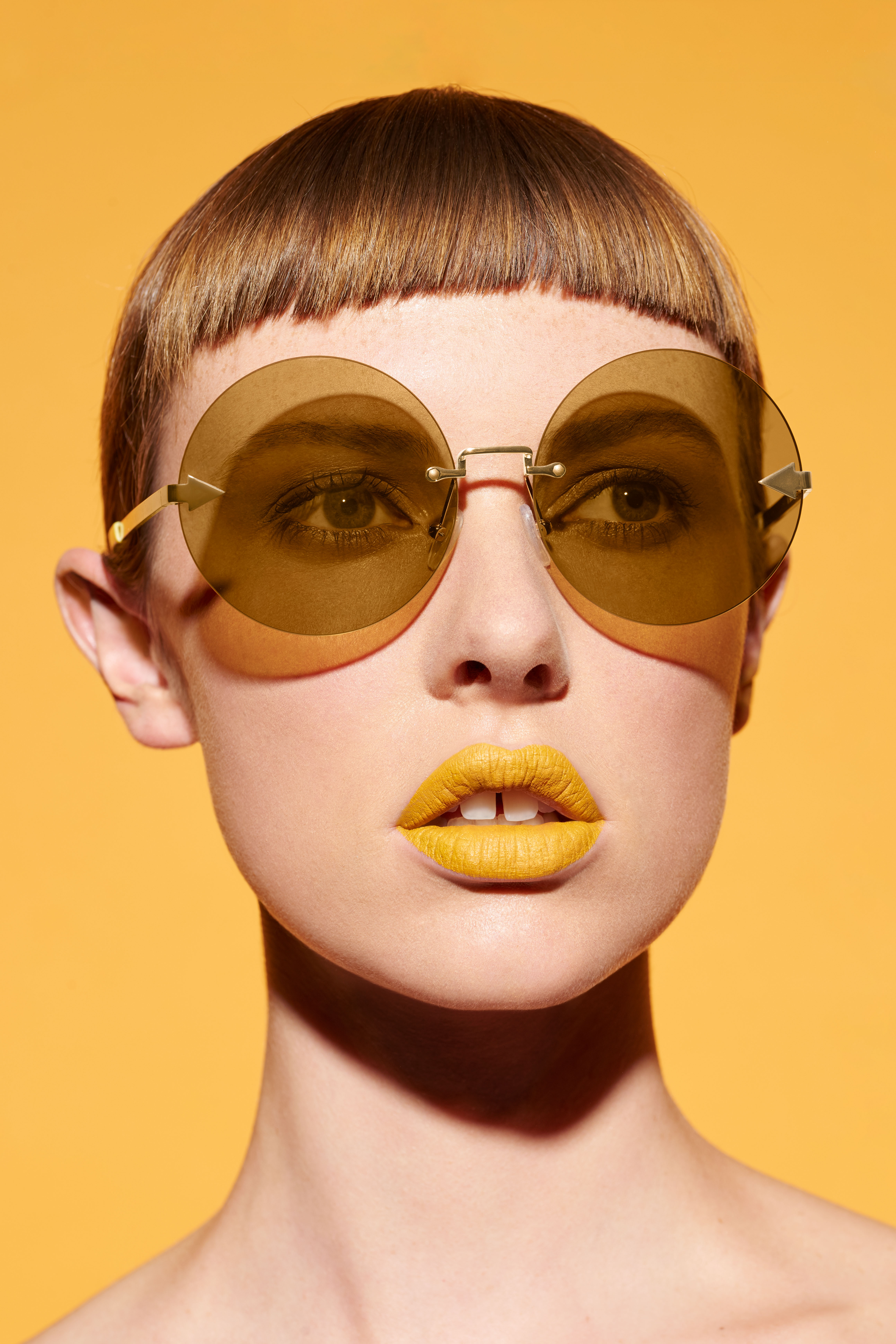 Despite her claim that these frames could replace eyeshadow, Walker thinks they could also accent a pre-existing beauty look.
"We love the way they look when strong make-up is showing through from behind. It's a playful way to wear and amplify eye make-up," she said. Stanners backed that notion up with some expert advice: "I love the idea of teaming a similar color of eyeshadow underneath the lens, applied in a soft veil of color that gives just a hint of tone through the lens. Of course it's necessary to wear lots of mascara to volumize the lashes that you can see through the lenses!"
Whether you go for an electric blue shadow or basic black is up to you, but we recommend keeping it colorful.