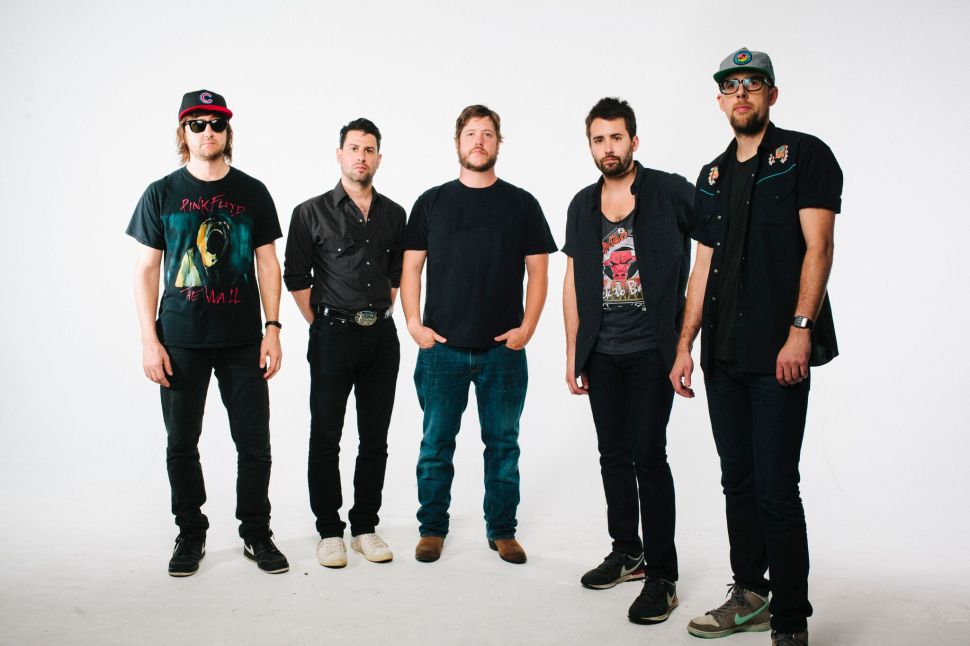 Nashville bands bear the burden of authenticity. Today, the city that birthed country and rock 'n' roll now regularly churns out Americana hanger-ons as often as it does everyone claiming to be the Next Bruce Springsteen south of the Mason Dixon Line.
Distinct from the country clones and affected twangs pervading their hometown, Nashville's Los Colognes have a refreshing sound that sticks to their local roots while just as often stretching its boundaries to the groove of the '80s.
Today, we're happy to premiere the band's new single, "Sneakin' Breadcrumbs," from their upcoming new record, The Wave, which arrives on Friday, May 12 on Big Deal Media.
[soundcloud url="https://api.soundcloud.com/tracks/298816161?secret_token=s-4XEpL" params="color=ff5500&auto_play=false&hide_related=false&show_comments=true&show_user=true&show_reposts=false" width="100%" height="166″ iframe="true" /]
Dripping with low-key cool, "Sneakin' Breadcrumbs" is reminiscent of Phil Collins meets Dire Straits, a modern, radio-friendly soft-rock that's catchier and more thoughtful than any of those references might suggest.
Frontman Jay Rutherford has a raspy Tom Petty thing going on, too, giving the band's single a surprising amount of staying power long after it's over. Voices like this, think Kevin Parker's Lennon affectations, only go as far as the lyrics, though. Which makes the odd undercut of motivation in "Sneakin' Breadcrumbs" surprisingly salient. Wherever you are in your journey, maybe Rutherford has been there too. If not, he and Los Colognes will be able to calm you down enough to really give it some thought.
Built on a background of funky synths, it's a minimalistic arrangement that prioritizes Rutherford's charisma and that earworm of a chorus above all else. We can't seem anything wrong with that. Sure enough, one minute in, just try to deny the power of these vibes—this is music built for top-down, open-road, stereo-all-the-way-up listening.
"'Sneakin' Breadcrumbs' was the first song written for the album, and it really sets the tone for the narrative musical experience to come," the band tells us. "The song is built on a Linn Drum loop we created and features the insanely talented Nashville staple Melissa Mathes [Luella] on background vocals. The lyrics paint a picture of an individual who can't seem to overcome the trappings of society."
A prime cut of ambient rock that transcends nostalgia, "Sneakin' Breadcrumbs" tracks with what we've heard from The Wave so far. We can't wait to hear what the band has planned next.
The Wave is out via Big Deal Media on May 12. Los Colognes play Manhattan's Mercury Lounge on June 15 and Brooklyn Bowl on June 16.