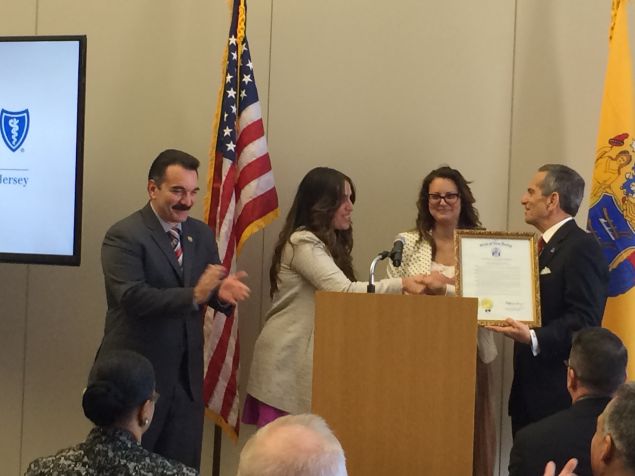 Gov. Chris Christie's plan to raid the reserves kept by Horizon Blue Cross Blue Shield could lead to a downgrade of the insurer's 'A' credit rating, according to a report released Friday by S&P Global Ratings.
Christie has been on a one-man crusade this year against Horizon, the largest health insurance company in the state, calling on lawmakers to take any funds from the company's $2.4 billion reserve account that are above the required cushion it must keep under the terms of the Blue Cross Blue Shield Association.
Blue Cross Blue Shield requires member companies to keep a financial cushion — in Horizon's case, those reserves must be equal to at least 550 percent the amount needed to pay all its policyholders' claims. Christie said Thursday that the insurer should turn over any funds above that 550 percent threshold to the state Department of Banking and Insurance for a new fund to treat drug addiction among the poor, a plan that would kick in after he leaves office and reduce Horizon's reserves by hundreds of millions of dollars.
S&P analysts said in their report Friday that they "view any such event as a source of potential capital volatility" and that if Horizon's capital reserves drop below their current level, "we could lower our ratings in the next 12-24 months." For now, S&P affirmed the company's 'A' rating and said its outlook was stable.
"In our view, Horizon BCBSNJ's risk position is moderate reflecting its business concentration in a single state," S&P analysts wrote. "We believe this poses additional risk of earnings and capital volatility since it exposes the company to regulatory and legal conditions in the state. For example, Horizon BCBSNJ is in a dispute over a request for funds by Gov. Chris Christie from the group's capital reserves."
Christie has been attacking the health insurer's executives and in-house lobbyists as overpaid, corporate fat cats turning a blind eye to the needs of the poor in the state even though they run a not-for-profit enterprise whose mission is to serve vulnerable populations.
But the S&P analysts had a different take. They credited Horizon's management team for lowering costs through "patient-centered medical homes and pediatric programs, episodes of care models, and accountable care organizations."
"Horizon BCBSNJ's management and governance is satisfactory, in our opinion," S&P said. "Its management team has considerable experience in the current lines of business and exercises prudent control of operations by maintaining financial strength, efficient administrative expense controls, expanding and optimizing network provider relationships, and improving systems technology platforms to support its entire product line."
Horizon CEO Robert Marino, who came under attack from Christie on Thursday during an event in Jersey City, said he was pleased with S&P's assessment.
"Horizon is committed to being a prudent and responsible steward of the premium dollars entrusted to us so that our 3.8 million members can always have the financial peace of mind they deserve," he said in a statement. "The health insurance industry, in New Jersey and nationally, remains highly volatile, and our company's financial stability continues to be tested."
Christie spokesman Jeremy Rosen called the report "an alarmist overreaction."
"The governor's proposed legislation requires the state Department of Banking and Insurance to conduct a comprehensive review of all of Horizon's finances at the end of each year, including responsible surplus amounts," Rosen said in a statement. Christie also wants to expand Horizon's 15-member board with four new seats, to be filled by the Legislature, and he is also calling for legislation that would force the insurer to post salary and bonus data for top executives online.
"The governor's reform also includes transparency and accountability measures to protect taxpayers and consumers from Horizon's abuses, such as this charity's Medicaid profiteering against the poor and doling unjustifiably exorbitant money and resources to millionaire executives," Rosen said.
Assemblyman Tim Eustace (D-Bergen) called the governor's plan a "non-starter."
"For some reason the governor wants to do for Horizon what he has done for Atlantic City, public worker pensions, and the state of New Jersey – make them less solvent," Eustace said in a statement Friday. "But he thinks we should feel better about this latest move because he won't actually be in the governor's chair when New Jersey's largest insurer inevitably has its credit downgraded."
Assembly Speaker Vincent Prieto (D), who has the power to post legislation for a vote or block it, said Thursday that Christie's plan could get a tough reception in his caucus at a time when policymakers in Washington are considering major changes to Medicaid and the Affordable Care Act.
"I would like to see the governor put as much effort into saving the Affordable Care Act and the benefits it brings to millions of New Jerseyans as he is targeting Horizon," Prieto said.