Sao Paulo is a city of 20 million people. Try crossing it by car, and you'll be convinced that twice as many people live there. All the more reason for SP-Arte, the annual art fair founded and directed by Fernanda Feitosa, who is herself a collector.
Mostly Brazilians were the visitors and buyers at SP-Arte/2017, the fair's thirteenth edition, which ran from April 6 to 9. But foreign dealers were a visible presence, and collectors from outside Brazil were also there.
Still, the focus was on Brazilian artists, both relative newcomers and established names.
In that art establishment, an odd description for an artist like Lygia Pape (1927-2004), whose work was conceived to resist and mock established power, Pape has the distinction that no Brazilian artist shares with her. She has an exhibition at the Metropolitan Museum of Art, and that exhibition is on view at the Met Breuer on Madison Avenue through July 23.
At SP-Arte/2017, if you looked hard enough, you could find a set of four square modules by Pape, abstract templates rooted in experiments with geometry. Pape would make hundreds of these abstract squares overlapping with the exploration of Concretism, the non-narrative movement which told hold all over the continent. She would also participate in the Cinema Novo movement that documented Brazil.
Given her reputation beyond her country, Pape's work could command an impressive price. The ensemble of four squares was selling for $320,000.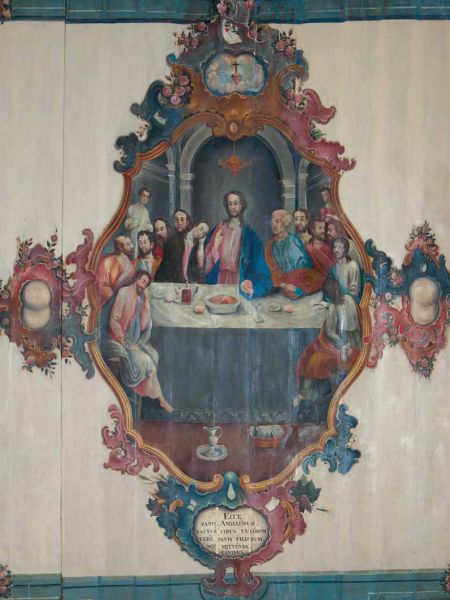 The top floor of the convention center designed in 1957 by the architect Oscar Niemeyer in Ibirapuera Park in Sao Paulo was reserved for 25 dealers of design objects and works of art from earlier periods. One of those earlier works was an 18th century retablo (painting on wood) of the Last Supper, measuring some 12 feet by 16 feet. The painting came from the city of Salvador, in the northeast of Brazil, and was being offered by the dealer Itamar Musse. The price that Musse quoted to me was $5 million, although he added that the national treasure might not be permitted to leave Brazil.
For the right kind of collector, the Last Supper would be a crucial acquisition.  The picture had been in a church that was privately owned, Musse told me, and this was the first time that it was offered for sale. The Old Master to whom its style comes closest is El Greco, with an anguished Jesus in the center, a clean-shaven St. John at his side, and a furtive Judas Iscariot clutching a bag of silver in his hand. The scale meant that the picture seemed suited for a museum, although few museums in Brazil or the United States could be expected to pay the asking price.
Price wasn't screaming off the walls at SP-Arte/2017. The opposite tended to be true. The art for sale was remarkably affordable. More about that in a moment, but at the high end of the spectrum was a monumental sculpture, in size at least, by the German artist Georg Baselitz.
At the booth of Thaddeus Ropac of Paris (one of 44 international galleries at the fair), Zing Zang Zero, a cast in bronze, was of a towering height, compared to almost anything else at the fair. Baselitz is the man who gave us endless figures standing upside-down in his paintings, but this sculpture was of two figures, arm in arm, male and female, with energy, wit and style in the pose of each figure.  The Reluctant Bride? Adam and Eve? Take your pick.
Other works at the fair suggested a narrative or a character. Such was the case with Wooden spoon – wooden face (Pinocchio), a minimalist sculpture, if you can call it that, at Galeria Vermelho of Sao Paulo.  This construction consisted of a spoon-shaped section of wood sitting in a glass cylinder, with another narrow piece of wood attached at a right angle near the top end of that spoon shape. The upright beam with a protruding stick seemed like a head once the second piece was added, and the second piece suggested a nose, and therefore a face. The artist, Edgard de Souza, calls it Pinocchio. There seemed to be something Everyman-ish about it, given the utter simplicity that kept you looking, all for $23,000.
Simplicity was also what drew me to Quasos 14 at the booth of another local gallery, Casa Triangulo. It was a sculpture by the artist Ascanio MMM. At the core of the work in metal was an orb that look inspired by Anish Kapoor, if not just borrowed from that sculptor. But around the reflective section of a globe, Ascanio, as he's known, had added a superstructure of a grid that was bent to obscure or protect it. Forget any sense of pure reflection, the work suggests. There's always something in the way, even if it's a graceful silver cage, as was the case with this sculpture ($45 thousand).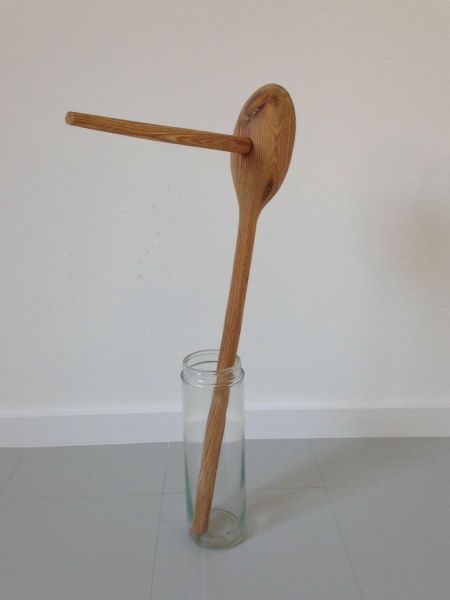 Around the corner, three paintings by Tatiana Blass at Millan of Sao Paulo played with perception, taking figurative scenes and saturating them with color. These could feel like a tropical take on Fairfield Porter, as clarity melted into atmosphere.
Atmosphere was everything in photographs from the serie Zoo by Joao Castilho at Zipper Galeria. For these pictures, animals were photographed in luxuriant settings. There was an anteater in a patterned cloth. A tortoise stood on velvet sheets. Surrealists were doing something similar almost a century ago, juxtaposing materials of finery with images of wild animals. Here you get a Brazilian surrealism, but also an improbable approach to portraiture of species that are native to the country. Surrounded by silk, gold and velvet, these animals are freakish, yet Castilho seems determined to give them a dignity that was more intimate than exotic. The Dutch painted still lives of flamboyantly-colored birds and game animals in the 17th century. Those creatures were dead, and likely to be on their way to someone's dinner table. The animals in Castilho's photographs were insistently alive.
There was much more to see at SP-Arte/2017. Forthcoming posts will discuss individual artists and their work in greater detail.