Take a waffle. Put it on a stick. Top it with animal crackers, Oreos or Fruity Pebbles. 
Meet Sweet Combforts, a new dessert concept that's debuting at Coachella  (April 14-16 and April 21-23) and then opening a brick-and-mortar shop soon after in Irvine. Sweet Combforts is clearly calibrated for the Instagram set. Because executive chef Anne Marie Damaso's waffles are on a stick, you can easily hold these treats at different angles and carry them around to pose in front of different backgrounds. Plus, the waffles are brightly colored and they evoke the kind of childhood taste memories that make people write captions full of expletives, emojis and exclamation points. (You can also order a plain waffle, but why in the world would you do that?)
Welcome to #combchella.
"We wanted to come into the scene and start with a boom," Sweet Combforts partner Kevin Bobby Nguyen says of launching at the massive music festival that's also turned into a massive food festival. "We know what gets people noticed and what can go viral. We want to back it up with a taste. It's about making something taste good and making it as aesthetically pleasing as possible."
So, let's talk about what it will be like to actually eat one of these waffles on a stick.
"Think of it as kind of like pizza dough, but it's sweet," Nguyen says. "Infused into the dough, we have pearl sugars, so there are explosions with every bite, a burst of flavors. That's what separates our Belgian liege waffles from everyone else's. I know other people use them, but they're not executed like this. Once you taste this, you're going to be like, 'What the heck did I just eat?'"
Nguyen and Sweet Combforts co-founder Geoffrey Manila have had some success taking their food to the masses in the past. Nguyen and partner Mark Cruz are the men behind GD Bro Burger, and Manila was part of the GD Bro team that competed in The Great Food Truck Race on the Food Network. Prior to that, Manila and Damaso had worked together in a waffle shop.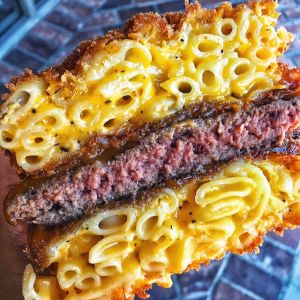 The 100-plus food-and-drinks vendors at Coachella will also include Nguyen's Pig Pen Delicacy, in case you need to load up on candied bacon before you watch Lady Gaga, Kendrick Lamar, The xx, Future Islands or Bon Iver. Pig Pen Delicacy, not surprisingly, boasts built-for-Instagram concoctions like the MacAttack burger with buns made of macaroni and cheese.
Sweet Combforts, Pig Pen Delicacy and Nguyen's Portside Fish Co. will all open at Irvine's new Trade Food Hall around mid-May. #blessed