Taylor Swift's gorgeous townhouse rental is now on the sales market...click through to peek inside.
Christopher Polk/Getty Images
You didn't expect Taylor Swift to stay just anywhere, did you?
Corcoran
How does it compare to her Tribeca duplex?
Corcoran
She's been living here since June 2016.
Corcoran
A kitchen likely blessed with Taylor Swift's baking abilities.
Corcoran
Just a casual indoor pool.
Corcoran
How many fresh cookies do you think were eaten in here?
Corcoran
Swift stayed here while awaiting the completion of her penthouse renovations.
Corcoran
Now you can buy Taylor's temporary digs.
Corcoran
Plenty of bedrooms for if any of her #squad needs a place to crash.
Corcoran
One of three fireplaces.
Corcoran
Taylor Swift just received landmark status for her Beverly Hills mansion, but she's also reaching a turning point with her New York residence.
Swift has been in the midst of a reported $535,000 renovation on her much-Instagrammed Tribeca penthouse, and has apparently been renting a gorgeous West Village townhouse for $39,500 since June 2016. The renovations were expected to take approximately a year, so the timing of her rental appearing on the sales market, for $24.5 million, is spot on.
Does the 5,400-square-foot carriage house listing mean that Swift has vacated 23 Cornelia Street and is back within the confines of 155 Franklin Street? We suppose only time, and Instagram stalking, will tell, but she must be at least a little sad to leave behind the brick façade of her temporary digs.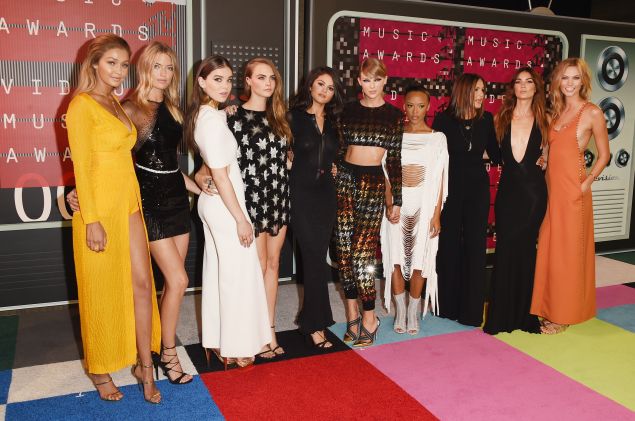 Aside from hardwood floors, three fireplaces, and a dining room with antique bricks imported from Paris, the 21-foot-wide abode also has its very own indoor pool, in a room complete with a chandelier and double height ceilings.
The five-bedroom, 5.5-bath abode also has a private garage and a master suite with floor-to-ceiling windows and a big closet, per the listing shared by Corcoran brokers Deborah Grubman, Laurence Carty and Markus Buchmeier.
There's also a rooftop terrace fitted with an outdoor kitchen, built in barbecue and a Jacuzzi—it sounds just as photo-friendly as her Franklin Street digs, though we don't have photographic evidence of Karlie Kloss baking cookies with Swift in the space.
We are excited to see the final product of her redesign on Franklin Street, though. Perhaps she'll christen it with a #squad sleepover, and hopefully upload a plethora of snaps of her supermodel gang.