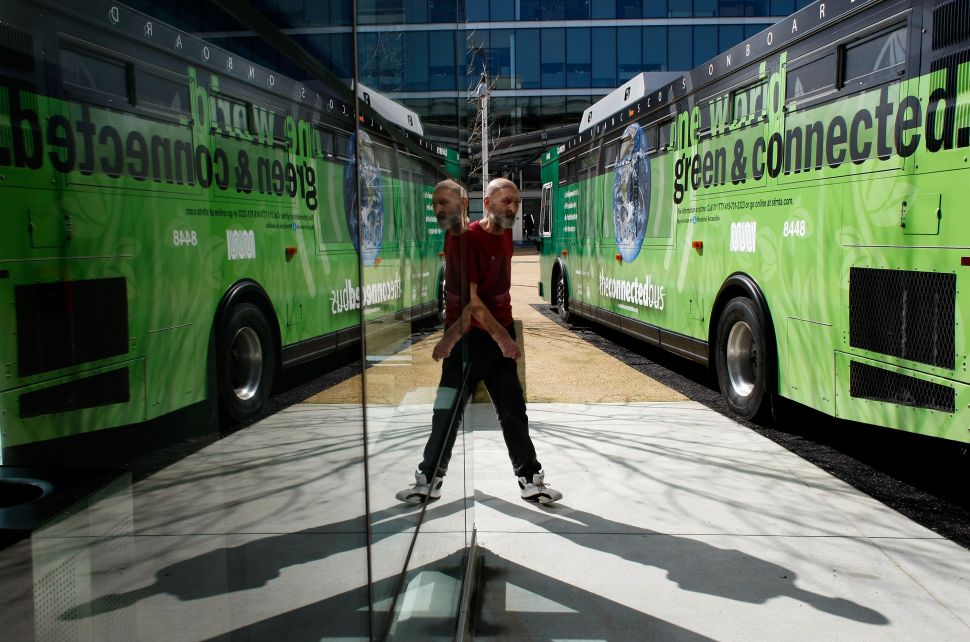 Everyone has heard about the protests around the Google shuttles that carry workers at the tech giant from homes in San Francisco to offices in the Silicon Valley suburbs, but there's more to the story. A lot of tech giants besides Mountain View's pay for buses that ferry their workers around the region, and some local activists believe that giving highly paid tech workers easy access to the city makes the already over-priced real estate market even more expensive. The protests haven't stopped, either. As recently as two months ago, a blockade prevented commuters on the buses from getting to work.
Meanwhile, another fight for economic justice has been taking place on the buses themselves. Hourly workers who drive the vehicles have to attain special commercial driver certifications to do so, but still many have struggled to make ends meet with the money they earn at the wheel. The Teamsters Union, one of the nation's largest labor organizations, has been working to bring those drivers into the union so they can collectively bargain for a better deal. Most recently, drivers at WeDriveU, an operator that service companies like LinkedIn and Twitter, voted to join Teamsters Local 853, according to a press release from the Teamsters last week.
"At the end of the day, what's important is that the wages and the benefits are all equal between contractors," Rome Aloise, a vice president in the union told the Observer in a phone call. If workers get paid the same across contractors, it forces operators to compete on operations and management rather than finding their profit margin in workers' paychecks. 
Aloise estimated that Teamsters locals now represent approximately 800 drivers across four different companies. Drivers represented by the union now serve companies like Yahoo, Salesforce, Apple, Amtrak, Netflix, Zynga and PayPal. Aloise cited three bus operators that remain without union representation, but even those companies have had to offer better pay and working conditions as the prevailing wages have risen across their competitors.
"We represent a number of people in transit agencies and school bus drivers, and a lot of these have graduated over to driving these shuttle buses," Aloise explained. As the sector started to take off, workers began calling the union. 
The drumbeat of unionization
Organizing drivers began in earnest after drivers at Loop transportation voted to join the Teamsters in November 2014, as the San Francisco Chronicle reported.
"The contractor campaigned heavily against us, we thought at the time because Facebook was telling them to," Aloise said, but it turned out that the social media giant came over to the workers' side. "Facebook continues to be the best of these companies," he told us.
In February 2015, Compass Transportation drivers joined the union, reaching workers serving the campuses of Apple and eBay, among others.
Then in March, drivers serving Google got a raise, but not not all had a union. In May, Facebook decided to set a floor for all workers it contracts, of $15 per hour ($6 above minimum wage in California at the time), whether it's a shuttle driver, security officer or custodian. Plus, it required paid time off, sick leave and other benefits enjoyed by white collar and unionized workers.
Lastly, in August of last year Apple also moved to up the pay for all its drivers, some of which have collective bargaining and some don't.
The strategy that worked
Driving in Silicon Valley isn't like driving elsewhere, Aloise explained. Most people who drive buses end up working split shifts, with a morning run and an early evening run, but they also usually tend to work fairly close to home. They can spend the intervening time doing what they want, in their own space.
Not so in Silicon Valley. No driver can afford to live close to the corporate campuses they serve, but they still end up working split shifts. "They'd be resigned to sitting in their cars or going to sit somewhere else," Aloise said. "That give us an ability to talk to them on their splits."
'What's important is that the wages and the benefits are all equal between contractors'
The campaign to organize these workers looked a lot like other union organizing campaigns. The goal is to get a National Labor Relations Board sanctioned vote, and workers get that by having meetings, organizing workers and filing a petition with the regional office for a union vote. The Teamsters added an extra wrinkle to their organizing effort, though, by making all their organizing meetings open to reporters.
"They grew an understanding for what we were doing," Aloise said, and that led to sympathetic depictions of workers in which reporters detailed how many drivers end up spending 16 hours a day away from home, between commuting and waiting between shifts. 
Each tech giant generally contracts with more than one operator, and an operator hasn't been dropped yet after workers have voted to unionize, but "that's a threat that some of these contractors are telling their drivers," Aloise said, though he doubts that's the sort of publicity any of the tech titans would want to invite. 
Neither Facebook, Google nor LinkedIn replied to a request for comment from the Observer.
The next campaign
Prior to WeDriveU, the Teamsters were able to pressure Bauer's Intelligent Transportation to hold a union election by using a labor harmony provision it won from the San Francisco Metropolitan Transit Authority. As commuter shuttles became more of a fixture in the city, the unions supported tech companies' efforts to win the right to use bus stops to pick up workers. In doing so, the workers won a provision that could deny a permit to companies whose pay fell to out of step from prevailing wages of similar workers.
Bauer's served companies like Cisco and Intuit. Union members started showing up at bus stops and protesting the shuttles, Aloise explained. In September, Bauer's workers voted to join Teamsters Local 665, according to the Teamsters.
Next year, "most of the contracts expire within a month of each other," Aloise said. By then, the union hopes to have increased the density of represented workers enough that each contract negotiation will complement all the others.