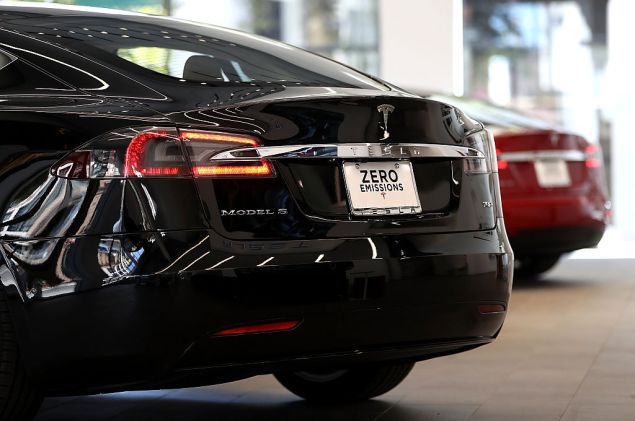 Tesla's Model S has made it to the semi-finals in a contest over the most innovative product since the iPhone. The showdown is taking place on the website of venture tracking firm CB Insights. The electric car is facing the Amazon Alexa now. The winner of the contest will compete against either the Mac Book Air or the Raspberry Pi.
In the balance hangs … absolutely nothing, but that hasn't stopped Tesla fans from organizing on Reddit to make sure their favorite car wins.
CB Insights collects data on big tech companies, especially the hard to wrangle information about private investment, while often writing reports based on its data (like their epic take on Google's acquisitions, which we summarized). The research company has become known for its special touch with user engagement. CEO Anand Sanwal signs all his newsletters with "I love you," and it totally works for him.
Some guys just have it.
So setting up brackets and running a multi-round contest to pick "the most innovative consumer product since the iPhone" is a classic CB Insights move to keep engagement going. It's also a nice way to non-aggressively hoover up a bunch of emails from different products' fans. Everyone who votes gets asked if they want updates about the "tournament" via email.
The contest began with products as diverse as the Peloton bike, Roku, GoCubes and the Sphero Robot. The Playstation got knocked out in round one by the iPad. Does that mean investors should dump their Sony stock? No.
Despite the complete lack of consequence for this amusing exercise, it's got Tesla fans fired up to win. At 630 upvotes it has the most upvotes of anything else on the front page of the Tesla Motors subreddit, as of this writing.
The larger conversation veered into some amusing places:
My favorite thread is probably the deep digression into whether or not laundry detergent users get more bang for their buck out of powder or packs. I thought we were here to talk about electric cars, y'all? Reddit is weird.
We learn about some IP encroachment in Europe after @NamesKiernan asks, "What's a cronut?" Yes, cronuts were in the brackets (they got knocked out by the lately infamous Thinx underewear in round one). The redditor didn't know about the marriage of croissants and donuts because he lived in the United Kingdom, but a countryman on the thread let him know he still had options.
"Gregg's sells them as 'The Greggsnut,'" @WillyVWade advised, "Yeah, an awful name." No word on whether or not the cronut originator Dominique Ansel Bakery has filed for action with the World Trade Organization.
Tesla fans do not like the Beats by Dre headphones, it turns out. There's a lot of Beats hate on the thread, including this dose of schadenfreude by @spaceman_sloth, "Haha, Beats by Dre got beat by a hamburger." Technically, not a hamburger. Beats lost in round one to the Impossible Burger—the most technically advanced veggie burger yet, which we have followed throughout its introduction to the New York City market. Though it does really taste like a hamburger, so why split hairs?
"Tesla Powerwall vs a Snuggie. Hmm…," @ackikokotos writes. "The way these brackets are set up and have progressed, 'innovative' is just another word for 'cool.'" Which devolves into conversation over what would have made for a more accurate or informative voting system. "Ranked Choice Voting," perhaps?
Or, how about: who cares? It is important to consider the structure of any kind of decisionmaking process. That is, if there is anything at all at stake. This is that reasonable sense of proportion around online conversations that we've come to know and love Reddit for.
This thread veers into questioning the whole premise of this important endeavor:

Not everyone lost the larger point, though. @GFor1015 writes, "If the [Raspberry] Pi or Tesla don't win out of what's left there is something wrong with the world." I've got news for you man, there's a lot wrong with the world, but we're picking up what you're putting down.
@ImQuibits goes a step further. "I'm happy to vote Tesla for this round, but if comes down to Tesla vs Raspberry Pi I'm defecting," he writes.
The semi-final round ends on Sunday. Anyone can vote, so get clicking. If you don't, CB Insights might be forced to tell the world that letting Jeff Bezos listen in on all your conversations at home is the best idea anyone has had in the last year.
Wait did I just get sucked into this too?