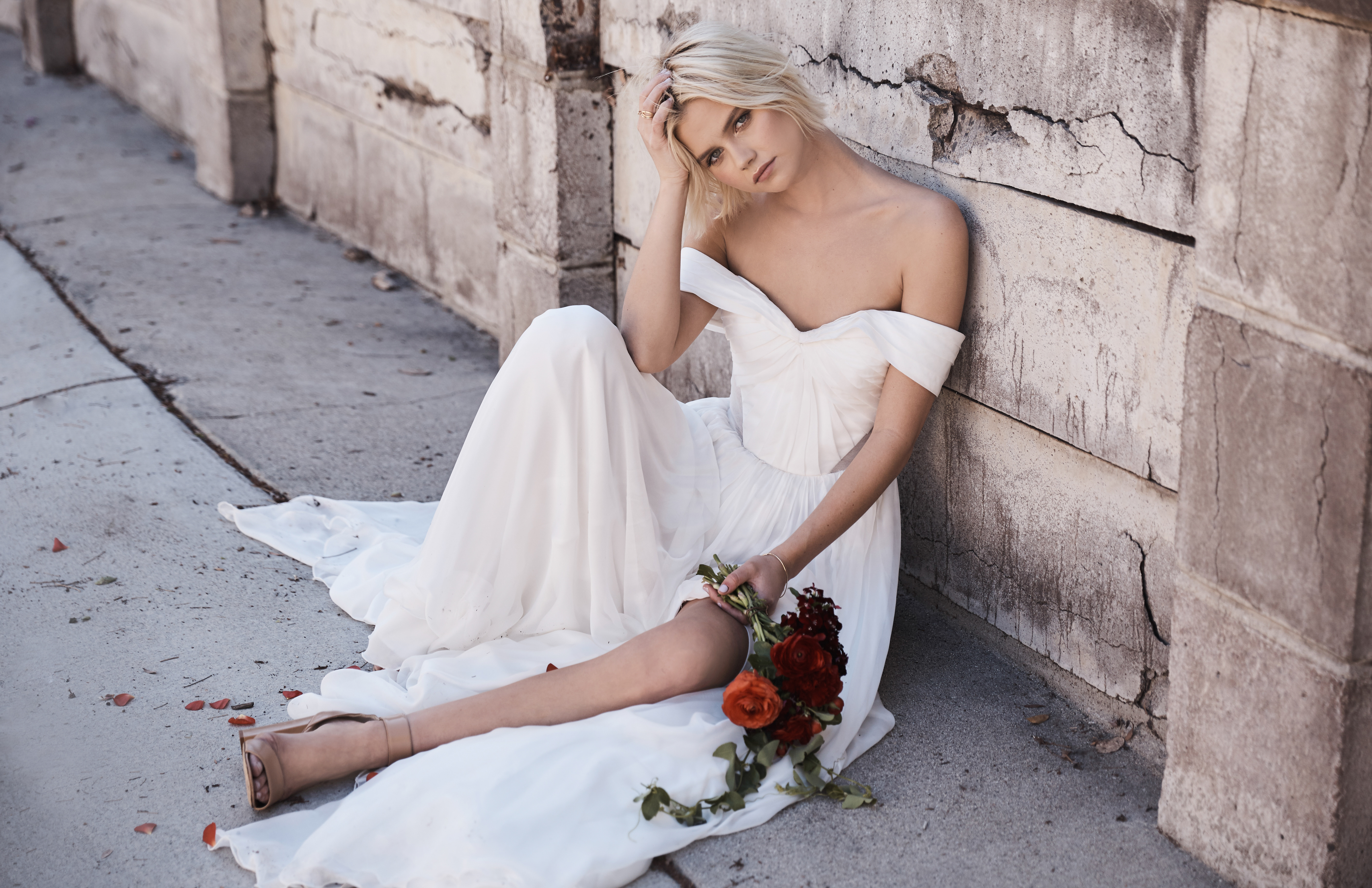 To say the entire fashion industry is undergoing a change is an understatement. But like with any industry, certain markets have progressed slower than others. While fast fashion might have been quicker to adopt online, contemporary and even luxury and high fashion, have started to catch up to the digital trend. Now, the bridal market is plugging in.
"When I was shopping for my own wedding dress, I was shocked at how antiquated the distribution model was," Molly Kang, the founder of Floravere, a brand that proclaims to be the "first luxury direct-to-consumer, made-to-order bridal company."
"Naturally, the first thing I did was start a Pinterest board, but when I saw a dress I loved online, it was nearly impossible to actually find a way to try on or purchase that dress in person," Kang told the Observer of her own digital bridal experience. According to Kang, the dresses that were available to her locally were of a different style than the trends she was seeing online and on social media.
"There was a clear need for a wedding dress shopping experience that integrated the online-offline experience," she said. To satiate that need, Kang started up Floravere in November, offering brides the ability to purchase made-to-order gowns in a mostly effortless way, wherein boxes of pre-selected options are sent directly to the shopper's doorstep. Since that launch, the company has introduced two collections, is working on a third and has garnered the interest of other bridal brands who want to be hosted on the site.
Fame & Partners, which bills itself as the modern woman's personal atelier, launched their bridal specific Wedding Atelier app in January. The reason? They realized the demand was there when they found shoppers were customizing non-bridal gowns for their big day.
"We saw that our existing customers were already creating bridal looks by customizing a train onto a white dress, and so felt that there could be an interesting opportunity to service her with contemporary, fashion-forward designs that still offer a level of customization for something unique," Nyree Corby, the founder and CEO of the company, said.
Specifically, the company also identified an opening in the market at a price point between $299 and $1,200 in luxe fabrics like lace and silk. "Everything in these finishes was [over $2,000] and everything in this bracket was predominantly polyester. The fact that we can offer customization through finish, style and fit meant a bridal offering just made a lot of sense."
On the app, bridal parties can neatly organize their dress buying and coordination, getting approval and advice from the rest of the party as well as an in-app stylist. It's a level of service (that could also just be a modern convenience) that's expected in all matters wedding-related. But both the app and Floravere were preceded by a bridal-rated rental service.
As men have been renting tuxes for decades, Kelsey Doorey, the founder of Vow to be Chic, thought the same concept could apply for bridesmaids dresses. First introduced in Santa Monica, the startup nudged its way onto the market in 2014, but last year raised a whopping $5 million dollars in funding. According to Doorey, the business is up 500 percent this year, with growth charted to increase even further. The site offers bridesmaids options from brands like Jenny Yoo, Monique Lhuillier and more, saving bridesmaids over $3 million since the company launched.
There are, of course, challenges associated with moving online. Doorey recognizes that women want to try on dresses before the big day. Because of this, Vow To Be Chic offers a try-on option. Floravere also provides a whole experience in their box, attempting to replicate the dress buying experience one would encounter in store.
But as is the nature of the internet, all of these sites are constantly changing. Fame & Partners has committed to issuing new iterations and updates every few weeks with a new bridal gown collection every season. Vow To Be Chic plans to launch their first exclusive designer collection this summer; Floravere's third collection of gowns and bridal accessories will also see their launch from the company.