Throughout the week, I'll be rolling out interviews I conducted on the set of The Handmaid's Tale. Previously: showrunner Bruce Miller, star Elisabeth Moss and director Reed Morano.
Ane Crabtree is one of our favorite contemporary costume designers working in TV. From Westworld to Masters of Sex, Pan Am to Rectify, it's hard to think of another singular designer working who has their hands in so many pop culture pies. She's also the costume designer on the most-well wardrobed dystopia ever for Hulu's adaptation of Margaret Atwood's classic, The Handmaid' Tale.
Crabtree was also the first interview I conducted on the set of the show, and remains perhaps the most illuminating in terms of how the women in the cast and crew have approached dealing in such triggering subject material. First, she showed me the room where she keeps her mood boards organized by character: finding images–sometimes going as far as doing original photo shoots with the cast–that resonates with the major themes of the individual's trajectory in the story.
I like the theme boards for Serena Joy's bedroom set.
 Ane Crabtree: So we might even slit the linen up to here. This is the first time we've seen the character in pajamas, so.
 There's something very intimate about seeing someone in clothes that reveal anything around the stomach; it's such a vulnerable spot.
You just reminded of something in Westworld, which is crazy, because I never thought about it like that, the stomach being vulnerable, Jeffrey Wright, the pajamas, all of that.
What we have are brilliant actors in the show. They're beautiful, as you can see from the wall. But it's stunning to work with them, and I was just telling Daniel Wilson, who was the producer of the original Handmaid's Tale and the one you want to please. 
And Margaret Atwood.
And Margaret Atwood. Do you want to know if she's happy?
Yes!
She IS. I just wanted to fall down from the relief.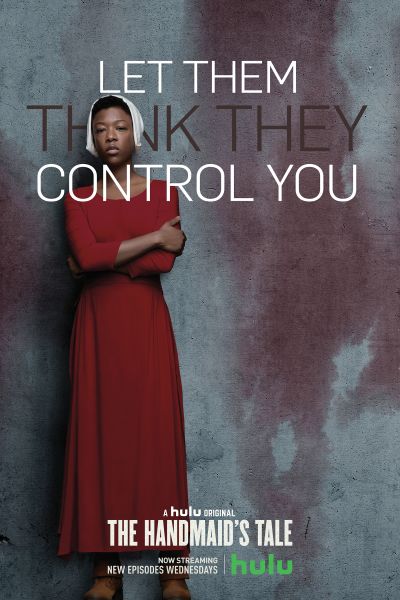 The color scheme in the book is so memorable because it demonstrates the world's internal caste system, the way it turns women into these color-coded…objects. How did that influence the color palette of the show?
I'll tell you, the hardest part is finding matching shoes, especially for Serena Joy's character (who wears teal). Actually, the craziest thing was that we started fittings in June/July and we started filming immediately. That first three days of shooting, we had a hundred handmaids, all the Marthas, all the Annes…everyone had to come to work. So I just clapped my hands and said, "Okay, everybody…let's get sewing!"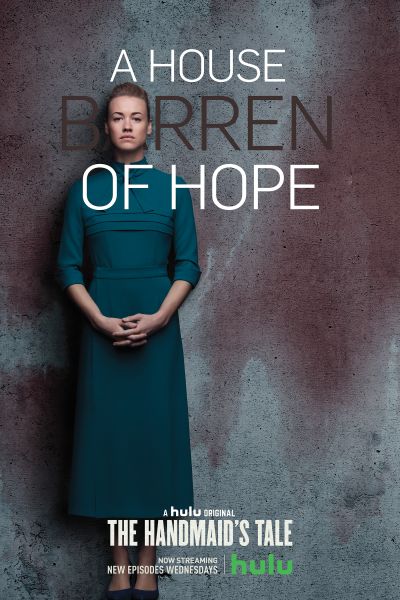 It's like the day before Fashion Week starts and it's utter chaos.
It's exactly like Fashion Week. As with other TV shows with spoilers, we created the construct of this world early on, and we stuck to the book. We strayed a little bit…and kind of made the story deeper for our filming purposes, but you kind of know that there are certain connotations in a Joseph Fiennes' Commander wardrobe. 
We build everything on the show, for all the principles, out of necessity.
(looking at "mood board" for the Commander) Wow, this picture looks EXACTLY like Fiennes.
He actually prefers this one, over there. (Brooding water picture.) Joseph is incredible. He's such an inner type of actor, in terms of his research and the "whys" of everything. But his obsession is the painting with the black coat. We talk a lot about this: are you Cary Grant? Are you Gregory Peck?
And now he's…Byron on the shore!
We would have these two hour conversations about the "why," but then he'd come back and say "You know, I don't really know. I just really like that coat."
In another lens, you could almost see his decision with this coat as something more…religious. An almost piousness. It's like he's wearing a frock.
What's good about Joe is that he comes up with these things, even though there is a lot of darkness in the character. There's not a religiousness to his clothing, but there IS a piousness through all of it. Through his clothes, Serena Joy's, the handmaids, obviously…these looks got "cast." So look, we would do these photo shoots with the actors: this is Elisabeth wearing some draped muslin, I shot it at her house and now we are using it in the show.
Samira Wiley as Moira? We did a shoot and she was going "I am Beyonce. Right now, I am Beyonce!" And we just reenacted that idea through photos. 
Or take this one, our shoot with Alexis Bledel for Ofglen.
Or Madeline Brewer as Janine. We call her character "One Eye" because, well…no spoilers. 
So there is some texture a little bit on some of these outfits, but not much. We had to do two design moments in the show: because it was over 100 degrees when it started, so we wanted the women in comfortable dresses, light and breathable. But I actually love it because it shows wrinkles, it shows motion, it flows…and it looks good on every body. 
And then we said "Okay, well now it's NOT a hundred degrees. We're shooting things near the water. We need different clothes and materials that somehow stay on theme with the warmer weather stuff.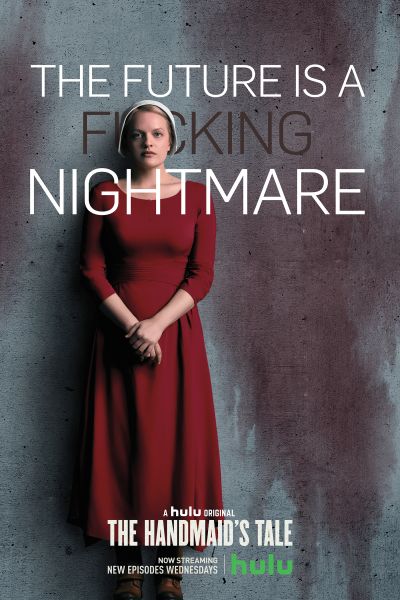 Where do these costumes GO after you use them? Are there auction sites to be the ACTUAL costume Offred wore in Jezebel scene?
It depends. Hopefully the show goes on for years and years, and you just keep using them because you made them well. Shows that I've worked on that are defunct, like Pan Am…sometimes they sell at auctions.
(Talking about the "wings"): How are the handmaid's supposed to see?
Well, there is light that comes in beautifully and naturally through the material. We also have artificial lights. It's about the way you turn your head though, ultimately. That part is absolutely from the book and character-based. You're not allowed to be looking at people straight in the eye, you always have to cast your eyes down. Because it's a method of communication, too. It's not allowed. It's also subservience. 
I remember seeing the cover of the book something like, eight years ago. And I thought it was about a city of mice and I never changed my opinion till I read it last May. 
They do kind of look like mice.
But now that I've read The Handmaid's Tale, I've got this very clear image in my head of what I think the characters should be wearing, because Atwood is so descriptive. And I'll be so sad if these ladies don't look like prairie mice on some level. How do you balance those kinds of "Don't Ruin My Childhood" fan desires with what is practical or has a better visual aesthetic?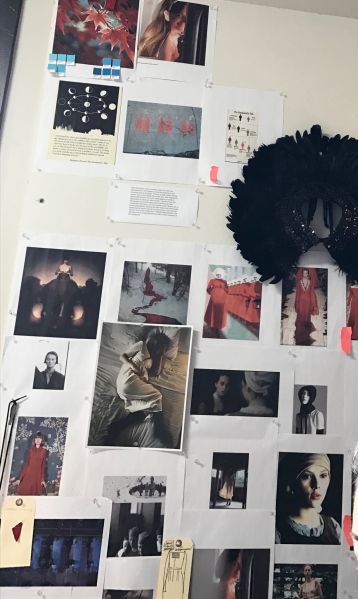 Well, how I do that is I actually use the mice-looking cover as inspiration. This picture over on the board is by the same artist who did that illustration.
But there are contemporary elements as well. There are parts of this show, especially in the costumes and set and props, that should feel very contemporary. Not futuristic, but like this could be tomorrow.
There's an element of the way you describe how you and Fiennes interpret how his character dresses, and it seems…equally restricting, in some way. That his character, while having a higher station than any woman in the country, is still stuck in this new, rigid structure and has less freedom than he did in his prior life before Gilead.
I wouldn't even say it was him, specifically. I think this whole society is constricting to all its citizens. It's very pious. I mean, listen to their title "Sons of Jacob." It's straight out of the bible. But it's not from any specific church. It's the men who come together–and look, I've seen it, I'm from South Dakota and Kentucky, this happens everywhere, right?– people create their own religious societies. I have utilised them in my research. But it's not actually that I'm going for pure religion for the Commander. It's just that his world is tinged with that, for better or for worse. He's trapped in his own needs and selfish desires…just like anybody that's a politician. That's what the Commander is. He's a politician. 
There's so many women on this show. Actors, behind the scenes, directors, costume designers…it's very interesting because I think we all kind of feel like "Oh no, this is a thing that is going to happen."