Throughout the week, I'll be rolling out interviews I conducted on the set of The Handmaid's Tale. Previously: showrunner Bruce Miller and star Elisabeth Moss.
By now, you've probably binged the first three episodes of The Handmaid's Tale on Hulu. What an intense opening, right? It looked more like Reservoir Dogs during the beginning than a Canadian's idea of a dystopia.
Reed Morano is the young female director who fought for her chance to bring the world of Gilead from page to screen for those first three episodes, as well as serving as an executive producer of the series. Previously, she worked as Director of Photography on The Skeleton Twins, as a cinematographer on HBO's Looking, Divorce and Vinyl as well as directing episodes of Halt & Catch Fire and Billions.
Can you tell me a little bit about how you approached this project?
Well, I got the script from my agents. I had heard about The Handmaid's Tale because I read the book. When I knew that that's what the project was, of course, I was like "I need to read the script RIGHT AWAY." The script was written unlike most TV episodes. It had a lot of room to breathe, a lot of internal moments. That's, for me, what I'm always attracted to. Both as a viewer and a filmmaker. 
I really wanted to get the job, and my agents were like "No, no, no" and everyone told me they were looking for a big-name director, someone well-established. And I just kept badgering over a series of months until they did get to a point where I had a chance to interview for it. I put everything into it because I was like "I really, really want this job."
When you finally pitched, what did you say? What made you the right director for this project?
I put a lot of importance on the show being from Offred's perspective and very internal. Also, riding this very fine line between reality and the ironic. Not just having it be really dark. Embracing the irony of the world, and the satire. Because it definitely has the potential: there are several different ways you can play this story. It could be darker or more depressing, but what we've done successfully is find this balance between a very, very, very grounded, very real world that feels very scary because you see how it could happen, and putting that against the amazing performances by the actors in a slightly heightened environment, to see how society has to change to become Gilead. 
So we're really trying to balance between and heightened. There's a lot of naturalism in the performances and the camera work, but there's also moments that are way more subjective, maybe even slightly stylized. We try for both, and that's what I was pitching in the meeting at the beginning when I was trying to get the job.
Setting the show in the now as opposed to the future is very effective, though I doubt even the people working on the show knew ahead of time how much this work of fiction would dovetail with reality. In almost feels like a Black Mirror episode at times. Like "What if we didn't have the technology to communicate with the outside world?" And add to that this COULD be tomorrow, and you've got a panic attack in the making.
Right, and I love that kind of show that's more about an alternative reality. Like you said, it COULD be tomorrow. That's what's scary, and you'll see through the flashbacks how a world that looks EXACTLY like ours could become Gilead. There is a lot of stuff that is eerily similar to things happening today in various countries, for example…America. 
Right. It's bonkers to think about how in some ways, women have it worse now than they did even a few months ago. Though that is addressed in the book: how Offred wasn't as free as her mother's generation was. Do you worry that we've hit our peak of gender equality?
Clearly, there are issues in the show that are really, really timely. What I think is interesting is that this might open people's eyes a little bit. What's also sad about it is this may seem like an alternate reality to us, in this country, but really The Handmaid's Tale is the reality for many other countries and has been for a long time.
One thing I'm picking up on is that Gilead? Ain't too great for the men living there, either. Clearly worse for women, but it's not like guys are just allowed to do whatever they want. It's a super constricting world for them, too.
I wanted to infuse as much of that into the show as possible. This world is just weird for everyone. It's just unnatural, what they're trying to do. And it's complicated for the male characters in Gilead and the show, because they also are not allowed to do many of the things they used to do. It's difficult for everyone, and no one is being allowed any semblance of their "before" life. 
I'm trying to make people understand: yes, women are oppressed in The Handmaid's Tale. But the men are also oppressed, too. It's just a very scary world for anyone.
Coming from a cinematography background, how do you approach the world-building for what Offred's perspective looks like?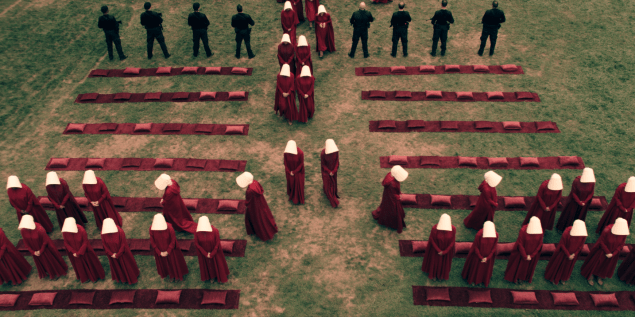 You know, we try to keep it very close to her, very subjective. We go close and wide on her face, and a lot of times we're even shooting from her P.O.V. And then it's about differentiating the world of her flashbacks with the world of Gilead. Gilead is a little bit more formal and composed of a world, a lot more symmetry. The flashbacks are more impressionistic, Verite style. We wanted to keep them like fleeting memories that she's trying to hold onto. 
One of the most interesting things to me, re-reading the book, was realizing Offred was not the most reliable of narrators. Nobody would be, in this situation, of course…
Right, well you get sucked in by how lucid she is.
But she's also very paranoid; everything represents a potential trap to her…and rightly so, but it becomes harder to relate to a character who is coming from such a dark place. Maybe even more so, now that the dark place resembles our own.
That's another thing we're working with the actors on, down to an individual level: no one in Gilead is what they seem. The Commander is not just a bad guy, he's probably a little bit troubled. Nick, the driver, we don't know if he's good or bad. He's pretty sympathetic sometimes, but he doesn't really let us know where he stands. Same with Serena Joy: it would be easy to just say "She's evil." But she also can turn on a dime, and you just don't know. Real people, everyone is not just one thing. So it's not black and white in the show. Everybody is a gray area.
Which maybe speaks to the irony you mentioned; since every woman in Gilead is identified by what color they wear.
Exactly. And yet their personalities are that of individuals. That is what we're trying to achieve: even if these people have to wear masks in Gilead on the outside, we're trying to show who these people are behind closed doors.