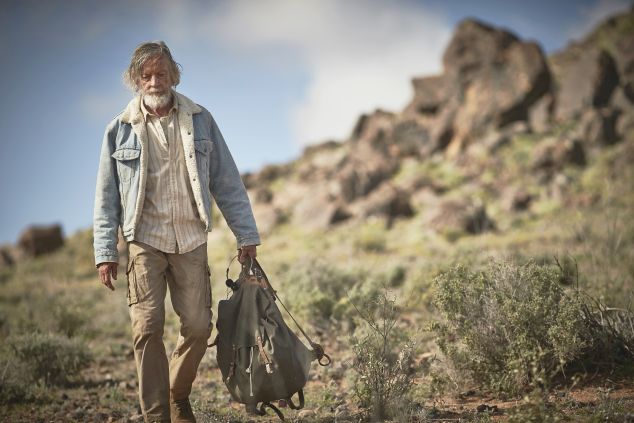 The development of Kevin Garvey, Sr over the course of The Leftovers' three seasons mirrors the development of the show itself. When he was introduced back in season one he seemed to serve primarily as a warning of what his son might become, back when Junior's major concern was whether or not he was losing his mind. Senior heard voices, Junior heard voices. Senior was dangerous and unpredictable, Junior was dangerous and unpredictable. It was good, but not great.  A little too depressing, maybe.
Then, as the series trucked along, something really cool happened. They stopped beating the madness drum quite so hard and introduced the idea that maybe Kevin Sr. was actually onto something, maybe the voices in his head were giving him good advice, maybe that specific issue of National Geographic from the 1970's he was so hung up on did have some significance. The horror of Kevin Sr.'s madness became laced with mystery and possibility, just as everything else in the post-Sudden Departure world of season two did the same.
Scott Glenn has always played the character beautifully, because he's a terrific actor. Somehow he's able to subtly modulate his trademark steely squint to play out an incredible range of emotions. In season one those emotions were mostly limited to anger, desperation, and superiority; in season two he added vulnerability to the mix, and a need for redemption, and the character became the blazing, beating heart of the show…
…and then they scooted him offstage, to Australia, which means this latest episode has been a long time coming.
Because Senior is a man on a mission. He's traveling through the Outback (I guess? I feel like I'm going to get a lot of basic Australia facts wrong in this recap…he's traveling through some Australian wilderness, okay?) tracking and illegally recording the indigenous population's songlines, convinced that this is the key to preventing an apocalyptic flood on the anniversary of the Sudden Departure.
According to a skim of the entry for songlines on Wikipedia, these are tracks that mark the route of creator-beings as they went around creating. The songs performed at each stop along the songline path do dual duty as a part of the creation story and description of the route to the next stop on the path. I think. The Wikipedia entry is pretty long.
Anyway, Senior is committed to learning these songs. And he's got a reputation in Australia, as a dangerous lunatic who has repeatedly, illegally, appropriated indigenous culture. But don't try telling him that. Early in the hour, when he's arrested for trespassing on sacred ground, he doesn't mince words when the cops ask him what he's doing. "Preventing the apocalypse," he says, and then continues defiantly, "What are you doing?"
Is Senior a madman or a prophet? At one point he receives a copy of Matt's book about Junior's mystical experiences and rages when he discovers that his own role in the story has been diminished. That seems like a point in the madman column, right? At various points in this episode he either prays to God or rages against him/her/it. Maybe he doesn't even know, maybe he's just sticking to his mission because what the fuck else is he supposed to do?
Senior begins the episode searching for a man named Christopher Sunday who he hopes can teach him about the last part of the songline he's traveling, and when he finally finds the guy (played by David Gulpilil!) he explains his whole deal…the voices in his head convinced him to set out for Australia with no other instructions, his early days in country were defined largely by experimenting with hallucinogenic drugs, which in a roundabout way lead him to a seemingly magical chicken named Tony, famous for being able to find things, who pecked at a tape recorder Senior was carrying which contained a tape of Junior as a child imploring his father to sing 'The Itsy Bitsy Spider' in order to stop a rainstorm…which is why Senior thinks singing is the key to stopping a flood.
Is he just doing things and assigning meaning to random events? Is this all a path, does Senior have a destiny? Is there a difference? Hard to say, although Christopher Sunday might have a more pointed opinion on Senior's path, since that path sees Senior tumbling off a rooftop, landing on Sunday, and killing him.
If that's a part of God's plan, it's a decidedly Old Testament God, which I guess fits the supposedly imminent apocalyptic flood.
Senior's path next finds him wandering around, injured and lost. He encounters an anguished guy dousing himself and his car in gasoline who exclaims, "They didn't take me!" and asks Senior if he'd kill a baby to cure cancer. Senior says no. The anguished guy tells him "That's exactly what I said," and then burns himself alive.
Shoutout to director Mimi Leder, who fills this episode with breathtaking images of Senior trudging around alone in a vast wilderness and somehow manages to make a charred corpse baking in the sun kind of beautiful.
This scene is a nightmarish non sequitur (as well as a reference to the movie Walkabout, right?) but I'll make a prediction…we know Nora and Kevin Jr are on their way to Australia to meet up with people claiming to have built a Sudden Departure machine, so what if this dude is a washout from that program? What if he wanted to Depart and they wouldn't let him? Doesn't that question about killing a baby for the greater good seem like the kind of thing someone trying to gauge the goodness in another person's soul might come out with?
We'll see.
Senior is eventually rescued by Grace, the lady we saw last week spearheading the execution of the wrong police chief named Kevin. I didn't recognize her last week as actress Lindsay Duncan, although I should have, probably. She's been in a bunch of great things, including a BBC miniseries called Perfect Strangers in 2001, believe it or not. Turns out that execution last week was the result of Grace finding the single page of Matt's book Senior didn't destroy earlier, and that Grace is someone as much in need of a miracle as any character we've yet encountered in the history of the show. Duncan delivers a wrenching monologue about returning home after the Departure to find her husband and children all seemingly raptured up, only to discover later that her children actually all died out in the wilderness after running away and getting lost.
Yikes, right?
She says she thought Senior was a messenger from God, that the page she found on his person was a sign that she could have some kind of purpose, or redemption, but that killing that dude taught her that God doesn't care about her, that it was all just a story she told herself so she'd feel better. She says she thinks maybe she's crazy.
"I don't think you're crazy," Senior says, either fulfilling a shared destiny or doubling down on a destructive delusion. "You just got the wrong Kevin."