Let's say you have a vacation coming up and you're trying to figure out what to do with your dog in the city. Why leave your furry friend boarded in a loveless cage, where they only get two walks a day, when you could leave them in an extremely luxurious suite? D Pet Hotel Chelsea, the only completely suite-style dog hotel in New York City, will pamper your dog to the max, offering over-the-top amenities including a personalized chef, flat screen TVs and even doggy treadmills.
"Our whole concept is to create a home away from home," said Kerry Brown, who opened D Pet Hotel Chelsea in 2012 with her husband. "I think that's what was missing here in New York City [was] that opportunity for parents to feel stress-free and guilt-free when they leave."
The flagship for this full-service franchise is located in Hollywood, CA, and most of the services, including the Pant dog gym, private chef, spa and grooming services and chauffeur, were already implemented. But Brown acknowledged that New York City dog owners are a unique breed of people, with very specific needs. Because dog parents in New York City are always looking for hip new things to do, Brown tries to stay on top of that market.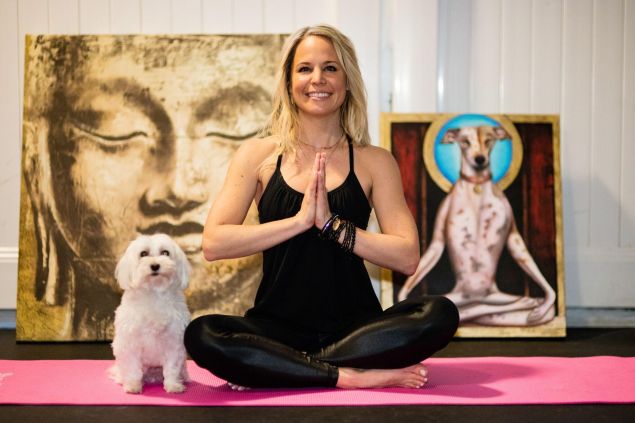 Recently, D Pet Hotel Chelsea launched a partnership with the Brodsky Organization, a residential developer in Manhattan for "Doga" (also known as dog yoga), so residents in Brodsky's buildings can bond with their dogs through yoga. In a recent session, a dog named Martini became so relaxed that she fell asleep on the yoga mat.
"I think so many New Yorkers are lonely and their dog becomes [a] comfort for them," Brown said. "A lot of New Yorkers, whether it's by choice or not, don't have children. So, our dogs become our babies and members of our family. There is not a single expense or effort they will go through to take care of the dog, just as they would take care of a kiddo."
So, if your dog is used to eating fresh-cooked salmon, green beans and brown rice at every meal, sleeping in a full-sized bed while watching an episode of Scooby Doo and snuggling with a sushi roll toy and receiving a personal workout, that's no problem for D Pet Hotel. Requests are their specialty. According to Brown, one owner lit sage to cleanse her dog's suite of evil before her stay, then hung charms on the doorknob and requested that treats be placed on her dog's pillow every night, at 10 p.m. sharp.
What does a typical day look like at D Pet Hotel Chelsea? The dogs have recess from 7 a.m. to 7 p.m., before they "retire to their suites for room service." With three indoor dog park areas, divided by dog size and designed to look and feel like outdoor parks, the dogs seem to be having a blast.
One dog sits on her throne at the top of the jungle gym inside of the dog park. You can tell she's a princess just by the way she's sitting. "She doesn't move until dinnertime," Brown says. "She's the queen of the slide."
The dogs are offered two outdoor walks a day, but more can be purchased for $15 for 15 minutes.
D Pet Hotel doesn't refuse service to any dog, as long as they can feed them and walk them, but they do put every dog through a temperament test to make sure the dogs get along with all the other dogs in the playpen. If they don't pass, unruly pups will be treated as a private client, where they spend solo time in their suitea and get free playtime to themselves, while the other dogs are out on their walks.
Brown's biggest consideration with the hotel is providing transparency to her customers, so they purposely put large, glass windows up front, so you can see everything that's happening inside the park. They also provide parents with daily video updates on their dogs.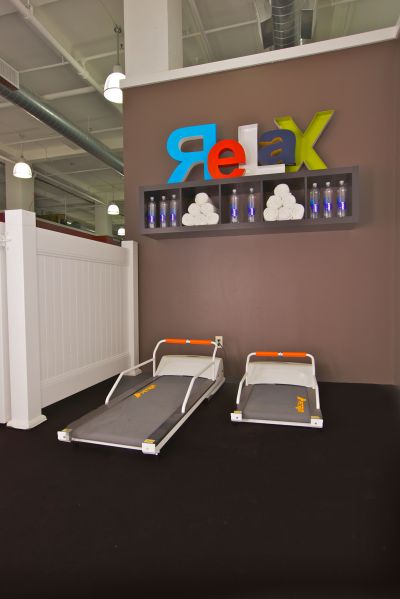 But don't write this 10,000 square foot luxe hotel off as just another thing for celebs that you can't afford. The standard suite, a 4×9 bedroom featuring a flat screen TV and an orthopedic dog bed, costs $84 for one night. In 2016, Americans spent $66.75 billion on pets, $5.76 billion of which went toward grooming and boarding, according to a recent study by the American Pet Products Association.
So how does D Pet Hotel Chelsea compare to other New York City boarding facilities? At New York Dog Spa and Hotel, which was ranked number one on Yelp, overnight cage boarding ranges between $70 and $72, depending on the weight of the dog, though they offer discounts for extended stays. Wiggly Pups, which offers similar luxury accommodations to D Pet Hotel (including a pickup in a Rolls-Royce), offers pricing based on membership fees: nonmembers pay $50 per day for daycare and $85 per night for cage-free boarding. Members pay a one-time fee of $99, which gains them access to webcams and discounted rates, and a renewal fee of $49 annually; the nightly rates decrease from $80 each evening, depending on length of stay, however the dogs aren't in their own suites.
For pups who are used to more luxe accommodations at home, D Pet Hotels offers the Sensational Suite, a 9 x 9 bedroom with a flat screen, and a raised daybed for $120 per night; the Uber suite, measuring 12 x 12, which let's be real, is bigger than plenty of New York City bedrooms, comes complete with a full-size bed and a flat screen for $200 per night.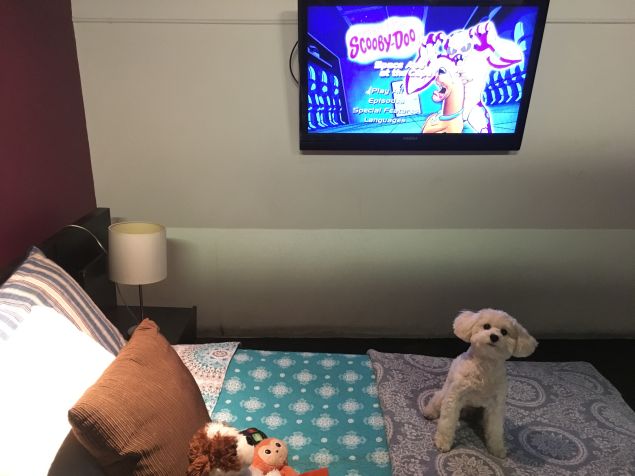 The hotel is so popular it even has regulars, like Ike, a maltipoo who stays in an Uber suite almost every weekend. For working parents, D Pet Hotel also offers daycare services, with three hours or less priced at $25 and a full day for $55, but for those pets who need full-time love during the weekdays, while their parents are working, they offer unlimited memberships.
Although there isn't a Ferrari driving around New York City picking up the pampered pups like there is at the flagship, D Pet Hotel Chelsea does partner with pet chauffeurs and dog-walking services; they will pick up Toto from your apartment in a town car, if requested.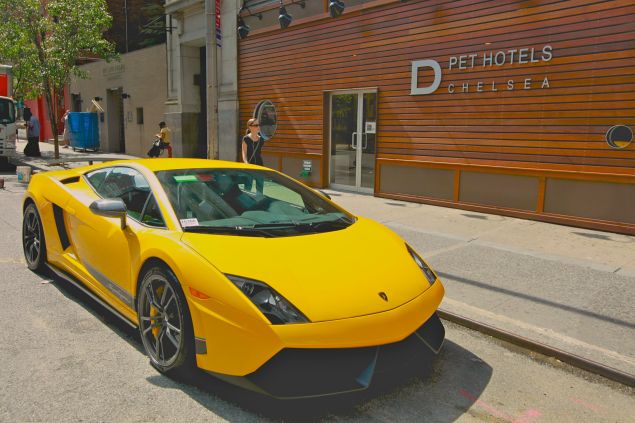 They've used luxury cars for high-profile requests, like a Good Morning America appearance and their opening party, so if you absolutely need your dog picked up in a Lamborghini, so they could surely work something out, with enough advance notice.
D Pet Hotel takes puppy/parent privilege seriously, so Brown can't reveal the names of her clients, but she disclosed that they do range from NYU students to celebrities, including actors, "a pop princess, and a big-time male musician."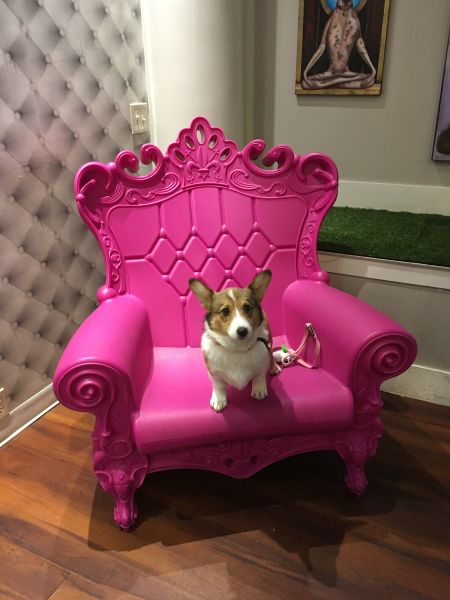 Aside from being the only all-suite pet hotel in the city, it's the small details that really makes D Pet Hotel so accommodating. There's denim in the walls to make the incessant barking seem quieter; all the floors are rubberized to make it softer on the dogs' paws and joints; and all cleaning supplies used are the same used by vet hospitals, devoid of toxic chemicals like bleach.
Unfortunately, this hotel is only for dogs, but any human would appreciate a private suite, a chef, a spa and getting to chill in a pink chair all day.