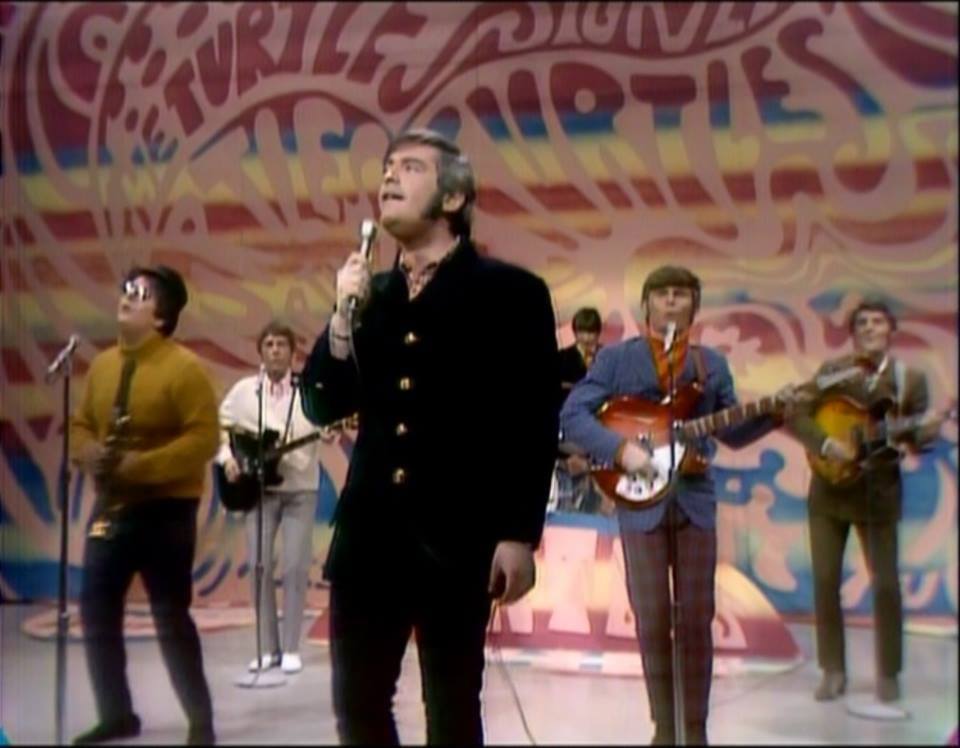 I have this theory about harmony singing.
Corny as it might seem, I believe that human voices weaving melodies together can help to ease the differences between us and create unexpected bonds. I'll even go so far as to say that harmony might actually be integral to our collective happiness and survival as a species.
No, I was never a member of the Glee Club, and I'm not suggesting a group hug on Capitol Hill between the Dems and Repugs, ending with a hearty sing-a-long of "Kumbaya" (which the Senate of Georgia has recognized as a "State Historical Song"), but perhaps the downfall of our society and the dark age we currently find ourselves in might just have something to do with the music we listen to. Perhaps it's just a chicken and egg situation.
Either the times create the soundtrack of our lives, or the music is a direct mirror of our troubled souls. Don't worry, I'm not about to launch into some cranky tirade about how music has sucked since the death of the big band or the invention of the electric guitar, or the how the drum machine has mugged the groove of its soul—it's more an issue of buoyancy and breath.
Although the '60s were fraught with conflict, from the civil rights struggle, which gave us robust anthems like "We Shall Overcome," and "Don't You Let Nobody Turn You 'round," along with Bob Dylan's sharply articulated protest hymns like "Masters of War" and "With God on Our Side" that questioned the hypocrisy of our "Great Society" and our role in the Vietnam War, there was an undaunted "keep the faith, baby" optimism that fueled the battle against racism, and an unjust war, and ultimately helped drive a corrupt president from the Oval Office.
While the Turtles initial success came from riding the brief folk-rock fad in 1965 with their ebullient covers of Dylan's "It Ain't Me Babe," and P.F. Sloan's "Eve of Destruction," their message was considerably lighter, a blast of cheery hope, more like The Mary Tyler Show theme song, assuring you, "You're Gonna Make It After All."
As the late/great French novelist Gustave Flaubert once put it, "The principal thing in this world is to keep one's soul aloft." Curiously the Turtles' brand of sonic optimism has endured for five decades, helping the world weary counteract the harsh realities of the day.
While they were hardly musical innovators, the Turtles had undeniable charisma.
Mark Volman and Howard Kaylan were a pair of chubby, lovable dorks who could really sing. According to Kaylan's hilarious memoir Shell Shocked, a nasty John Lennon picked on their rhythm guitarist Jim Tucker for his square appearance to the point where he quit the Turtles following the remaining dates of their British tour. The traumatized "Tucko," as Lennon dubbed him, then flew home from London, never to play music again. Like Buddy Holly before them, the Turtles managed to secure a seat at the rock 'n' roll lunch table for millions of awkward teenage boys, no matter how geeky they looked.
The Turtles were essentially a singles band. Beyond their 1967 release, Golden Hits, which found its way into nearly everybody's record collection (no matter how cool you thought you were), I never heard any of their LPs other than their totally whacked 1968 "concept album" The Turtles Present the Battle of the Bands, a hilarious hodgepodge of tunes played in a variety of styles from bluegrass, to psychedelic rock to surf music and hard rock all sung by the Turtles, posing as fictitious groups with absurd names like Fats Mallard & the Bluegrass Fireball and the Atomic Enchilada.
My friend, the English professor Dominic Ording, who has an unbound appreciation of all things pop, has fashioned a slogan by slightly tweaking the "silent" Indian guru Meher Baba's famous saying, "Don't Worry, Be Happy" into "Don't Worry, Be Sappy." It seems to perfectly sum up the Turtles.
Released on April 29, 1967, Happy Together kicked off with the insidiously catchy "Makin' My Mind Up," which teemed with an unbridled optimism and a bah-bah-bah-bah vocal arrangement typical of mid-'60s AM radio pop bands like the Association and Spanky & Our Gang.
[youtube https://www.youtube.com/watch?v=y0If-71MFGw&w=560&h=315]
Written by soundtrack czar John Williams and Leslie Bricusse (the British composer and lyricist who wrote music for dozens of popular plays and movies including Willy Wonka & the Chocolate Factory) "A Guide for the Married Man" was the theme song to the (now cult-classic) 1967 movie of the same name, which starred a cast of "14 swingers" (including Walter Matthau, Jayne Mansfield, Lucille Ball and Wally Cox to name a few). The tune, not surprisingly was another big production featuring a flurry of giddy bah, bah-bah-bah's.
With its gently whispered vocals, the navel-gazing "Think I'll Run Away" was Kaylan and Volman's only songwriting collaboration on the album.
"Life should show us so much more, think I'll run away," Volman and Kaylan sing over a lilting string section. Like the Beatles' "She's Leaving Home," from Sgt. Peppers, which was about to be released in a matter of weeks, "Think I'll Run Away" was very much a song of its day.
Searching for an alternative to the 9-5 world they were being groomed for by their parents, schools and churches, a generation of baby boomers had already begun to rebel against The Establishment. The upcoming "Summer of Love" would inspire thousands of disaffected youth all over the country to flock to San Francisco with (or without) flowers in their hair, in search of a fleeting utopia where free love and dope briefly reigned.
[youtube https://www.youtube.com/watch?v=MPqf4Zi9Mvk&w=560&h=315]
Written by Kaylan and the band's bassist/rhythm guitarist Al Nichol, "The Walking Song" meanders about, filled with unexpected musical detours while "Me About You," the first of three Garry Bonner and Alan Gordon songs on the album, features a fanfare of triumphant trumpets followed by that familiar guitar intro and marching snare drum.
Bonner and Gordon's masterpiece, "Happy Together," will forever define the Turtles. Kaylan believed the song, "was going to be a hit. We honed and developed it over months on the road," he said in an interview with journalist/author Harvey Kubernik. "I've never had the luxury to take something on the road for eight months and work it and rework it and just fine tune it. I didn't know 'Happy Together' would be that huge," he admitted.
After bumping the Beatles' "Penny Lane" out of first place on the charts, the Turtles would appear on The Ed Sullivan Show on May 14, 1967, looking like a wedding band on acid.
As Kaylan croons in a bright striped jacket, white pants, bow tie and Elvis sideburns, Mark Volman, in a satin orange frock, kicks his legs high and twirls a French horn about in a manner which no instrument should be handled, while occasionally slapping it like a tambourine. Kaylan makes a sincere effort at lip-synching the tune as the rest of the band…well, I sure hope they were stoned.
[youtube https://www.youtube.com/watch?v=mRCe5L1imxg&w=560&h=315]
The song contains Bonner and Gordon's classic lyric, "call you up, invest a dime," which sent an entire generation running for the nearest phone booth to drop a coin in the slot to speak intimately to their sweethearts. With a roll of John Barbata's snare drum the chorus explodes, gushing with a relentless optimism as Kaylan and Volman sing, "baby the skies will be blue, for all my life."
Beyond being a catchy pop confection, there's a reason this song remains robust 50 years later. No matter how sticky the song's sentiment might be, and no matter how cynical and jaded we've become all these years later, there's still an 11-year-old of pure heart that dwells within us who desperately wants to believe in the promise of "Happy Together."
"She'd Rather Be with Me" another Bonner and Gordon tune, was the B-Side to "Happy Together," and the band's follow-up hit, (peaking at No. 3 on the Billboard charts) complete with a swirling carnival of blaring horns, and plenty of the band's now trademark bah, bah, bah's.
Eric Eisner's "Too Young to Be One" briefly borrows the melody of the 19th-century Shaker hymn "Simple Gifts" until morphing into typical '60s radio-friendly folk-rock. A lightly strummed acoustic guitar quickly gives way to a Tonight Show-style swing arrangement that became typical of '60s horn bands like Chicago and (the post-Al Kooper) Blood, Sweat & Tears. Written by Al Nichol, "Person Without a Care" portrays just that, a happy-go-lucky guy skipping down the street, but you have to wonder what his fate will be after hearing "wedding bells."
Curiously the album includes an introspective ballad, "Like the Seasons," an early offering by Warren Zevon (who had previously written "Outside Chance" for the band). Featuring an acoustic guitar and lush string arrangement, the song lacks any of the irony and attitude the "Excitable Boy" would soon become famous for.
[youtube https://www.youtube.com/watch?v=X8qw3bmibqY&w=560&h=315]
Perhaps the first inkling of the outrageous duos by the Phlorescent Leech and Eddie (as Kaylan and Vorman soon became known on their solo albums, as well as singing with T. Rex and Frank Zappa's reformed Mothers of Invention) came with Kaylan and Nichol's quirky "Rugs of Woods and Flowers," sung in a brash, cheeky cabaret style, and drenched in a whirlwind of sound effects and applause as the song fades out.
The 2011 Sundazed re-release CD of Happy Together included three additional tracks: "She's My Girl," "You Know What I Mean," another Bonner and Gordon composition, and Howard Kaylan's "Is It Any Wonder."
So how does the album hold up 50 years later?
Well, I suppose that depends on what kind of gum you're chewing. While it's no-expense-spared production by Joe Wissert (later known for his work with Earth, Wind & Fire, Helen Reddy and the late/great Boston blues/rocker J. Geils) had a way of drowning out some of the less memorable tunes in the batch, Happy Together remains an excellent representation of 1960s pop, packed with soaring voices, spiraling strings and booming brass.
In the right mood, on the right day, at just the right moment, you'll be surprised to find the gorgeous songwriting and performances on Happy Together sound more nourishing to the spirit today than anyone might've imagined when it was first released. If that doesn't restore your faith in humanity even just a little bit I don't know what will.
Be sure to check out the 2017 Happy Together tour schedule to find out when Flo & Eddie come to your town this summer.