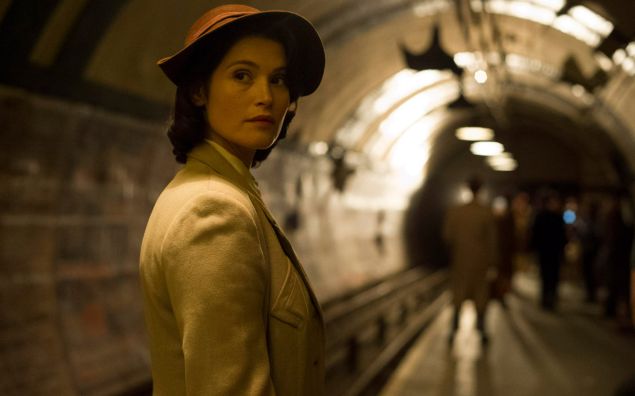 Beautifully cast, intelligently written and a gorgeously assembled range of beautifully gauged emotions about movies and war, Their Finest is one of the best films of a still-young 2017. I was enchanted and overwhelmed by it and my prediction is that, if you care about filmmaking, you will be, too.
---

THEIR FINEST ★★★★

(4/4 stars)

Directed by: Lone Scherfig

Written by: Gaby Chiappe

Starring: Gemma Arterton, Sam Claflin and Bill Nighy

Running time: 117 mins.

---
The unusual theme is the role of British women in the movie industry during World War Two when most of the actors, directors and other creative craftsmen were away on the front, and propaganda films about the war effort were needed to bolster the spirits and uplift the morale in a period of crisis.
The rising star Gemma Arterton plays the central role of Catrin Cole, a bright girl from Wales who thinks she's applying for a secretarial job but to her surprise, finds herself hired to bring a female perspective to war films produced by the British Ministry of Information's endangered film division in 1940, when 30 million people a week escaped the war by going to the safe darkness of the movies. Hired as a "slop" writer (someone who knows how to write "women's dialogue") she is dispatched to Devon to collect the personal experiences of a group of civilian women who rescued soldiers on the beach at Dunkirk, and shape them into an inspiring feature about courage under fire.
Although her husband thumbs his disapproval of her job, it pays the rent, and while he's away on duty himself, Catrin begins to come into her own—as an artist who finds new respect in a man's profession and as a woman who falls for the film's chief screenplay writer, Tom Buckley (an exceptional Sam Claflin).
As filming progresses, Catrin observes a canvas of London during the Blitz—German bombs that line the streets with corpses after the air raids, helicopters that shatter the underground shelters, patriotism among the British survivors—and brings a fresh vision to life under stress while battling the British government's constant interference to falsify the facts and grind out more commercial pictures, including the hiring of a blond, blue-eyed American matinee idol-hero to encourage box-office success. (There were no Americans at Dunkirk.) There was also a typically ridiculous demand from American film distributors for less nuance and more "oomph".
Carefully and satisfyingly written by Gaby Chiappe and skillfully directed with passion and precision by the polished Danish-born Lone Scherfig, who guided An Education to glory, Their Finest will unquestionably appeal to the sophisticated film market that cherished Mrs. Henderson Presents and My Week with Marilyn. But it has the fascination, energy, action and enormous entertainment value that should appeal to all ages.   Before completion of the film she is working on, designed to encourage America to enter the war as England's greatest ally, Catrin learns the ropes the hard way—and so do we, sharing the heroine's romance and eventual personal loss as though we have been handed a special VIP pass to the sound stage.
We also get to know the crew and the eccentric players, including a parade of great character actors such as Richard E. Grant, Eddie Marsden, Jack Huston, Helen McCrory, the eccentric and amusing Bill Nighy as a pompous, over-the-hill principal player who considers the war an inconvenient intrusion, and Jeremy Irons in a delightful cameo—a disparate group who find patriotism, pride, purpose and love through the magic of making movies.
Based on the 2009 novel Their Finest Hour and a Half by Lissa Evans, the film throbs with excitement, fizzes with witty banter and flows with lovely period details. Some weight is added that questions how much power women would have after the war if they made too much money or got too much credit, not to mention the issue of equal pay. As the film-within-the-film's two rival co-writers overcome their differences and fall in love, the war challenges that kind of happiness, too, and Their Finest shows the choices they make to opt for hope over despair and life over death, soldiering on with an optimism that defies all clichés. No matter what they've been through, they're like the protagonists at the end of The Bad and the Beautiful. Hiding the scars from the movie they've just survived, there's always another one.
Magnificent!