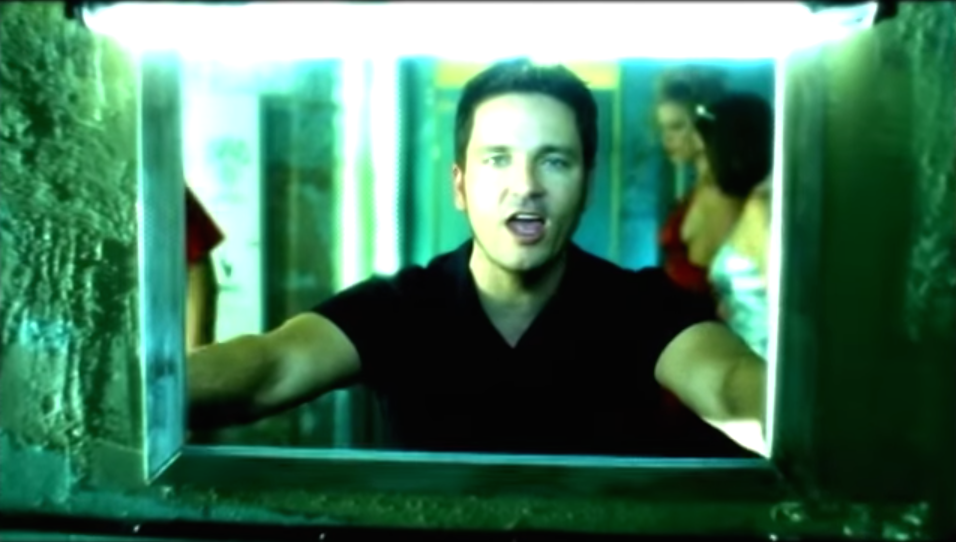 One of the great ironies of feeling out of place while growing up in America is that much of the countercultural lifestyle you adopt as a kid—the fashion, the taste in music, the rebelliousness—comes your way through corporate channels of saturation. Do you remember JNCO jeans? What were we thinking?
This disconnect between what we thought was cool and where it was actually coming from is perhaps best summed up by a blink-and-you-miss-it poster on the wall of an advertising office in an episode of The Simpsons that reads, "50 Million Cigarette Smokers Can't Be Wrong!"
For those of us who grew up in the '90s and don't gravitate toward nostalgia, learning that the post-grunge music of rebellion fed to us at a young age wasn't really counterculture at all is tantamount to betrayal. But any outright, blanket rejection of those influences in adulthood may cast an unfair light on the music itself.
While much music of that decade has been relegated to rightful places of camp like karaoke bars (see you in hell, LIT), one band of the era has not only endured; they've continued to reach younger generations of new fans who discovered the sincerity of their work on their own, without MTV and the whole corporate rigamarole. It's an organic legacy, owing very little to the new gods of media, that no amount of post-modern, self-aware irony can thwart.
When Third Eye Blind released their self-titled debut album on April 8, 1997, they were inescapable.
Three of its five singles—"Semi Charmed Life," "Jumper" and "How's It Going to Be"—dominated both radio and television, as frontman Stephan Jenkin's rap-influenced singing style added an edge to the riffs and the lyrical themes that scored him ample cool points with listeners.  Two years later, they were still soundtracking memories of friend hangs and drinking beer from koozies on Michigan docks in American Pie. And you likely still have them stuck somewhere in the deep recesses of your brain.
Cast aside any considerations of Third Eye Blind's tremendous commercial success—it peaked at No. 4 on the Billboard Hot 100, saw the band performing single "How's It Going to Be" on Saturday Night Live and sold 6 million-plus copies in the U.S. alone—and you're left with a band still trying to process the feelings of transition they've baked into their songs while those feelings are being codified and shaped into a product.
Despite graduating from U.C. Berkley with a B.A. in English Literature, Jenkins didn't bother to overstuff his songs with arcane references or inaccessible metaphors. A song like "Graduate" spells out Jenkin's concerns about adulthood quite fine on its own as he wonders if he'll ever be able to get his "punk ass off the street," while an allusion to The Great Gatsby in opening track "Losing a Whole Year" or the fact that the "Do Do Do's" in "Semi Charmed Life" were borrowed from Lou Reed's "Walk on the Wild Side" were only evident to those who picked up on it, and of no concern to those who didn't. Jenkin's words were thoughtful but direct, catchy, and smarter than your average pop song, if you wanted them to be.
Twenty years later, Jenkins tells me he's still not much of a legacy guy, and that the band is in the studio working on what will become their sixth full-length, Summer Gods, named after the tour Third Eye Blind plans to embark on with Silversun Pickups in June.
On that tour, they'll honor Third Eye Blind's 20th anniversary by playing the album front-to-back, finally able to exist on their own terms as the underground band Jenkins always thought he had before other people started to tell his story for him.
[youtube https://www.youtube.com/watch?v=ebhleHDEWCI&w=560&h=315]
"What is that like?" he asks me rhetorically over the phone, taking a beat to consider his response. "I really only have one kind of revelation, and I'm afraid that it might sound kind of…simplistic. So much of that first record for me just came out of always feeling so on the outside, being a misfit, and it really took me years to realize that I was the inside, I was the scene. I realized that wasn't necessary at all. There's only feeling whole within your self, there's really no exterior place of belonging, that's it."
Jenkins acknowledges the road to realizing that he was his own scene started by realizing that, while the early songs were all about not allowing yourself to be controlled by other forces, other forces were controlling his career all the while.
"I had no sense that I was my own puppet master," he says. "It's funny because I'll look at videos, I'll look at the marketing and just flatline when I see it. And I felt that way at the time, worse from our own image. We were very misunderstood by our own record company, and one other thing that was strange about us was that it was a long struggle to make music. It wasn't some sort of overnight success, and it looked that way because once it came out, things with us ignited in public. But I spent years just sleeping on packing foam, trying to get things together. So I had a very different sense of myself."
For all its seemingly middle-class suburban platitudes, Third Eye Blind owes much of its rhythmic flow and swagger to the golden age of hip-hop, and Jenkins acknowledges groups like A Tribe Called Quest and The Jungle Brothers were essential in shaping his delivery alongside funk and the music of Prince. "Those rhythms were engrained in me," he says. "They also allowed for my sense of anger. I could hear that in hip-hop. And hip-hop gives the record its rhythmic characteristics, which is weird because it's British rock riffs, you know?"
[youtube https://www.youtube.com/watch?v=gRYZijLZR-Q&w=560&h=315]
That angry swagger carried over into Jenkins' persona back then, too—a 1998 interview with Rolling Stone has an enfant terrible sense of mischievousness when the interviewer asks Jenkins about the overt references to crystal meth in "Semi Charmed Life," and Jenkins tells him he won't admit to being a user if that's what the interviewer is hoping for. "It's about a time when my friends and I were at a Primus concert and somebody brought speed," he conceded. "No one had done it before, and, like, three weeks later all of my friends were addicted."
As evidenced in "Semi Charmed Life," the fact that Third Eye Blind's songs were both poppy and addressed some heavy shit infused the band with an edge over their radio-ready contemporaries that many would later imitate with less sincerity. "Jumper" addresses suicide with a catchy acoustic jangle, former member Kevin Cadogan's "Narcolepsy" frankly explains his titular sleeping disorder, while "God of Wine" ends the record with a car crash.
"I think I've always been punk," Jenkins says, "not in the sense that I play three chords or have a fake British accent, although I do have a fake British accent. It's more the sense of a willingness to be provocative in support of my stance."
That stance became a powerful message recently, as Jenkins led Third Eye Blind through a masterclass in trolling when they played a benefit concert for musicians on call in Cleveland during the Republican National Convention, performing "Jumper" by introducing it to the crowd as "a noir about a guy who jumped off a bridge and killed himself because he was gay." He only earned more boos later when he said, "raise your hand if you believe in science."
[youtube https://www.youtube.com/watch?v=1HTow1ommE0]
One look at Third Eye Blind's touring itinerary shows them playing big rooms all across Middle America, in many red states where their mischievous liberalism actually has the chance to affect people. We celebrate bands that take hardline stances against Trump and the GOP all the time, but many of them are already preaching to the choir. Third Eye Blind remain in the unique position of playing to large crowds that might not align with their progressive views, and remain all the more subversive because of it.
Much of Jenkins' understanding of punk also involved distilling some of his more intellectual interests into something anyone could enjoy without arrogance or elitism. In another golden moment from that old Rolling Stone interview, he lays it all out:
"I've been reading an evolutionary-psychology book called The Moral Animal. It's this discussion of how we conduct ourselves as a species. [Sings] 'The chromosome divides/Multiply and thrive/And the strong survive/And a spaceman fucked an ape/Then cut out on a date/Now it's much too late/The spaceship has escaped.' We're writing all kinds of stuff. What it's about to me, man, is the friction between people. If you do a bong hit, put on your headphones and listen to our album, you'll get it."
These provocations and big questions amount to what journalists might call "evergreens," timely topics or stories that transcend the era in which they're told, which always maintain a level of relevance in the lives of certain listeners. And they might explain why Third Eye Blind continues to draw huge crowds to its shows—not just of older 30-somethings on some nostalgia trip, but younger fans, too.
[youtube https://www.youtube.com/watch?v=beINamVRGy4&w=560&h=315]
Emily Walsh was only 5 years old when "Semi Charmed Life" dominated the radio, but it would be 10 or 11 years before she connected to the band's work, while scouring the Internet for new music in high school.
"We listened to the whole album straight through and thought it was really good," she remembers. "It was one of those funny things where all of our friends got collectively onboard with them. The first time we saw them was in Stamford, after school, it was a Tuesday or something, when we were 16 or 17. We all went, and it was just a blast. Ever since then they've just been one of those bands I just associate with driving around with your friends and having a good time. It was one of those things that always kept our high school friends together."
Walsh, along with countless Third Eye Blind fans, prove that someone can connect with something through a blast of nostalgia and also develop a sincere relationship with the work.
Of course, all of our youthful projections of romance and heartbreak are mirrored from the media we consume, and Third Eye Blind's presence on the soundtrack to several seminal teen films of the era including Wild Things, Varsity Blues, Can't Hardly Wait and the aforementioned American Pie may or may not have subconsciously associated the band's music with youthful indiscretions of sex and frat culture.
But over the years, they've also come to represent a uniquely American youth mythos that continues to draw new fans to the transparencies embedded in their music, when heavy shit could be handled with the kiss-off ambivalence of a catchy hook or a "Do Do Do."
[youtube https://www.youtube.com/watch?v=zP72VIL2IRI&w=560&h=315]
" 'Wear this'…yeah, all that stuff wears off," says Jenkins. "What's left is a playlist, and people find that, then they share it with each other. What's great about this period in music is that everything takes on its own…it doesn't get colored by anybody else's marketing ploy anymore. We've never been on the cover of Rolling Stone, we've never gotten a Grammy. We're just not that kind of band, that's not what we have. What we have is this culture, and it's organic, and I don't cultivate it. They come up and they find each other, they do this autonomously. And it's one of the things that makes playing live so great and so possible, because I go out and see what you're doing."
Jenkins thinks of his fans with genuine recognition and reverence, speaking of connecting with his audience through being present, aware, and fully in the moment when performing.
"The first part was just being overwhelmed," he says. "But over time I found the thing that I like the most—the thing that makes you lift out of yourself is being completely present with people. That's when you transcend. In this collective music thing, if you really stop being a spectator and start being a participant then you can let yourself have all these feelings, and then what happens is, people find out that they're not alone."
Jenkins doesn't even drink before shows anymore, he says; he derives pleasure from the exchange of empathy between the band and the audience. "There's people who say, 'this is my 300th show,' and I'll ask those fans, 'what does it, what brings you back?' They'll say things like, 'I feel really alive in that moment, and I feel connected.' Well, there's my life's work."
Third Eye Blind bring their Summer Gods tour to Jones Beach on Saturday, June 24. "That's a really good show to go to because Jones Beach is one of my favorite venues in the world," says Jenkins. "We get to go surfing before, so I will play that show with salt in my hair. I will have the ocean in my hair when I play."