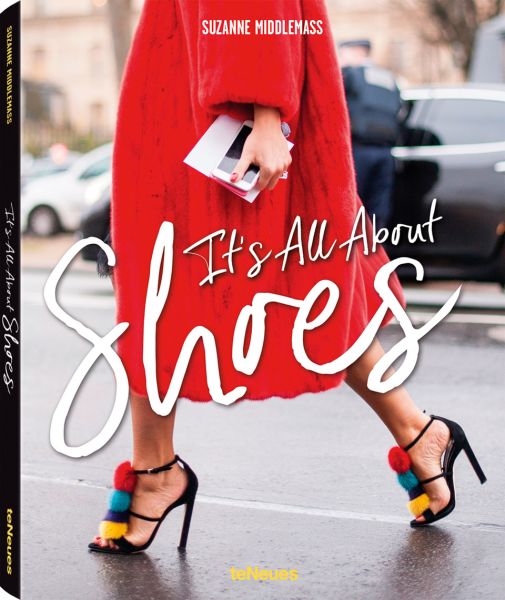 Suzanne Middlemass is a skilled street style photographer. After snapping the fashionable elite on the streets of the world's fashion capitals for Vogue, Elle and Glamour, Ms. Middlemass has developed a sizeable collection of beautiful images. Her new book, It's All About Shoes, published by TeNeues, is a compilation of her best street shots, specifically focusing on shoes. Ms. Middlemass hones in on a fact most women know, shoes can make or break an outfit. For fashion's A-listers, featured on these pages, this can also mean the difference between earning money or not.  Such is the pressure on those being photographed outside fashion shows these days to stand out from the herd, every trick counts. In this book, there certainly are tricks being performed balance-wise in seriously undercutting wedges and too-high heels. It is a fun flick-through for anyone who has stepped out on the fashion circuit and seen the door-lim0-door brigade going to work. 
Ms. Middlemass starts with the shoes on her first appraisal of a potential subject.  As she writes in the book's introduction, "When it comes to my work…I am immediately drawn to wondrously adorned feet because, for me, style begins at the bottom." Ms. Middlemass has a knack for capturing the beauty and the essence of a shoe: a closeup of a clock-embroidered heel, a golden cage sandal just as it catches the light and reflects the blue sky above, a pair of building-block heeled shoes in primary colors as the woman wearing them walks up a flight of granite steps.
Beyond the short introduction and a smattering of quotes scattered throughout the book, there is a conspicuous lack of text. This isn't necessarily a bad thing. The book's lack of words has a side benefit: it forces the reader to examine and focus on the shoes in all their high-res glory.
But the conspicuous lack of text is problematic. None of the shoes are captioned with the name of the designer. Even the index is lackluster, as it merely points out the location and date of when it was photographed. Of course, many of the photos are taken of industry-insiders and jetsetters  on their way to fashion events so it's unlikely that Ms. Middlemass had the time nor the opportunity to ask her subjects what brand of shoe they were wearing. However, it would have been nice if, in reading this book, we readers were able to discover  who created the beautiful shoes Ms. Middlemass chose to capture. The images are after all, so arresting, so captivating, she has made it impossible not to fall in love with and lust after nearly every pair of shoes featured on her pages.