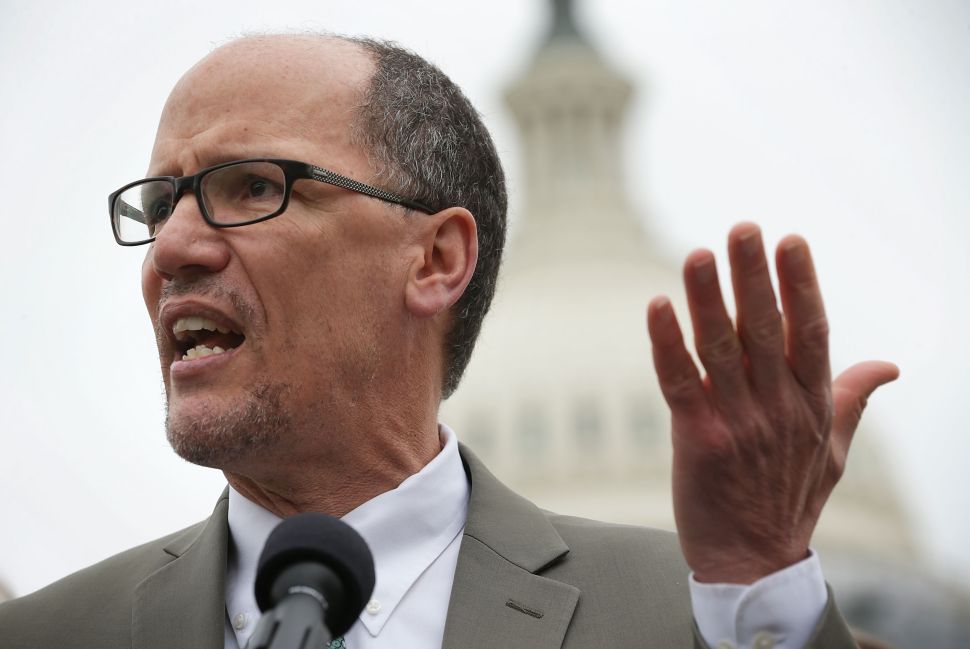 During an interview on MSNBC's Morning Joe on April 4, new DNC Chair Tom Perez doubled down on his statement during a rally in Newark, N.J., on March 31 that Republicans "don't give a shit about people." The swearing was a publicity stunt to try to appear tough and appeal to millennials, who strongly supported Sen. Bernie Sanders during the 2016 Democratic primaries.
Sen. Kirsten Gillibrand reverberated a similar sentiment in an interview with New York Magazine published on April 4 by saying, "If we're not helping people, we should go the fuck home."
Both these comments falsely presuppose that the Democratic Party cares about people and helps them. Relying on the Republican Party's flaws isn't going to make up for the Democratic Party's faults, and neither is swearing to get attention.
If Perez wanted to convey to voters that the Democratic Party cares about people, he would re-enact the ban on donations from corporate lobbyists and PACs to the Democratic National Committee (DNC). The ban was lifted in an authoritarian decision by former DNC Chair Debbie Wasserman Schultz, who tried tried to cover up the joint fundraising committee between the DNC and the Clinton campaign the decision produced. Wasserman Schultz knew the rule change would only benefit Hillary Clinton, as Sanders' campaign disavowed campaign donations from Super PACs. Former President Barack Obama's intention in initially enacting the ban in 2008 was to try to prevent the Democratic Party from being overrun by special interests. Wasserman Schultz opened the floodgates to these dubious donations, and Politico reported the Hillary Victory Fund laundered money to the Clinton campaign in violation of campaign finance law. Despite demand from several Democratic Party members to re-enact the ban, Tom Perez has refused to entertain the idea.
Perez should disavow donations from corporate lobbyists and PACs. A party that solicits donations from special interests instead of challenging those interests can never be a party for the people and by the people. Perez can swear, try out different marketing strategies, and engage in publicity stunts, but as long as the Democratic Party embraces lobbyists and PACs with open arms, his position as DNC chair will only be to represent the interests of donors.
Perez was handpicked by the Democratic establishment to run for DNC chair against Sanders backed candidate Rep. Keith Ellison, showing progressives that they are unwelcome in the Democratic Party. Perez's insistence to tout Ellison as a trophy—with a fabricated, powerless DNC position—is just another desperate attempt to manufacture support for Democrats without enacting reforms.