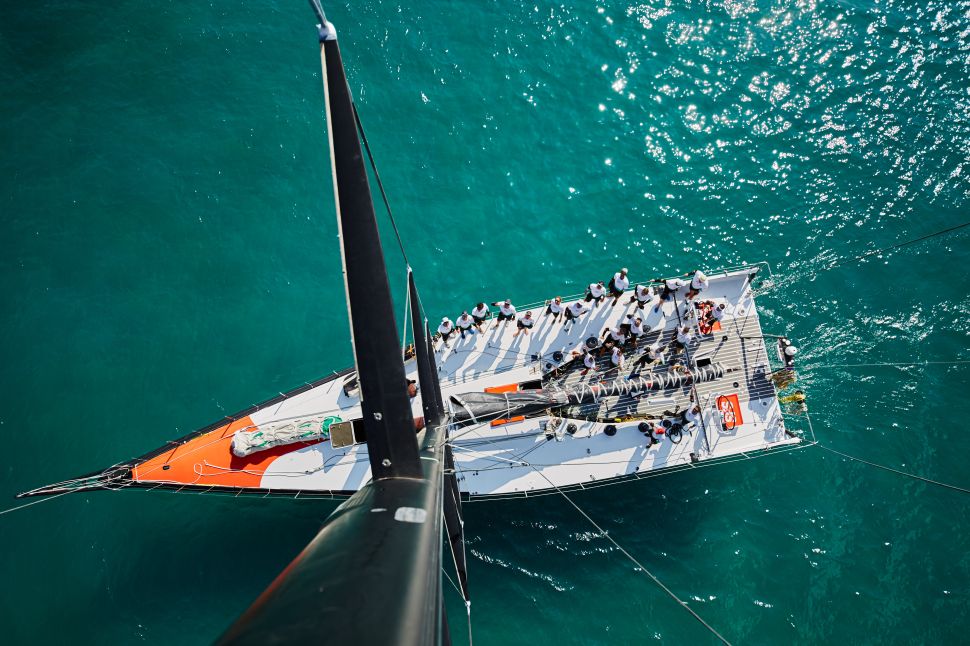 "Sailing is a thrilling sport and racing them uniquely blends teamwork, athleticism and natural beauty. We are here to offer access to the world's great regattas," says Tony Rey, founder of Cloud 10 Racing, a company dedicated to getting you in the right race on the right boat with the best crew. Not to mention, the right villa, the most enjoyable restaurants and the best parties.
Rey just finished the eighth annual Les Voiles de St. Barth, one of the great Caribbean regattas. Cloud 10 Racing had two clients sailing there this year; one was long-time client Peter Cunningham, whose Power Play Racing chartered Leonardo Ferragamo's new Juan K designed ClubSwan 50. Tony also set up Andrzej and Gosia Rojek's charter of regatta racing machine and frequent podium attendee El Ocaso, a J 122 .
Rey is one of the world's top sailors. He is an America's Cup veteran, Olympic coach, offshore competitor in the Whitbread, Volvo, and Sydney to Hobart. He has been a tactician on legendary yachts like Marie, Magic Carpet, and P2 in superyacht regattas everywhere. He also manages sailing campaigns in the thoroughbred of racers, TP52's. For Cloud 10 Racing, he is equal parts sailor, project manager, coach and team builder.
One of the most striking things about sailing regattas is that they always set in the world's most beautiful places, and always in season. To name a few: St. Barth, Antigua, The Virgin Islands, St Tropez, Sardinia, Palma de Majorca Spain. Generally, it's the Caribbean in the winter and the Mediterranean in the summer with world class regattas in Newport Rhode Island and Cowes England added for good measure. There are probably 15 world class regattas that should be on every sailor's bucket list.
There is no other sport in the world where you can participate along with the very top competitors. You're not going to play in the Masters alongside Sergio Garcia or the U.S. Open with Stan Wawrinka. You're not going to ride in the Kentucky Derby alongside Mario Gutierrez. But, you can sail against Hap Fauth's Bella Mente, George Sakellaris' Rambler 88, and Mike Sanderson on the Maxi 72 Proteus. Legendary yachts and sailors all.
"You are on the same blue water, feeling the same warm wind, seeing the same islands," says Rey.
There are basically two ways to go about regatta chartering. One is to set up a multi-regatta program by first selecting the races and then the boat(s). For example, Peter Cunningham, a vital and vigorous 70-something from the Cayman Islands, sails with Rey and two others in small one-design boats like J 70's at Key West Race Week, and larger fully-crewed boats for long distance racing like the R.O.R.C 600, a 600-mile ocean race starting and ending in Antigua. Peter said, "I had one of the best sailing experiences of my life sailing around all eleven islands last year."
The advantage of creating your own program is: "You develop a working relationship with the crew that carries over from race to race, and your sailing skills deepen from those relationships. You can meld your core crew of friends and family with sailing professionals and everyone comes out stronger. The Club Swan 50 was perfect for Les Voiles and perfect for Peter and his friends, we brought five pros aboard to round out Peter's crew of twelve," observed Rey.
The second way is to have only one race on your bucket list. Someone may dream of sailing Les Voiles in St. Barth or the Maxi Yacht Rolex Cup in Sardinia or the British Virgin Islands Spring Series out of Tortola.
The regatta charter experience is totally scalable. "You can bring your friends down and race a 40ft J boat for $50k or a TP 52 for a once-in-a-lifetime experience for $200k. If you want real comfort we can set up a racer/cruiser and you can do the regatta in style. Everything else is customizable too, you can stay in a hotel in Palma for a few hundred a night or rent a 10-bedroom villa for your entourage for $50k. It's how you want to do it. You can focus on the boat and minimize the accommodations or the other way around."
The Rojeks, for example, brought their own crew, including Z Sails founder Waldek Zaleski, who served as tactician. Gosia steered the boat for two practice days and three race days… right onto the winner's podium, as the Rojek team won third in their division.
In a world gravitating toward renting luxury vacation houses and flying on NetJets, real wealth is now measured in experiences—not objects owned. Tony Rey and Cloud 10 Racing may be on to something. If you were lucky enough to be at the Les Voiles regatta in St. Barth last week, you would know they are.
Jonathan Russo has been a sailing enthusiast for 30 years. He sails his Sabre 38 "Sachem" and an Etchell's from the Shelter Island Yacht Club. He has written about sailing and racing for Soundings, Scuttlebut and The Shelter Island Reporter.