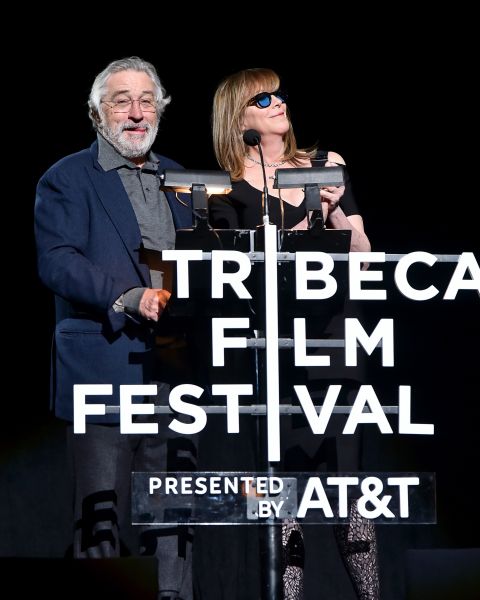 "Who would have thought we'd be looking back to the era of The Godfather as the good old days?" Robert DeNiro tweaked President Trump at the Tribeca Film Festival's launch last Wednesday. The post 9/11 event's co-founder and reluctant public speaker – an irony for one of America's most famous and revered actors — addressed an intimate gathering of press, and festival machers and programmers, at the annual luncheon at Thalassa on Franklin Street. In the wake of a presidential inauguration that scrambled to book A-list talent, the festival's embarrassment of celebrity riches is an outright statement of liberal power in the face of an unpopular administration.
As festival co-founder Jane Rosenthal rose to the microphone, relieving DeNiro of that burden, she underscored the point by saying, "this is an activist film festival." And, because of that, it continues to evolve even while the film elite condescend to the event, with Variety snarking: "Tribeca has become the Duane Reade of film festivals. There's something for everyone, but you can't always find the right aisle." However, the industry bugle, by focusing in solely on film in that particular article, wasn't surveying the vast Virtual Reality offerings, the early inclusion of long-format television series, and the insistence on programming female directors and people of color. In conjunction with major sponsor AT& T, Tribeca will award a whopping $1M to an underrepresented filmmaker. These forward-looking initiatives across multiple viewing platforms reflect the festival's activism in action.
Last Wednesday night at Radio City Music Hall, DeNiro and Rosenthal reunited onstage along with Governor Andrew Cuomo, appearing alt-presidential, and ad hoc Mistress of Ceremonies Whoopi Goldberg. The star-studded opening night began with a screening of Chris Perkel's captivating and largely celebratory documentary, Clive Davis: The Soundtrack of Our Lives. Over a half-century career, Jewish music mogul Davis shepherded the recording careers of a wide variety of musicians from Janis Joplin and Whitney Houston to Notorious B.I.G. and Earth, Wind and Fire.
With an audience that included Davis, and rose to the Music Hall's rafters, the melancholy of viewing the late Ms. Houston rise from hopeful teen to drug-addicted diva was tempered by a relentless inclusion of great moments in contemporary music history starting at the 1967 Monterey Pop Festival where Davis first found his inspiration – and signed Joplin soon after. And then, following the final credits, film became three-dimensional as a series of performing top-liners appeared on stage to serenade Davis, 85.
Barry Manilow began on the piano with a run of greatest hits, including "I Write the Songs," which gained insight in retrospect from realizing that the songwriter became famous by singing other people's tunes under Davis's mentorship. Jennifer Hudson came out, giving a shout-out to idol and inspiration Whitney. Then Hudson bit into Leonard Cohen's "Hallelujah," and danced into the audience, seeking Davis for a samba and getting the enormous crowd up on their feet and shuffling. And then came Earth, Wind and Fire; Kenny G; Dionne Warwick; Carly Simon (her rueful rendition of "Coming Around Again" reduced me to tears) and the Queen of Soul, Aretha Franklin. It was an embarrassment of musical riches – particularly triumphant in contrast to Trump's shameful inauguration concert with the Mormon Tabernacle Choir and The Rockettes minus thirteen dissenting dancers.
The bold-faced names will keep on coming throughout the festival, which will conclude on April 29th with another all-star talent lollapalooza. The gala back-to-back screening of Francis Ford Coppola's first two Don Corleone films followed by a live-streamed reunion featuring DeNiro, Al Pacino, Diane Keaton, James Caan, Talia Shire, Robert Duvall and the director himself. As the festival celebrates its sweet sixteen, there is a sense that the cool kids may be under political siege but still have all the best toys.