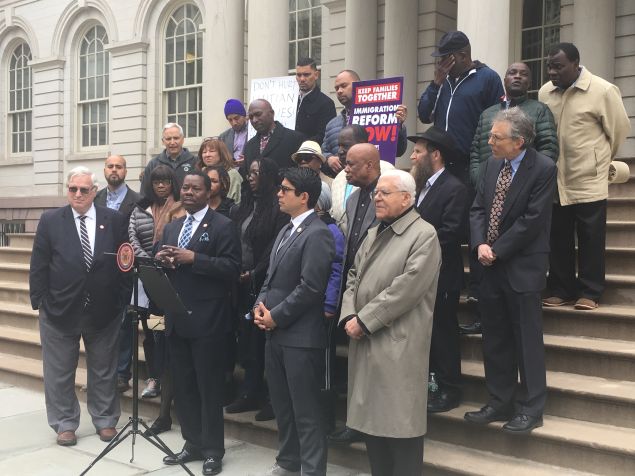 Haitian-American leaders called on President Donald Trump and Homeland Security Secretary Gen. John Kelly to allow 50,000 nationals from the beleaguered Caribbean country to continue living in the United States.
U.S. Citizenship and Immigration Services recommended last week that the United States terminate the Haitian immigrants' Temporary Protected Status, which grants deportation immunity and work authorization to arrivals from nations enduring an armed conflict or natural disaster, on the grounds that conditions in their home country have improved. But advocates argued that the 2010 earthquake, the subsequent cholera epidemic and last year's Hurricane Matthew have left the impoverished island ravaged and inhospitable, and called on the Department of Homeland Security to extend the special status for the foreseeable future.
"That would be a very important humanitarian gesture to make," said Brooklyn Councilman Mathieu Eugene, the first Haitian-born individual elected to the City Council. "That would be a very important humanitarian relief for Haiti because Haiti's still trying to recover. We have approximately 50,000 Haitian people who have TPS in the United States—maybe 58, maybe 59—but those people, they are living in the United States and this is the way they can provide for their families and actually, they cannot get back to Haiti."
After the 2010 earthquake, USCIS established Temporary Protected Status for Haitians living in the United States to allow Haiti to start the recovery process and offer support in the form of remittances to family members there. Those who arrived after 2011 were ineligible. TPS has been renewed for Haitians multiple times and is set to expire on July 22.
In February, Brooklyn Congresswoman Yvette Clarke, co-chairwoman of the House Carribbean Caucus and the daughter of Jamaican immigrants, introduced legislation that would substantially expand the TPS program to include all Haitian nationals who were in the United States before November 4, 2016.
Haitian native Marie LeBon, a longtime member of the influential union 32BJ SEIU, said she has been able to "make a good living and raise a family here" over the past three decades. But she said that she and other Haitians are now worried about their future.
"Like many people in the Haitian community here, I am afraid of what will happen to tens of thousands of my Haitian friends and neighbors if the TPS is not extended," LeBon said. "Right now, there are about 50,000 people from Haiti living and working legally in the U.S. under Temporary Protected Status. If these people are caused to return to Haiti, it will cause a great deal of damage to them, to their families and to their families in Haiti."
She argued the country has still not recovered from the earthquake, which claimed more than 300,000 lives. Seven years later, some 60,000 survivors still do not have permanent homes and remain in camps.
LeBon also remarked on the number of lives lost due to the cholera epidemic that followed the earthquake—which she said is known as "the worst outbreak of the disease in recent history" and is "still not over"—and that Hurricane Matthew caused even more casualties.
"It is terrible and oblivious to the dire conditions that exist in Haiti right now," LeBon added, referring to the USCIS recommendation.
Irina Matiychenko, director of immigrant protection at the New York Legal Assistance Group—and a refugee from the former Soviet Union—argued that the Trump administration should maintain former President Barack Obama's sympathetic policies.
"People still need help," Matiychenko said.
DHS told the Observer that Kelly has yet to make a final determination on the Haitians living in the country with TPS.