Tyra Banks is listing her Battery Park home.
StreetEasy
Banks embarked on a major renovation and redesign of the space.
StreetEasy
The dining banquet.
StreetEasy
Those water views.
StreetEasy
It's all entirely customized.
StreetEasy
The 7,000-square-foot home has five bedrooms and eight bathrooms.
StreetEasy
If you've ever dreamed of a home equipped with a personal salon, private gym and 360-degree mirrored dressing room, all within the confines of a single duplex apartment, then it's time to check out the Battery Park pad model Tyra Banks just put on the market.
The television personality, who is returning to host the next season of America's Next Top Model, decided to list the 7,000-square-foot condo at 2 River Terrace because she's spending more time on the West Coast, reports the New York Times, with a $17.5 million price tag attached.
The entire five-bedroom, eight-bathroom spread is completely customized, and upon entering the home you'll find an illuminated, working fountain. The rest of the main level includes a living room, library, chef's kitchen with center island and dining banquet, as well as full staff quarters, staff kitchen and three guest suites.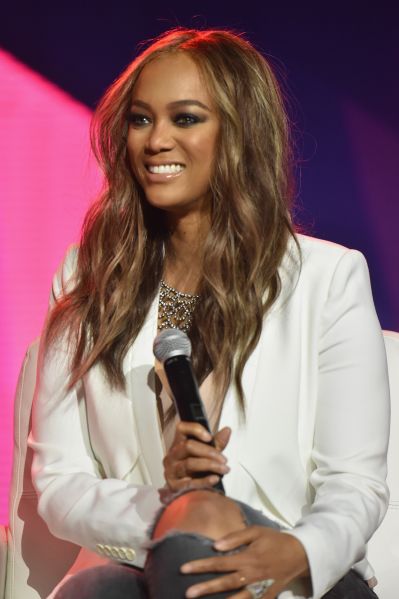 Then there's the master suite on the upper level, which is "fit for royalty," per the listing held by Adam Modlin of Modlin Group. There's an adjacent sitting room with a mini bar, two master baths and a personalized dressing room to "house the finest wardrobe." The home is offered furnished or unfurnished, but sadly, from what we can tell, that doesn't include the contents of Banks' closets.
The sprawling home is the result of a four-unit combination in the building; Banks began purchasing them in 2009 and used the home as her primary residence for nearly four years. She's been renting it out since May 2015 for a hefty $50,000 per month, but is now offering it as a sale (though it's still for grabs, with the same rental price).
Banks embarked on a lavish renovation of the place upon purchasing it, per the Times, and spent a substantial amount on the décor, as well, like "rich fabrics, textures wall coverings, exotic wood details and ornate light fixtures."
"New amazing ideas just kept coming and coming to me," Banks told the Times. 
Along with the furnished or unfurnished possibility, the home is also offered with the option of being full staffed with a house manager, cook, housekeeping and a personal attendant, though it's not clear what that'll cost you.
Let's not forget about the other bonus of snapping up this apartment—it means you'll be neighbors with none other than Leonardo DiCaprio, who also resides in the eco-friendly building. Banks, however, apparently never ran into the building's mysterious resident. "He was always that elusive spirit that so many people talked about," she told the Times. Still, the model-loving actor did sell his other New York residence (in 66 East 11th Street, another eco and wellness-oriented building) in December, so perhaps he'll be spending more time in Battery Park again.