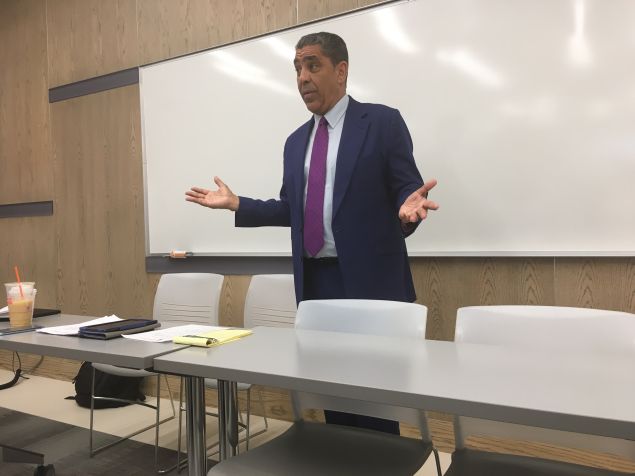 Congressman Adriano Espaillat—the first formerly undocumented immigrant and first Dominican-American elected to Congress—encouraged arrivals from African nations to "be bold" and "unafraid" in the era of President Donald Trump, whose administration has pursued an aggressive immigration enforcement agenda, and called on them to remember their roots.  
Speaking at an African diaspora conference in Lower Manhattan this afternoon, Espaillat did not directly mention Trump but acknowledged the present political climate. Trump has issued two executive orders barring entry to people from Muslim-majority countries—including Sudan, Somalia and Libya—and another seeking to withhold funding from so-called "sanctuary cities," all of which for now have been blocked by federal judges. Espaillat offered words of encouragement, telling the crowd to continue to pursue their dreams and remember their roots.
"You should not confine yourself to the parameters that society, traditional society places upon you because sometimes, those parameters restrict your creativity, your innovativeness and your ability to do as much as you can do," Espaillat said. "So be bold, unafraid, don't be afraid. Don't feel like you have to act in trepidation."
And he told them not to accept the status quo "or the expectancy that you should be as people expect you to be," and praised them for their contributions.
"There is no reason you cannot say, 'I am from Africa, I want to be a scientist,' right?" he said. "'I wanna be a builder.' You know, we have great traditions in Africa, you know, of some of the most important structures in the history of the world. 'I wanna be a mathematician."
Espaillat recounted his own life experience. He and his family came to the United States from the Dominican Republic on visitors visas, overstayed the visas, returned to their country and eventually came back to the United States once they obtained green cards.
The congressman noted that he has come a long way, and stressed that "your limitations are only in your mind."
He said that his grandmother come to the United States in the 1950s, "didn't speak a word of English" and that she would get up every day at 6 a.m. to work in a factory as a seamstress. He told the crowd that "we're standing on their shoulders," referring to the Great Migration—the African-American exodus from the south—and the civil rights movement as examples. 
"Don't get fooled by the mahogany walls of corporate Wall Street or the silver or the ivory towers of academia or the elegant hallways of government," he said. "Don't get fooled. Put your feet on the ground every single day and know that it is important that you recognize every day when you wake up from your sleep where you came from so that you know exactly where you're going."
He told the crowd that staying in school is a "no-brainer" and told them to pursue whatever profession that interests them. 
And he noted that New York City's biggest strength is its diversity, giving Flushing's Chinatown, the West African community in the Bronx, Soviet Jews in Washington Heights and the Albanian community in the Norwood section of the Bronx as examples.
He recalled attending a press conference where one of the organizers of the Yemeni bodega owner strike against Trump's first anti-Muslim fiat noted that there are more Yemeni grocery stores and shops than there are Starbucks.
"That's what makes us strong as a city," Espaillat said. "So you are a legitimate—a legitimate part of this city. And sometimes we feel that we're not. We feel pushed aside, that they're not taking us seriously."
When a woman in the audience asked him about how to plan to run for office when running against longstanding incumbents, he said that no one can stop anyone "from getting your fair share of political power."
He appeared to allude to his long-running pursuit of the seat long held by Congressman Charlie Rangel. After challenging Rangel in 2012 and 2014, Espaillat finally beat Rangel's preferred candidate, former Assemblyman Keith Wright, in the primary last year. 
"They may be able to delay you but they will not stop you," the congressman added. "And those of us in politics that are smart, we should be facilitating that and embracing you as opposed to shutting you out and having you kicked down the door. So run. If you want to run, run."