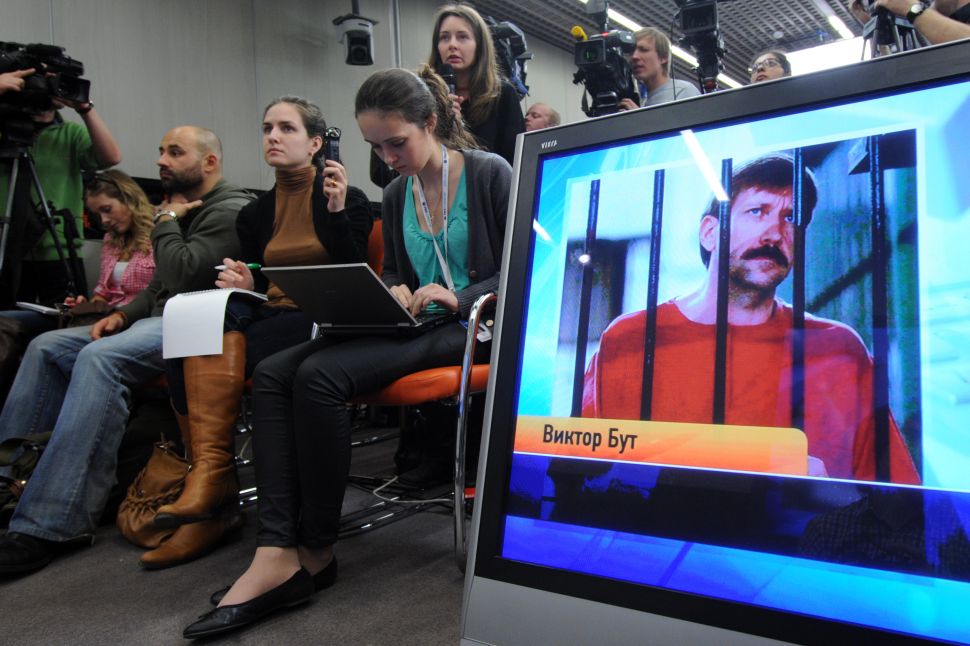 The latest arrests of accused Russian cyber criminals in various countries of the world—as well as Moscow's outcry of "unlawful arrests" of Russian citizens—raises some intriguing questions.
How many American citizens have been held in Russian prisons and what were the crimes they were accused of committing in Russia?
The last time Moscow publicly revealed the number of Americans in Russian jails was in the summer of 2016. At the time, Moscow's hopes were high that the departing Obama administration—or the incoming administration—would extend an olive branch to mend relations between two countries. The Kremlin wanted the return of two high-profile, martyr status Russians held in U.S. prisons.
Viktor Bout, a notorious arms dealer arrested in Thailand by U.S. Marshals in 2008, was sentenced to 25 years in prison. Konstantin Yaroshenko, arrested in Liberia in 2010 for attempting to smuggle drugs into the U.S., is serving a 20-year sentence in an American jail.
Moscow desperately wanted both of them back.
Izvestia, a Russian newspaper with close ties with the Kremlin, stated on August, 3 2016 that there were 13 U.S. citizens in Russian jails as of last summer. "At this time," Izvestia reported, "there are 13 such [U.S.] citizens, three of whom—including American citizen Gennady Klotzman, sentenced in Russia in December of 2011 to 10 years [of jail term]—asked to be transferred to the USA in accordance with the European Counsel's Convention of 1983."
The newspaper said that the Kremlin wanted all 13 Americans to be exchanged for Konstantin Yaroshenko, citing his deteriorating health.
The same day, Sergei Riabkov, deputy head of the Russian Foreign Ministry, confirmed the story to the Russian RIA Novosti news agency. Riabkov gave the same unlucky number of Americans jailed in Russia.
Both the U.S. Embassy in Russia and Russian authorities refused to provide names of the 13 American citizens in Russian jails, citing privacy issues, but Russian media divulged at least four.
Sixty-four-year-old U.S. citizen Ira David Lang had been jailed for the creation and distribution of pornographic materials—including child pornography—in the city of Chelyabinsk in the Ural mountains some 900 miles from Moscow, Russian news agency Interfax reported. For three years, Lang lived in Russia illegally, as his visa expired in 2013. He was facing six years behind bars.
Investment banker Gennady Klotzman, mentioned by Izvestia, had been kept in Russian jail for organizing the biggest armed robbery of a diamond store in Moscow, during which at least $3 million in goods were stolen.
The Belorussia-born U.S. citizen George Hager had been jailed for trying to sell a position with the Russian Federal Agency for Fishery (Rosrybolovstvo) to a Russian businessman for $7 million. He bragged of close ties with both Russian FSB and the Clinton clan, presented himself as a "fixer," and was arrested and charged with fraud after receiving $300,000—or 10 percent of his cut of $3 million for his "service"—from the businessman he promised position with the agency.
After his arrest, Hager provided information on his two Russian accomplices.
Thirty-two-year-old U.S. citizen Joshua Samuel Aaron had been in Moscow jail for a visa violation since last May. According to Bloomberg, Aaron was wanted by the FBI for the largest-known Wall Street hack—100 million JPMorgan customer bank accounts.
Coveted refugee status was denied, and Aaron was handed over to the U.S. justice system, despite the lack of extradition treaty between Russia and the U.S.
Aaron seemed to be the only citizen American authorities really wanted out of Russia, because the U.S. Department of Justice flatly declined to exchange two Russians—Bout and Yaroshenko—for the 12 other Americans kept in Russian penitentiaries.
Since then, this figure has likely remained the same—or increased slightly—as almost every month or two an American citizen has been jailed in Russia. These are the crimes Russia has accused the U.S. citizens of committing.
Last September, 29-year-old Julio Prieto from Colorado was arrested in Siberia for illegally crossing Russia's border from Kazakhstan. The Mexico-born U.S. citizen told the court he came to Russia looking for work and a "better life." First, the Colorado insurance salesman flew from Germany to Kazakhstan, which has no visa entry requirements for Americans. Then, he hitchhiked to the border and tried to sneak into Russia on foot before being caught by the border guards.
Prieto did not expect the Russia-Kazakhstan border to be equipped with video-cameras and motion detectors.
The prosecutor said Prieto lived in America in a crime-ridden part of Colorado, that he was ready to take any job in Russia, and that he told the interpreter he did not want to return to the U.S.
Prieto's criminal background—charges of intent to distribute marijuana in Las Cruces, N.M. among other previous theft charges—didn't help him to win the case for "Russian hospitality." His parents' offer of $900 bail money was denied, Prieto was arrested, and faced two years of prison. But, after spending just six weeks in Russian jail, he was deported to the U.S. at the Russian government's expense.
In November, 47-year-old U.S. citizen James Vincent Wilgus, who had been working as a music teacher in Russia for three years, was imprisoned in Moscow for "raping an 11-year-old girl in the elevator of an apartment building in the Southern part of Moscow." Investigators opened a criminal case under section 4 St. 132 of the criminal code of Russian Federation ("Violent acts of sexual character") against the American.
Later, Wilgus was charged with three more episodes of similar criminal acts against minors committed in different parts of Moscow, Ridus reported.
If convicted, he will spend between 12 and 20 years in Russian prison.
In January, a 20-year-old U.S. citizen was stopped by police inside a Moscow subway. A grenade-launcher was sticking out of his backpack. To his luck, the American was released upon explaining that he bought the piece of equipment to use in a paintball battle with his Russian friends. The launcher was confiscated.
On April 12, on the streets in the center of Moscow, 30-year-old U.S. citizen Eric Thomas Creamer from Athens, Ohio, was arrested for possession of 0.94 grams of mephedrone, a potent drug know in Russia as "salt." Before his luck ran out, Creamer was employed as an English teacher at the highly prestigious Moscow Institute of Physics and Technology.
According to the police report, he was behaving suspiciously, as if under the influence of drugs. Creamer was fingerprinted and has been under house arrest, expecting trial.
On April 20, in the St. Petersburg hostel on Kazanskaya street, a 27-year-old U.S. citizen "of Japanese origin" was arrested after a quarrel with his roommate, a citizen of Tajikistan, during which he stuck a knife into the eye of his hostel companion. The American arrived in Russia in the beginning of April looking for job opportunities. He may now spend up to five years in Russian prison.
Is it just a coincidence that all of Moscow's desperate pleas to free two prized Russian criminals from U.S. jails fall on deaf ears?