On Saturday afternoon I went with a friend to see the new Broadway play A Doll's House Part 2 at the John Golden Theatre. We both thoroughly enjoyed the production (a darkly comic update of Henrik Ibsen's classic) but the most surreal part of the day happened before the house lights went down.
After fighting my way through yet another crushing Broadway bathroom line, I noticed the great actor and writer Wallace Shawn mingling in the lobby. Shawn is best known as the writer and star of the experimental film My Dinner with Andre, and for playing the bandit Vizzini (who thinks everything is "inconceivable") in The Princess Bride.
But to me and most other '90s kids, Shawn will forever be associated with Rex, the worried green dinosaur he voiced in the Toy Story movies.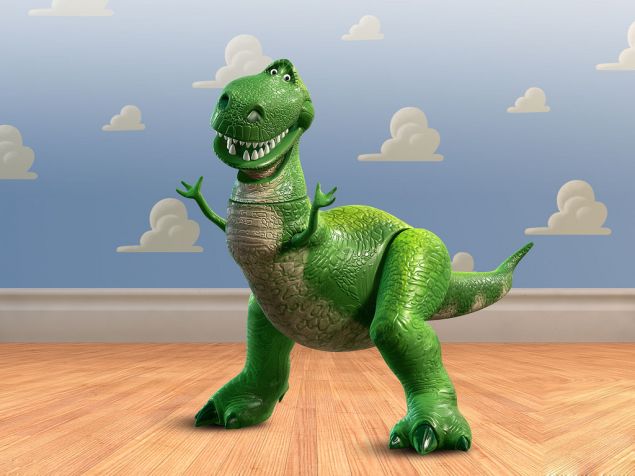 Since I don't get to meet famous intellectuals very often (especially ones who were an integral part of my childhood) I knew I had to say something to him. And since Laurie Metcalf, the star of A Doll's House Part 2, voiced Andy's mom (one of the few human characters) in Toy Story, I figured that would be my way in.
So once I sensed an opening, I walked over and asked "Mr. Shawn, are you here to see your Toy Story co-star?"
He responded with one word: "Who?"
I was a bit taken aback by this, but realized that he probably wasn't used to strangers engaging him in small talk. So I said, "Laurie Metcalf."
"Who did Laurie play in Toy Story?"
Now I was even more shocked, but I didn't want it to show on my face—so I just blurted out "Andy's mom."
"Well, I'll be damned," Shawn responded. "Thanks for telling me."
I spluttered out something along the lines of "I'm a big fan of your work" and then made my exit, sure I had just been a contestant on Broadway's version of Punk'd.
When I told my friend what happened, he made the legitimate point that most voice actors record their lines separately, so there's a good chance that Shawn and Metcalf never met while filming.
Even so, wouldn't they have run into one another at Toy Story film premieres over the last 22 years? And both actors are veterans of the New York theater scene, so they've almost certainly encountered each other at industry events.
Of course, Shawn may just be such a good actor that he bluffed his way through our whole exchange. But I still can't help but feel a little bit of pride at the possibility that I taught Wallace Shawn something about his own films.