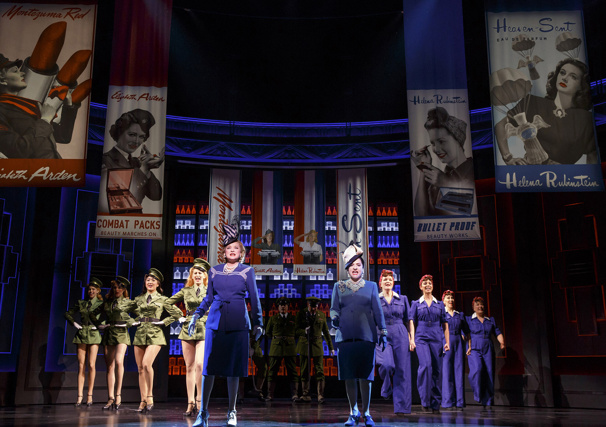 Sure bet for how to invest with confidence in a Broadway musical and end up with a profit: be sure it stars Christine Ebersole and Patti LuPone. The lethal feud between Sixties cosmetic queens Elizabeth Arden and Helena Rubenstein doesn't care the weight or feed the endless, insatiable curiosity provided by the terminal feud of Bette Davis and Joan Crawford, but with two titans of Broadway musicals playing them with jungle red nails and tongues dripping with arsenic, fascination is guaranteed. The new show is called War Paint, and the title says it all.
Glamorously anchored at the Nederlander Theatre for what either promises or threatens to be a long run, this is one of those rare break-speed-records-to-get-there shows to save money for. My reservations are few, which is unheard of, and they all center around Patti LuPone's ill-advised phony Polish accent, but more about that later. For the best part of 2 hours and 30 minutes you will be charged, thrilled and fascinated by two divas dishing it out with every trick in their careers of sharp, dagger-edged perfection as they command and hold the stage.
Two broads with balls of brass, Helena and Elizabeth revolutionized the beauty industry by proving that the properly textured, carefully colorized and perfectly applied skin tonics, cucumber eye-wrinkle tighteners, face masks, vanishing creams and luscious lipsticks could make ordinary "respectable" women as alluring to the opposite sex as beckoning burlesque queens and competitive call girls. Their rival fashion salons catapulted them both to heights of rouge and mascara stardom and they held on to their fame and genius for making money and breaking all the rules with ruthless, unprecedented hatred. Although they never met, the creative personnel behind War Paint contrives a fictional meeting as a show-stopping finale that gives the audience what it's been waiting for—a chance to rejoice in a duet between the divas in the center spot called "Beauty in the World" that proudly and defiantly announces the place they carved in a world dominated by men. To my disappointment and surprise, it's not the kind of 11 o'clock number the stars deserve, but it sends you home happy. The rest of the show is lively but musically mediocre as well. This is really a letdown because the book, music and lyrics are by, respectively, Doug Wright, Scott Frankel and Michael Korie, the trio of talents whose marvelous score for Grey Gardens kicked the clouds away for Christine Ebersole and jet-propelled her to a Tony Award. In my opinion, they have still anointed the girl who put them on the map originally with the best song in War Paint—a rousing, riveting theme song called "Pink" that explores her passion for the signature color that defined her life.
There are songs galore but few of them will live in your heart after the final curtain. Blander than I expected and oddly lacking in the rhapsodic melodies that blossomed so beautifully in Grey Gardens, the tunes in War Paint do inspire you to go away humming. This does not, I must add, detract from the mega-watt voltage from the two divas onstage. Halves of the main set designed by David Korins illustrate the tastes and color schemes favored by the two history-making beauty experts—walls of darkly tinted bottles in shades of chiaroscuro for Rubenstein, a Jew from Krakow, and perky feminine pink for Arden, an Episcopalian blonde from Canada. It's the difference between lanolin and salt water taffy, it is carried through the show from beginning to end, and everything is a feast for the eyes. Shapely chorus girls swathed in pink, emerging from the fire-engine red Elizabeth Arden door on Fifth Avenue reminded me of the fabulous Raoul Pene Du Bois sets in the Technicolor movie version of Lady in the Dark. The book
The book catalogs the events from 1935, when the ladies began their spectacular rise to power, to 1964, when they slowly declined through a failure to keep up with the times. Arden considered television advertising a "down market", even thumbing her nose at William S. Paley. Rubenstein dismissed the fast-growing teenage market. Both failed to join the masses in exploring new trends and tastes. This is all expository material, less engrossing than the evil tricks they played on each other to dominate the industry they served with such implacable devotion. Because neither woman was willing to give the most important men in their lives the recognition they demanded and deserved, Rubenstein lost the homosexual V.P. of advertising who put her on the map (a wonderful Douglas Sills) and Arden sacrificed her husband and business partner (an equally sturdy and dependable John Dossett). Both men switched loyalties and went to work for each other's former bosses, damaging their empires. Sabotaging each other's products and using gender-specific cruelty to get even for stealing the men in their lives, the women then tried to ruin each other's reputations by exposing before a Congressional hearing the secret ingredients in their formulas (everything from insect repellant to cyanide). Then came the war, and bans on everything from silk nylons to fancy pink giftwrap ribbons, forcing them to invent new products to promote the war effort, like Bullet Proof Mascara.
It's a saga, all right, exemplified by lyrics about elixirs and hormones and monkey glands, in songs called "Inside of the Jar", "Fire and Ice", and Forever Beautiful". The effect is dazzling, aided enormously by those peachy David Korins sets I mentioned earlier, and period costumes by Catherine Zuber that look like pristine replicas of the glamorous clothes Helen Rose designed for Lana Turner and Esther Williams at MGM.
There is plenty to look at in War Paint. If only you could hear it with equal pleasure. My only caveat is that appalling accent that robs Patti LuPone of so much badly needed clarity and prevents the audience from comprehending at least half of what she says and sings. As a result, an inordinate number of bitchy one-liners are swallowed in a gumbo of Polish swabs, as well as some of the show's most important lyrics. It's pretentious, and since nobody knows what people sound like when they speak English in downtown Krakow anyway, it's a superfluous affectation that a stronger director would have forbidden. Patti LuPone's murky diction is hard enough to take on her own.   Obliterated by an indescribably garbled accent that makes her sound like her throat is full of trap rock, she does her audience an unforgiveable—and completely unnecessary—disservice. All of which allows Christine Ebersole to soar with more vocal purity and crystalline grace than ever. Not all of the war paint in War Paint is in the script.