Last summer, the must-have accessory wasn't meant to be worn. In fact, it was a pool float in the shape of a unicorn and it was created to be Instagrammed. We're sure it was also created to be lounged on while floating in a pool, but that's beside the point. It was so ubiquitous on various social media feeds that the pool float fatigue was real.
It seems that for Summer '17, fashion designers are building off the inflatable trend, by making it a wearable option. First up, we have Balenciaga, where Demna Gvasalia just keeps reinventing the fashion wheel. However, with this design, he simply redesigned the classic airplane life vest. For $2,525, which is slightly more than a first class ticket from New York to Los Angeles, this fashionable vest can be yours.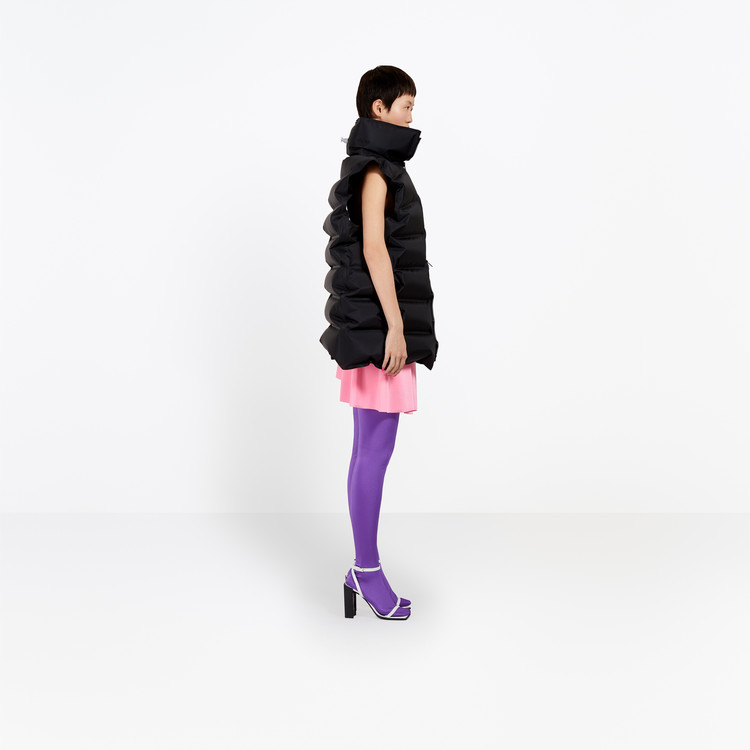 Offered in rubber ducky yellow with a snap closure or deep black with a zipper function, you might want to note that this vest was made for "urban use only." That means that this piece of outerwear will not save your life, in case of flash flood. This Balenciaga design is of the "choose your own adventure" sort, as you can adjust the level of inflation to your liking.
For an inflatable that's much more compact, Furla's got an option for you: the Metropolis Oxygen bag. This rubber crossbody looks like a teeny pool toy, but it has enough room for a few credit cards, lipstick, your iPhone and maybe your keys.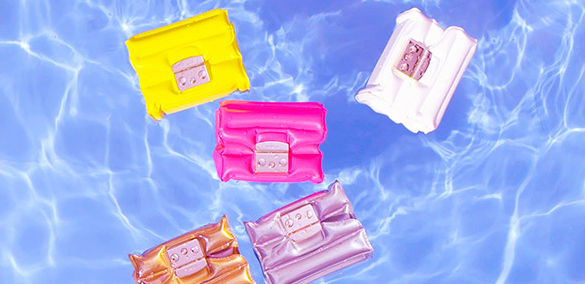 Offered in five summer appropriate colors, including shimmering gold, sunshine yellow and hot pink, these bags also come with a detachable strap. For packing purposes, the bag can be completely deflated and stored flat. But word to the wise: don't throw this Furla purse in the pool. While it is water resistant, this $178 design was not meant to be fully submerged in water.
If you are looking for a wearable inflatable that will go from dinner to a dip in the ocean, Chromat has your back. As part of designer Becca McCharen-Tran's Fall/Winter 2017 collection, she debuted a collaboration with Klymit, a Utah-based camping company that's best known for inflatable sleeping pads. The partnership resulted in a cropped bolero with an electric blue lining, a strapless grey crop top, a lime green vest with cutouts and a bold red strapless dress.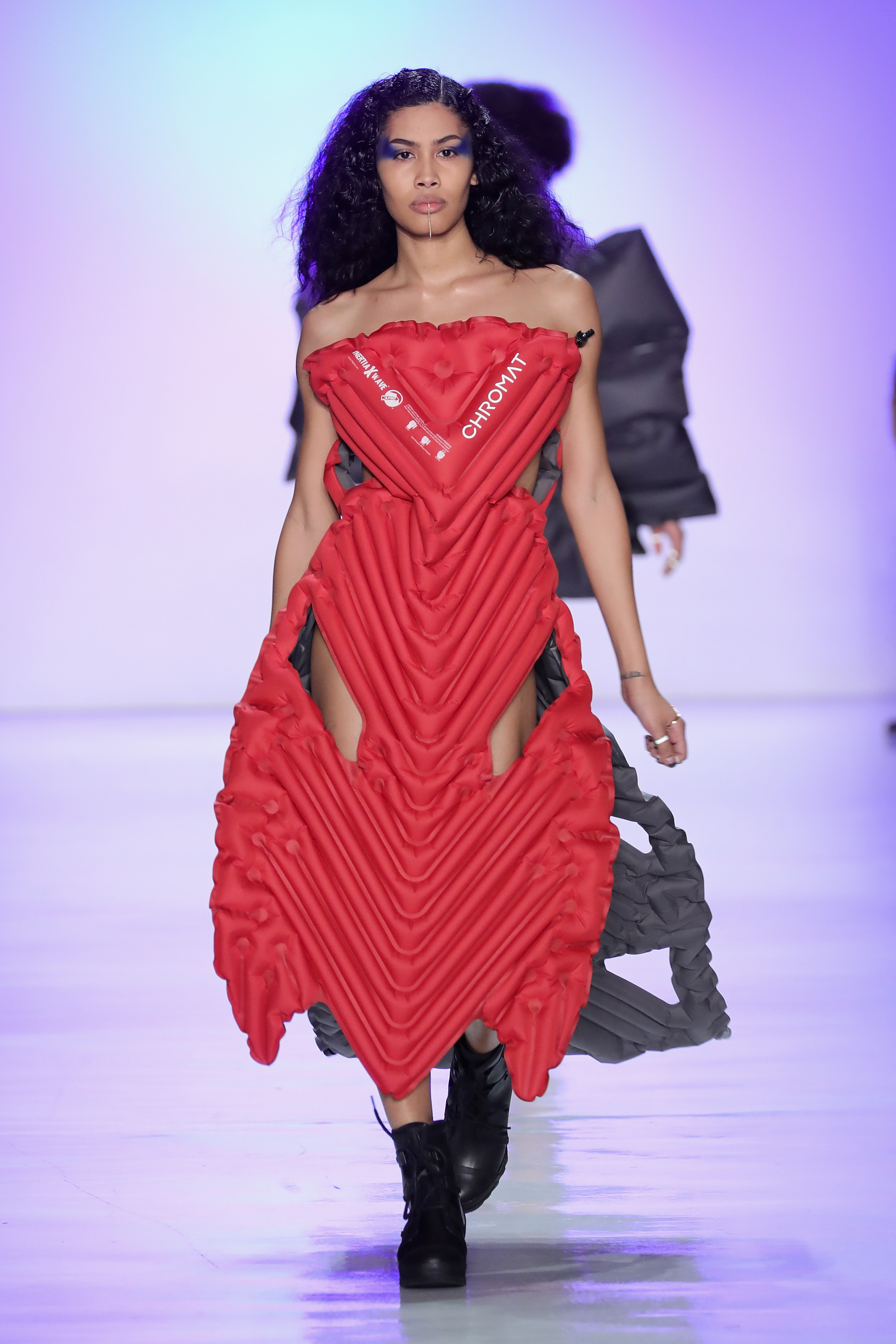 "We wanted to make clothes to help wearer feel lifted and elevated, like they could survive in rough, open waters," McCharen told Refinery29 of the functional collection, specifically referring to the current political landscape. The pieces from this Chromat and Klymit mashup will be safe in those aforementioned waters, as their design focuses just as much on function as it does on form.
If the bulky inflatable look isn't for you, but you still want a waterproof alternative, look no further than Prada. The Italian brand has a slew of shoes that were basically made for watersports.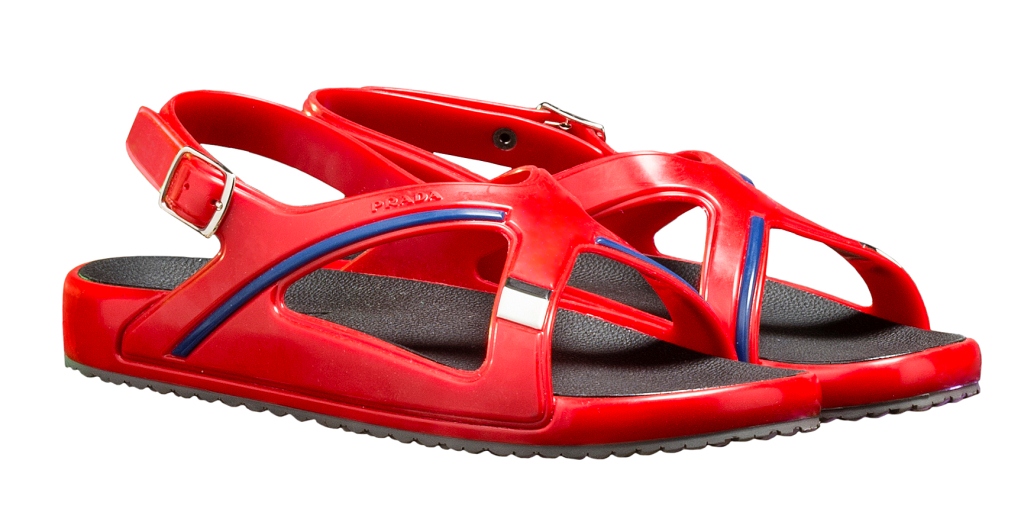 That includes a blue and orange sneaker that looks to be an upgrade on the classic water shoe (that can be worn with or without laces), an elevated take on the Teva, replete with mixed patterns and ankle straps, and the lipstick red rubber sandal that negates its waterproof status with a leather sole.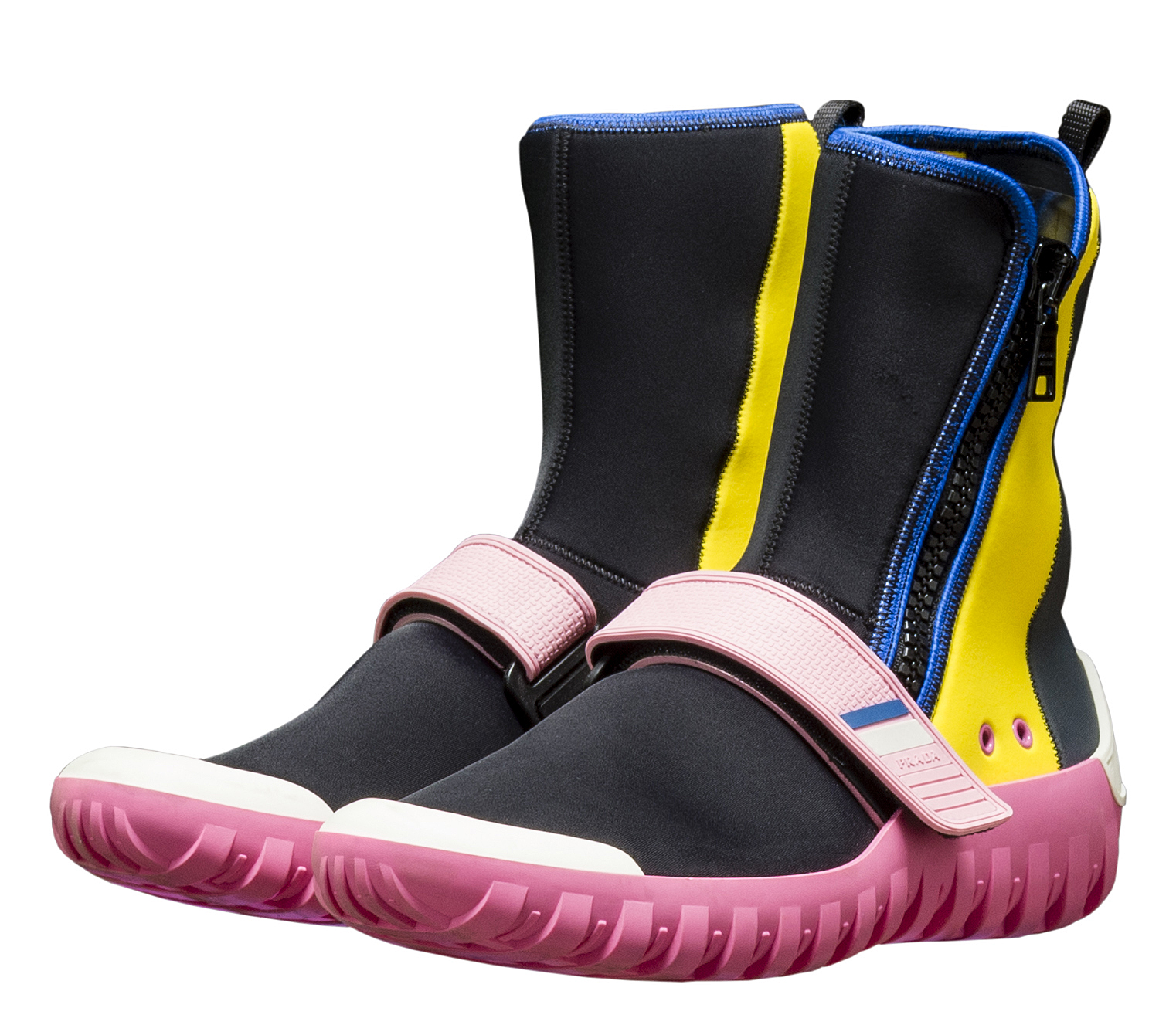 However, we're very partial to the ankle boot sneaker, that proudly mixes a black and yellow neoprene exterior with a pink rubber sole and a velcro strap to match. With a tinge of internet pink and just the right amount of nautical references, these $695 should not be relegated to just yacht wear; consider breaking them out for the next fashion week, instead.