Amid reduced consumer spending in the U.S. and Canada, luxury goods retailer, Saks Fifth Avenue is reportedly eyeing India as it's newest target for expansions. Saks will be attempting to tap into the growing numbers of families with an annual income above $650,000, reports claim. They will join Louis Vuitton, Gucci, Dior and Burberry—brands that have already established a thriving presence in the country.
"According to a recent estimate, the Indian luxury market is about $18.3 billion and is growing at a compounded annual growth rate (CAGR) of about 25 percent," Nikhil Mehra, CEO at Genesis Luxury, a company marketing and distributing Bottega Veneta, Burberry and Canali, among others, told Observer. The prognosis for healthy growth reaches beyond retail.
Property consultancy Knight Frank's latest wealth report states that India added around 500 new ultra high-net worth individuals (UHNWIs) annually over the past decade and over the next decade the number will increase to approximately 1000 per year. A series of progressive political and trade measures introduced by the Government of India over the past three years has further triggered luxury trade interest. In 2016, demonetizing large rupee bills to curb corruption and the menace of black money reportedly brought billions of rupees back to the country. The introduction of the highly anticipated goods and service tax act that eases taxing of domestic and imported goods and services across the country, has also prompted international trading interest. "A major reason for the upsurge of foreign investment in India is the current political stability and friendly business environment being created by our government." Said veteran Indian designer, Payal Jain during a recent interview.
The rising affluence and increased interest in luxury is most apparent within the country's own burgeoning fashion industry, with top Indian designers showcasing their collections twice a year at locally sponsored fashion weeks such as Lakme Fashion Week in Mumbai, and Amazon India Fashion Week in New Delhi. Let's not forget the country's wildly successful $40 billion bridal wear industry, arguably the most expensive in the world. A heavily encrusted wedding lehenga—outfit—by a top Indian designer can range from $50,000 to a whopping $100,000.
"The wedding industry is the biggest user of luxury goods and brands. Every Indian household truly splurges," added Jain. "the strong influence of Bollywood films dictates the larger than life approach, hence most Indians believe in 'More and More.' They like more bling, more color, more embroidery, and more drama in general. India is the called the land of color and remains true to its name!"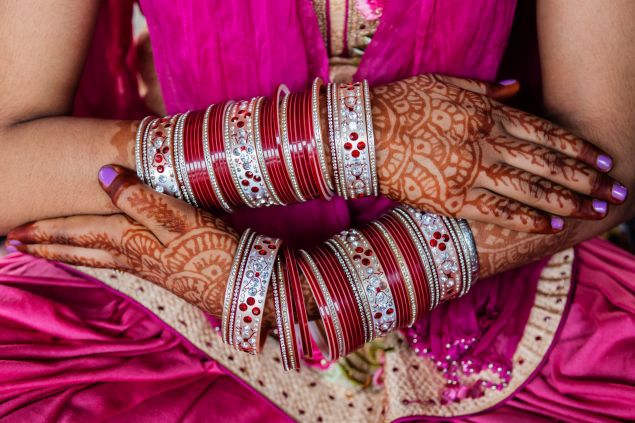 India's exciting cultural and consumer make-up presents unique challenges for an international brand looking to expand. Success requires a fusion of global and Indian aesthetics. "Indians like to be modern, yet don't want to give up their traditional looks completely hence, Indian textile and craft is worn by a majority of people in our country even today," said Jain. "The traditional costumes have changed into modern day versions, which are more practical, durable and fashionable but ethnic influences and diversity remain visible when one travels through the country."
A national love for the shopping and bartering experience is a large part of the reason why luxury brands choose to enter the country through brick and mortar stores, despite the limited infrastructure and mall space which is a huge stumbling block. "Luxury has not been able to make footprints into the interiors of the country yet as in the case of China, because apart from the key metros there are no retail spaces available to house these global brands," said Mehra. However, "tier 2" cities such as Surat, Pune, Ahmedabad, and Baroda are home to some of the richest Indian families in the country, who are eager to spend money on luxury but are left with limited options.
"The infrastructure limitations of the country make online the best channel to reach  potential  customers in tier 2 cities," said Ananya Tripathi, Chief Planning and Marketing officer at one of the largest Indian e-commerce retailers, Myntra.com. Currently, 55 to 60 million consumers are buying fashion online. While the fashion market in the country is estimated to be worth $20 billion—where online currently contributes 5 percent at $4 billion—$30 billion of this market will be digitally influenced by 2020.
"Online will undoubtedly be the biggest growth driver for luxury brands. The testimony to this is the fact that our own international brand business has been growing 100 percent year on year. Sixty-five percent of India's population is less than 35-years-old and their primary mode of inspiration, browse and purchase is online rather than offline," added Tripathi.
Asia's third largest economy raced past China in 2015, which was at the top for many years, with $63 billion worth of foreign investment, according to FDI intelligence, a unit of FT group. However, Indian luxury cannot thrive if it is limited to the top 1 percent.  Obvious structural barriers are pushing away the tempting image of comparison between India and China. As it stands, to continue this upward growth trajectory, India needs to find not only the right balance between offline and online retail but also,  internal growth in wealth and infrastructure will be crucial to the country's continued success.